Egg muffins are like a personal-sized frittata, a traditional Italian dish that is a cross between an omelet and a crustless quiche. What's awesome about egg muffins (besides the fact that they're super tasty!) is that they can easily be made ahead for quick and nutritious breakfasts the whole week long.
This version uses smoked uncured ham to up the protein and also sneaks in some nutrient-dense veggies for a balanced breakfast! I used Japanese sweet potatoes because I prefer more starchy and less sweet varieties in general, but you can use any variety of sweet potato you like for this recipe. Reheat or enjoy leftovers cold. These hold together really well, so they can even eaten as finger food!
*NEW* The Gut Health Cookbook!
The Gut Health Cookbook is fantastic! Thank you for researching and creating The Gut Health Cookbook! Such wonderful recipes! I'm so excited to try them all! -Sue
The Gut Health Cookbook puts the 20 Keys to Gut Health into practice with:
180+ recipes featuring 61 gut health superfoods

Gut health food lists

Why's behind each gut health superfood
Get instant digital access for $27.99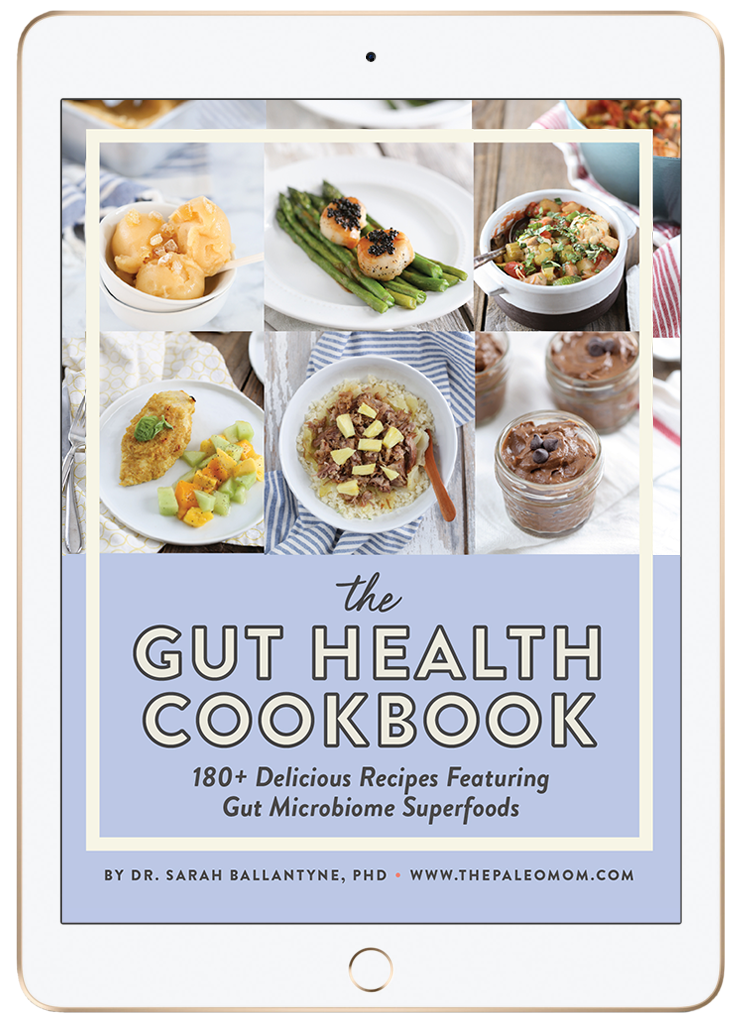 I developed this recipe as an example of a quick-and-easy make-ahead breakfast packed with protein and veggies for an appearance on Atlanta & Co, a great morning show on my local NBC station. The segment was sponsored by Sprouts Farmer's Market, designed to provide some great accessible content with a synergistic plug for their new store opening in the Atlanta area. I talked about some compelling reasons to eat breakfast daily (see Is Breakfast Really the Most Important Meal of The Day?). I also talked about smoothies being only as healthy as the ingredients that go into them, but being an accessible way for many people to up their fruit and veggie intake. And, I talked about breaking with traditional breakfast foods and thinking outside the box with chicken vegetable soup as another example of a great healthy breakfast!
Here's the segment:

Interview With Atlanta & Co – 1/19/17 from Sarah Ballantyne on Vimeo.
And without further adieu, here's my recipe for ham and sweet potato egg muffins!
The Ultimate Support for Your AIP Journey!
Dr. Sarah Ballantyne has delivered an exceptional course and I highly recommend this to anyone looking to improve their health. There is something for everyone. It was extremely helpful and worth the investment. -Marie Schlichtig
The AIP Lecture Series is the ultimate Autoimmune Protocol educational experience! Learn directly from Dr. Sarah!
6-week online course
42 on-demand video lectures
dozens of printable guides
self-discovery exercises and action steps
online forum and guided discussions
support and guidance from Dr. Sarah Ballantyne!
The next session begins January 18th, 2021.
(Use code AIPLS85 to save $85 and get bonus access to the Gut Health Fundamentals online course!)
Prep Time: 10 minutes
Cook Time: 20 minutes
Yield: 12 egg muffins (6 servings)
Ingredients:
Directions:
Preheat oven to 350F. Grease 12 muffin pan cups or use a silicone muffin pan.
Heat a skillet over medium-high heat on the stovetop. Add olive oil, sweet potato, peppers and onion. Saute, stirring frequently, for 8 minutes, until veggies are starting to soften and caramelize. Remove from heat and stir in diced ham.
Meanwhile thoroughly whisk or blend eggs with salt and pepper.
Spoon veggie mixture into muffin pan cups, dividing among all 12 cups (they'll be mostly full).
Poor blended egg mixture over veggies (this will nearly fill every muffin cup), dividing among all 12 cups.
Bake for 20-22 minutes, until set.
Remove from muffin pan immediately after removing from the oven. Enjoy!