Happy New Year! For me, like many, the start of a new year is a time of reflection. I look back over the last year, appreciate my accomplishments, note where I fell short of my goals, and think forward to the year ahead with optimism, determination and resolve.
Habit Formation (for resolutions or anytime)
When I make a New Year's resolutions, they are always habit centered. For example, if my goal is to lose weight, I make resolutions that focus on habits that contribute to weight loss and better health in general. The resolution isn't to lose 10 pounds, but instead I resolve to: quit snacking; eat a high-protein breakfast every day; go to bed an hour earlier; and work at my treadmill desk more often. These resolutions (which should all contribute to me accomplishing my goal) mean the health benefits don't cease when I hit my goal, and because there's no timeline involved, I'm less likely to lose my momentum if I don't reach that goal quickly.
*NEW* The Gut Health Cookbook!
The Gut Health Cookbook is fantastic! Thank you for researching and creating The Gut Health Cookbook! Such wonderful recipes! I'm so excited to try them all! -Sue
The Gut Health Cookbook puts the 20 Keys to Gut Health into practice with:
180+ recipes featuring 61 gut health superfoods

Gut health food lists

Why's behind each gut health superfood
Get instant digital access for $27.99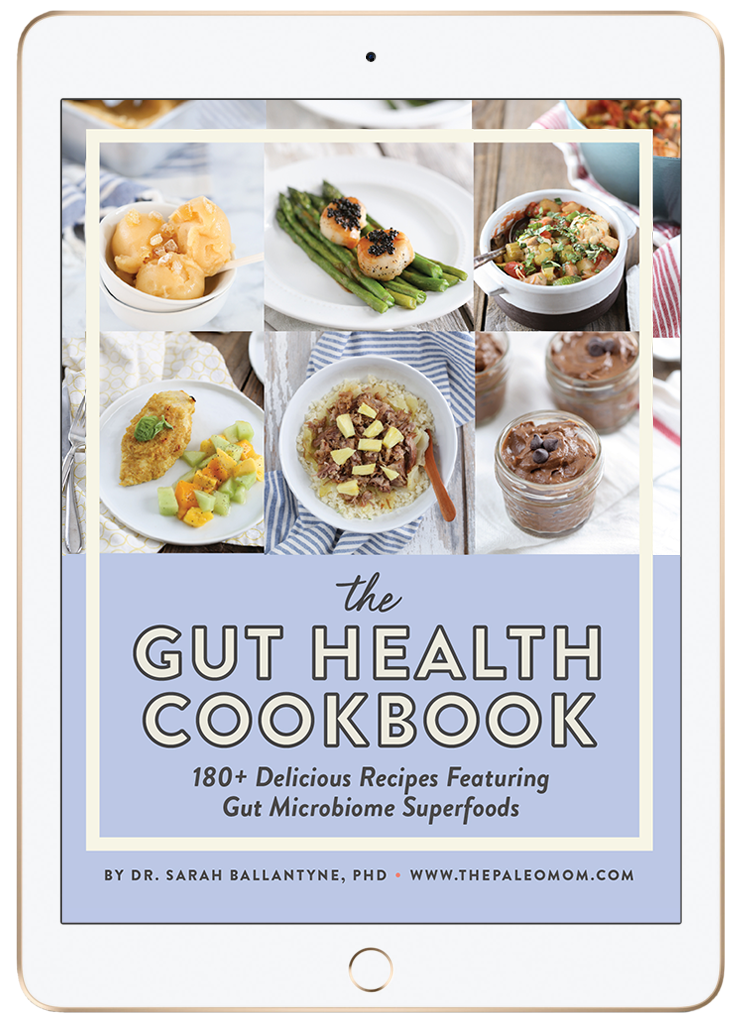 When it comes to habit-centered resolutions, this means both forming good habits as well as breaking bad ones. For example, getting more sleep and more light activity during the day are two new good habits that I'm working on. In the case of quitting snacking, I'm working on breaking a bad habit (Aside: it's much healthier to eat larger meals spaced farther apart than to graze, more on that in this post and in detail on pages 131-138,164-165 and 245 in The Paleo Approach).
What's the difference between creating a good habit and breaking a bad one?
If you're forming a good habit, you are doing something, i.e., there's an action that you are working on repeating routinely. This new action may replace something (e.g., going to bed earlier replaces my normal late bedtime), but it's still considered habit formation. Breaking a bad habit means that you cease doing something, and it's not replaced with a new action (e.g., I quite snacking but not eating between meals isn't replaced with any particular behavior).

No matter what your goals for 2015, I encourage you to consider resolutions that add up to forming good habits and breaking bad ones. That's because doing so will provide you health benefits far beyond reaching a specific goal, be it attaining a desired weight, a performance milestone, or another marker of health.
If you are starting a Paleo challenge or detox today, these are also programs aimed at habit formation; for example, you're breaking the habit of eating more sugar and forming the habit of a more nutrient-dense plate at each meal. However, these 21-to-30-day challenges have a very big limitation: for most of us, this isn't enough time to form new habits.
How long does it take to make or break a habit?
Unfortunately, it's a myth that it takes 21 days to make or break a habit. For the vast majority of us, it takes dedication and commitment to repetitively perform a task for a much greater length of time before that task becomes automatic. And that's the goal, right? That going to bed earlier and avoiding food between meals is the default and doesn't require any additional thought or willpower to accomplish.
The Gut Health Guidebook!
The depth of information, practical tips, and the accessible way Dr. Sarah shows me how to apply complex science to improve my health is truly remarkable. -Wendy
The Gut Health Guidebook is the culmination of 6 years of research. This unprecedented deep dive into the gut microbiome delivers:
A new diet for gut health, built from the ground up

Essential gut microbiome superfoods

20 Keys to gut health
Get instant digital access for $27.99
So, if not 21 days, how long does it take? Research shows that the average length of time it takes to form a new habit is more like 66 days.
But even this doesn't mean that it will take you 2 months to give up sugar permanently or happily jump out of bed at 6am and go for a brisk walk. The length of time required for habit formation varies from 18 days to 254 days (about 8 months)!!!! And, it very likely varies from person to person, but also by type of habit and the individual challenges each of us face to making a specific change.
Chances are good that if it's a habit you've unsuccessfully tried to create before, it's going to take a longer amount of time to get it right this time.
What does this mean for New Year's resolutions?
Resolutions with an end date, especially if that date is under 2 months, aren't likely to result in lasting positive change. This is also why goal-centered resolutions also often don't work.
Instead I encourage you to focus on habit formation, however long it takes. How do your form a habit? This protocol comes from a scientific paper offering guidance to physicians to help improve their patient's health by focusing on habit formation.
To Make a New Healthy Habit:

Decide on a goal that you would like to achieve for your health.

Choose a simple action that will get you towards your goal which you can do on a daily basis.

Plan when and where you will do your chosen action. Be consistent: choose a time and place that you encounter every day of the week.

Every time you encounter that time and place, do the action.

It will get easier with time, and within 10 weeks [but up to 8 months] you should find you are doing it automatically without even having to think about it.

Congratulations, you've made a healthy habit!
How do you put this protocol into action?
The first step is to figure out what the simple action that you are going to repetitively perform is going to be. If the goal is to get more sleep, then that action is setting a bed time, perhaps even putting a reminder in your phone, and every day at your chosen time, going to bed. Maybe part of your action is wearing amber-tinted glasses at a set time, 2 hours before your bedtime, to help support dim-light melatonin production and ready yourself for bed.
You may wish to keep a journal of your success. It could be as simple as making a tick mark on your calendar when you complete the simple action for the day. Depending on the habit you're trying to form, you may be able to take advantage of one of the many new health apps designed to provide positive reinforcement in addition to tracking your health behaviors and successes. Maybe you also want to record how automatic it feels, so you can gauge when this new action has truly become a habit.
The Gut Health Collection!
I love Dr. Sarah's passion for educating people and helping everyone on their journey to wellness!! -Mindy
The Gut Health Guidebook delivers a comprehensive deep dive into gut health, building a new diet for optimal health from the ground up, based on the gut microbiome.
The Gut Health Cookbook puts the scientific framework into practice with 180+ delicious recipes that each center on at least one of 61 gut health superfood ingredients.
Save $10 with the Gut Health Collection!
Habits can also be created iteratively. If your goal is to increase your vegetable intake, your first action may be to add a serving of veggies to your lunch every day After that becomes habit, your new action may be to add a serving of veggies at breakfast. After that becomes habit, add a serving of veggies at dinner. Keep going, small step by small step, until you reach your desired vegetable intake.
When goals are larger and complex, such as giving up sugar, it can be very helpful to break this bigger health goal into smaller pieces. First, give up dessert after supper. Then give up the sugary snacks. Then work on reducing fruit intake. Then work on a healthier, lower-sugar breakfast. It can be much easier to make lasting positive change when broken up into smaller and more easily attainable goals. Especially when you break up a larger goal like this, it becomes a long-term commitment. It's no longer a resolution for January, but one for the whole new year.
Focusing on habit formation also requires frequent reevaluations. Sometimes our efforts to form a habit can wane without us intending to do so. Maybe you were eating that extra serving of veggies for lunch every day, but then after stomach bug, you find yourself back to lower veggie intake. This is why I don't limit myself to once a year, but make them any time a little extra resolve is needed.
Citations
Lally P et al, How are habits formed: Modelling habit formation in the real world Eur. J. Soc. Psychol. 2010;40:998-1009
Gardner B. et al., Making health habitual: the psychology of 'habit-formation' and general practice. Br J Gen Pract. 2012 Dec;62(605):664-6. doi: 10.3399/bjgp12X659466.
Tudor-Locke C and Bassett DR Jr. How many steps/day are enough? Preliminary pedometer indices for public health. Sports Med. 2004;34(1):1-8.
Save