Chronic illness forced a detour along Macy's high school path leading to a hospitalization, multiple diagnoses and a feeding tube. This led Macy to create her blog, "Paleo Crumbs." Macy believes in making the best of situations. She has discovered a new passions for photography, the power and knowledge of real food, and deepened her life long love for being in the kitchen. Although gastroparesis keeps Macy from consuming much in quantity, she finds it important to make every bite (and sip) count by packing it full of goodness and nutrients!
---
Hello! My name is Macy and I am a teen blogger over on my blog Paleo Crumbs. My mom and I have both been readers of Sarah' s blog and books for a while, and it was so lovely to get the chance to meet her in person at Paleo f(x), she is so kind. I am equally as thrilled and excited to be doing a guest post for her on her blog today! It took me awhile to decide what to do for the guest post so I thought why not share a recipe and talk about being a teen with chronic illness, specifically gastroparesis!
*NEW* The Gut Health Cookbook!
The Gut Health Cookbook is fantastic! Thank you for researching and creating The Gut Health Cookbook! Such wonderful recipes! I'm so excited to try them all! -Sue
The Gut Health Cookbook puts the 20 Keys to Gut Health into practice with:
180+ recipes featuring 61 gut health superfoods

Gut health food lists

Why's behind each gut health superfood
Get instant digital access for $27.99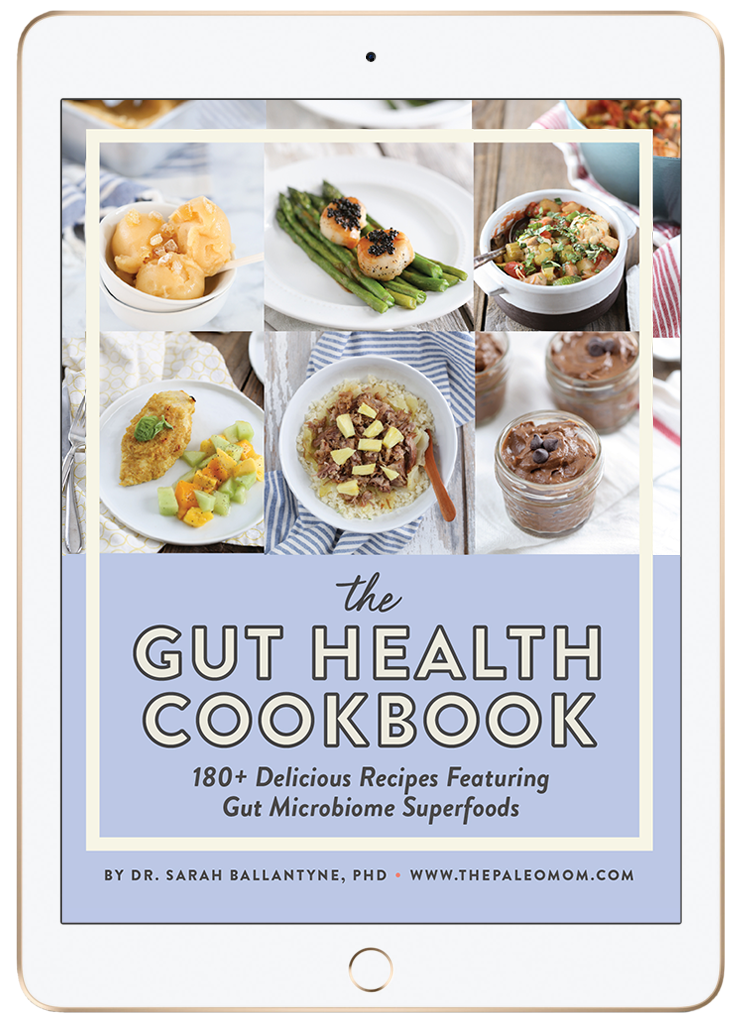 First, I want to define the term 'Chronic Illness' – what does it mean? Chronic illness is defined, according to medicinenet.com, as a disease or illness that lasts over a long period of time. Chronic illness can come in many different forms and varieties ranging from hypothyroidism to Lyme disease to Chrohn's to gastroparesis among many others. The word 'chronic' itself means lasting over time unlike a short period of an illness like a simple cold or flu. A chronic illness lasts for a long period or even the entirety of one's life. Kinda stinks right? Well, it doesn't have to, if you are willing to change your lifestyle you can learn to live better, manage symptoms, and in some cases reverse illness! It is important for those living with a chronic illness to remember that though things might seem hard or frustrating to never lose faith and hope, and to remain strong because you are one strong warrior! Don't you forget that! 🙂 Things will get better!
By now you are probably wondering what is this weird long word 'Gastroparesis'? That is the exact thing my mom and I both thought while I was diagnosed with it in the hospital. After my mom did some research we got some answers and understanding to what this term meant.
Here are a few quick facts about GP:
Gastroparesis is where the stomach does not empty food as it should. So basically, it means slowed digestion and even in some severe cases, complete stomach paralysis. Food sits in your stomach longer than it should, which causes quick fullness, discomfort, pain, difficulty digesting, lack of appetite, and due to the fullness inability to eat a regular quantity of food. It especially stinks even more if you are a total foodie like myself!
Gastroparesis can be caused by a few different things. One of the number one causes, including mine, is idiopathic, that means there is no known cause or reason.
Due to food taking longer and being harder to digest for my stomach, liquids and softer foods are easiest for me to eat, such as smoothies, juices, and easy to digest foods – that is why you'll find a lot of smoothies on my blog! 🙂 Softer foods and liquid nutrition are typically tolerated best, but it is important to make sure every bite is nutrient dense, and yummy of course 🙂
Now onto this recipe . . . a peach crisp that is gluten, grain, dairy, and nut free! Peaches have been my favorite lately as they are in season, locally grown, and super yummy! This is a fun and easy way to enjoy some of your ripe peaches as a delicious summer dessert! My favorite way to use the whole peach is to not waste the skin but use it in my mom's delicious peach syrup recipe -made with no refined sugar and minimal ingredients! This recipe can make either two big individual crisps or 4 small individual crisps made super cute in small individual mason jars, but feel free to use any individual ramekins you have! Top off with some dairy free coconut milk ice cream and you'll have the perfect summer desert!
The Ultimate Support for Your AIP Journey!
Dr. Sarah Ballantyne has delivered an exceptional course and I highly recommend this to anyone looking to improve their health. There is something for everyone. It was extremely helpful and worth the investment. -Marie Schlichtig
The AIP Lecture Series is the ultimate Autoimmune Protocol educational experience! Learn directly from Dr. Sarah!
6-week online course
42 on-demand video lectures
dozens of printable guides
self-discovery exercises and action steps
online forum and guided discussions
support and guidance from Dr. Sarah Ballantyne!
The next session begins January 18th, 2021.
Register now to get bonus instant access to the Gut Health Fundamentals online course!
Ingredients (Filling):
1 cup peaches, chopped (about 2 large ones)
½ tsp. arrowroot starch
½ vanilla bean
Ingredients (Topping):
Preheat the oven to 350 degrees.
For the filling: In a bowl mix together the chopped peaches, and arrowroot starch. Scrape the seeds of the vanilla bean and mix into the peach mixture.
For the topping: Use your fingers or a fork to combine the maple sugar, coconut sugar, arrowroot starch, coconut flour, cinnamon, salt, and coconut oil together until crumbly.
For the crisp: Split the peach mixture equally between two 8 oz. mason jars or four 4 oz. mason jars. Use the topping equally amongst the individual crisps.
Bake for 25-30 minutes or until golden brown and peach juice is bubbling a little. Let cool for 10 minutes and enjoy!
Notes:
Peaches vary in all different shapes, sizes, and varieties. Due to this, some crisps may end up a little juicier than others, but will still be delicious!
Coconut oil can be subbed for ghee.