Chelsea Gold aka The Paleo Cavewoman is the creator and owner of www.thePaleocavewoman.com. She is a college student and was recently accepted to continue her education to become a Registered Dietitian. She is a self proclaimed foodie, photographer and lover of all things health and fitness. She discovered Paleo over year ago and never looked back. She transformed from 200+ pounds to a health weight.
---
Ready or not, the grilling season is upon us and I love grilling food. It is so easy, flavor filled and no heat or fuss in the kitchen. These Asian Chicken Skewers are my go-to appetizer that everyone loves. I'll be the first to admit I miss Asian food more then anything, but in all honesty, these Asian Chicken Skewers are better then take out! They are packed with flavors!
*NEW* The Gut Health Cookbook!
The Gut Health Cookbook is fantastic! Thank you for researching and creating The Gut Health Cookbook! Such wonderful recipes! I'm so excited to try them all! -Sue
The Gut Health Cookbook puts the 20 Keys to Gut Health into practice with:
180+ recipes featuring 61 gut health superfoods

Gut health food lists

Why's behind each gut health superfood
Get instant digital access for $27.99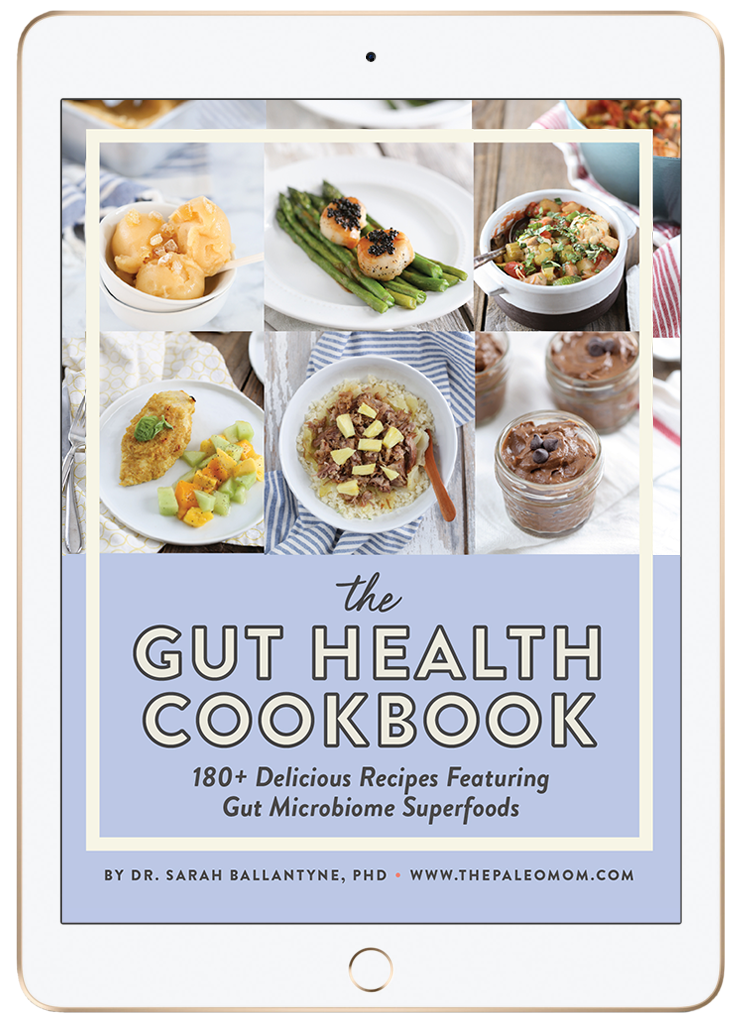 Ingredients
Ingredients (Marinade):
In a medium sized pot, over low heat, mix all marinade ingredients until combined (just starting to boil).
Clean chicken (cut in to long strips if necessary).
In a large bowl or sealable bag, place chicken and cover with marinade.
Mix all contents so that the chicken is covered in the marinade and let marinate in refrigerator for at least 30min.
Preheat grill to medium or preheat oven to 350 degrees.
After 30 minutes, take long skewers and gently place them through the middle of the piece of chicken.
Sprinkle a pinch of shredded coconut over each piece.
Place on hot grill or on racked baking sheet for about 20 minutes
Flip every 5 minutes for even cooking or until completely cooked through.
The Ultimate Support for Your AIP Journey!
Dr. Sarah Ballantyne has delivered an exceptional course and I highly recommend this to anyone looking to improve their health. There is something for everyone. It was extremely helpful and worth the investment. -Marie Schlichtig
The AIP Lecture Series is the ultimate Autoimmune Protocol educational experience! Learn directly from Dr. Sarah!
6-week online course
42 on-demand video lectures
dozens of printable guides
self-discovery exercises and action steps
online forum and guided discussions
support and guidance from Dr. Sarah Ballantyne!
The next session begins January 18th, 2021.
(Use code AIPLS85 to save $85 and get bonus access to the Gut Health Fundamentals online course!)