Sophie Van Tiggelen is an autoimmune warrior, foodie, self-trained Paleo chef, and photographer. She blogs at A Squirrel in the Kitchen, where her mission is to demonstrate that you can eat gourmet meals on the autoimmune protocol! Her French heritage shines through in her simple, yet creative cooking style and her recipes are doable even for beginning cooks. Diagnosed with Hashimoto's disease, she regained health and vitality while eating colorful and nutritious food on the elimination diet. Stress management and regular practice of moderate exercise are also an important part of her healing journey. She lives now in Colorado with her husband and their three teenage girls. You can find her on Facebook, Instagram, and Pinterest.
---
I developed this recipe for one of my daughters when she was doing a sugar detox earlier this year. The beginning of the detox was a little bit rough and she was experiencing cravings for a little something sweet. I didn't want her to cave in and eat a treat that would jeopardize all her efforts! So I got into the kitchen and hunted for "detox approved" ingredients that would make a healthy treat when combined together. After a few tries, I came up with this decadent "chocolate" carob fudge.
*NEW* The Gut Health Cookbook!
The Gut Health Cookbook is fantastic! Thank you for researching and creating The Gut Health Cookbook! Such wonderful recipes! I'm so excited to try them all! -Sue
The Gut Health Cookbook puts the 20 Keys to Gut Health into practice with:
180+ recipes featuring 61 gut health superfoods

Gut health food lists

Why's behind each gut health superfood
Get instant digital access for $27.99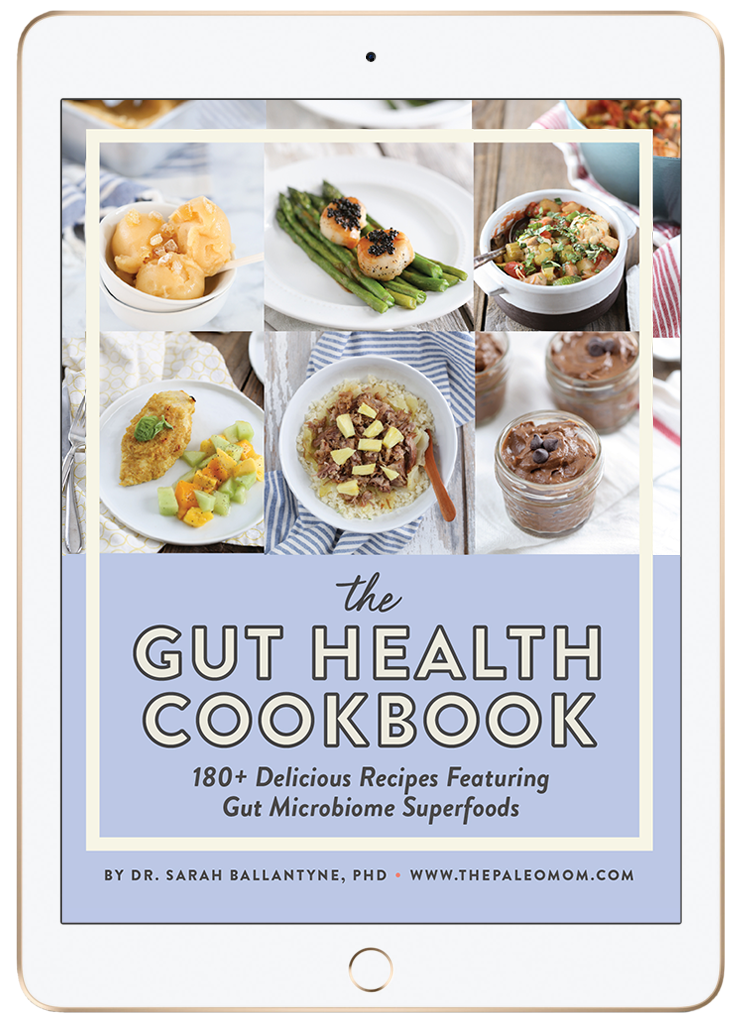 Some of you might think that it is better not to eat any treats at all during a detox, and you might be right. But I am an advocate of moderation in all things, including restrictions! I think it is better to relieve your sugar cravings with a safe dessert than trying to avoid them at all costs to later devour a dozen cookies because you couldn't resist anymore. What do you think?
You can prepare this chocolate carob fudge with or without any sweetener. There is only 1 tablespoon of honey in the ingredients, but you can totally skip it and the fudge will still taste amazing!
Another great thing about this fudge is that you can whip it up in less than 10 minutes, no kidding! There is just one step (place all the ingredients in a small pan) and you are done! I love easy, un-involved recipes that I can prepare in a pinch without too much fuss. So if you need something quick and satisfying, this is the ticket.
You can keep this chocolate carob fudge in the refrigerator for 4 to 5 days, although it never lasts that long in our house!
The Ultimate Support for Your AIP Journey!
Dr. Sarah Ballantyne has delivered an exceptional course and I highly recommend this to anyone looking to improve their health. There is something for everyone. It was extremely helpful and worth the investment. -Marie Schlichtig
The AIP Lecture Series is the ultimate Autoimmune Protocol educational experience! Learn directly from Dr. Sarah!
6-week online course
42 on-demand video lectures
dozens of printable guides
self-discovery exercises and action steps
online forum and guided discussions
support and guidance from Dr. Sarah Ballantyne!
The next session begins January 18th, 2021.
(Use code AIPLS85 to save $85 and get bonus access to the Gut Health Fundamentals online course!)
Prep time: 5 min

Cook time: 5 min

Servings: 10
Ingredients:
Place all the ingredients in a small pan and warm up slowly on medium heat, stirring frequently.

When all the ingredients are well mixed together, pour the fudge in a small 3.5 x 6 inches aluminum loaf pan.

Refrigerate for at least 6 hours before cutting into small cubes.

Bon app

é

tit!