Jo Romero is a freelance food blogger and writer. In the summer of 2013 she decided to tackle the psoriasis she had suffered with for 25 years using the autoimmune protocol diet and lifestyle, and it worked. She hopes that she can use her experience to help others achieve the same results. Jo blogs at Comfort Bites Blog, and you can follow her on Instagram @joromerofood.
---
Indian food can be pretty tricky on the autoimmune protocol. Curry essentials like chillies, peppers, tomatoes, potatoes and seed and nightshade-based spices are all out on the elimination stages.
*NEW* The Gut Health Cookbook!
The Gut Health Cookbook is fantastic! Thank you for researching and creating The Gut Health Cookbook! Such wonderful recipes! I'm so excited to try them all! -Sue
The Gut Health Cookbook puts the 20 Keys to Gut Health into practice with:
180+ recipes featuring 61 gut health superfoods

Gut health food lists

Why's behind each gut health superfood
Get instant digital access for $27.99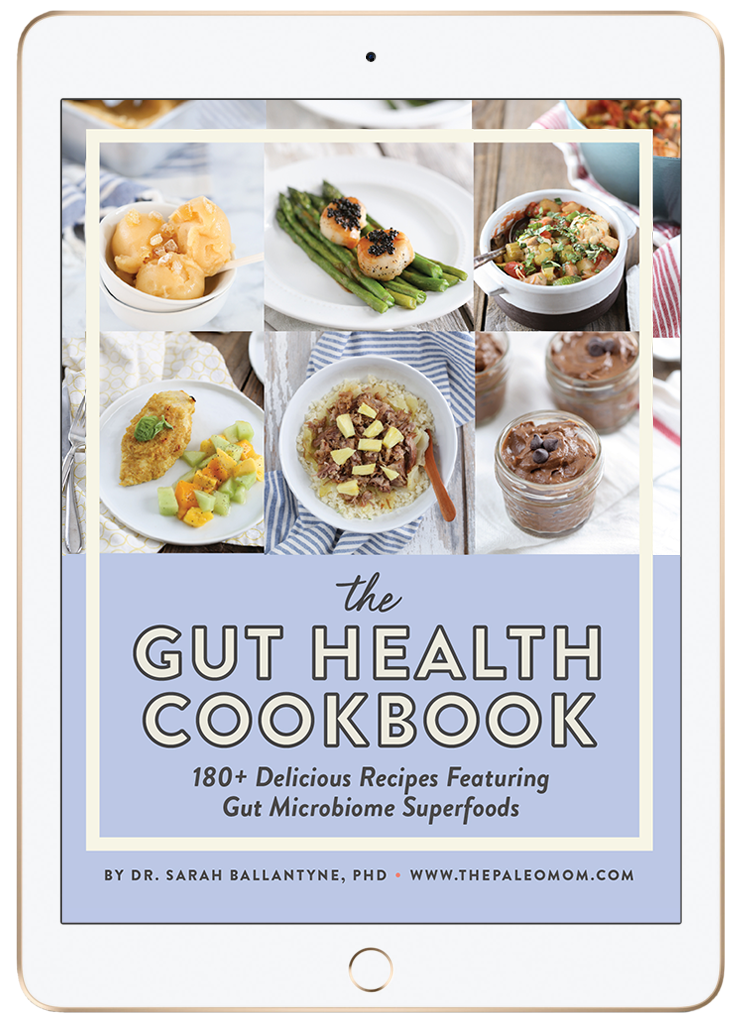 But there is a way around it.
Don't be disheartened with the list of spices you can't eat on strict AIP – just make the most of those that you can eat. Turmeric has been used for thousands of years to soothe inflammation and it's what gives a curry its yellow colour and earthy, sweet flavour. There's also cloves – you can drop a couple of whole cloves into a curry and allow the flavour to infuse into the dish, or add a pinch of ground cloves for a warm, spicy tone. Cinnamon is another spice that I feel adds warmth to curries, but I only use a tiny amount. Added to this of course, you have the aromatics – garlic, ginger and onions. And don't forget coriander leaves – the seed isn't used in AIP cooking but the leaves will give you a fresh, citrus flavour that lifts all of those warm, earthy spices.
I've made similar curries using mutton, lamb and goat meat but this one features King Prawns. It's easy on AIP (or even Paleo) to go quite meat-heavy with our diets but seafood has so many nutrients that we benefit from like zinc and omega-3 fatty acids. Check out Sarah's post on the benefits of eating fish and shellfish for more details.
Of course, you could substitute whatever fish and seafood you like in this curry – the main thing is to cook the sauce first and then blend it and then warm it up again, dropping in your fish or seafood and simmering until it's cooked. And finally, you'll want to freshen up the flavours by adding a good squeeze of lemon or lime juice. Perfect either on its own or alongside AIP flatbreads or cauliflower rice.
The Gut Health Guidebook!
The depth of information, practical tips, and the accessible way Dr. Sarah shows me how to apply complex science to improve my health is truly remarkable. -Wendy
The Gut Health Guidebook is the culmination of 6 years of research. This unprecedented deep dive into the gut microbiome delivers:
A new diet for gut health, built from the ground up

Essential gut microbiome superfoods

20 Keys to gut health
Get instant digital access for $27.99
Ingredients
1 tbsp coconut oil (or other fat of your choice)

1 red onion, peeled and chopped

3 garlic cloves, peeled and chopped

1 peeled piece of ginger, about the size of your ring finger, chopped

1 medium-sized carrot, peeled and roughly chopped

1 small cooked, peeled beetroot, roughly chopped

small pinch of cinnamon
small pinch of ground cloves

1

½

teaspoons ground turmeric
500ml chicken broth or stock
2 tsp coconut cream

3 tbsp fresh coriander leaves, chopped – plus more for serving

pinch of salt, or to taste

200g King Prawns, peeled

Juice of 1 lemon, plus more to taste
First, heat the coconut oil in a medium sized frying pan and fry the onion until it

'

s golden and has taken on some colour – be careful not to let it burn, but the darker, slightly caramelised onion will give the curry colour as well as a rich, earthy flavour. Once the onion is golden, add the chopped garlic and the ginger and fry until softened and aromatic. Add the carrot and the beet and stir everything together. Finally, stir in the spices and then pour in the chicken stock. Bring to a simmer, and cook until the carrots are softened (about 10 minutes).

Once the carrots are softened (if they are, everything else should be too) take it off the heat and blend until smooth. Pour the sauce back into the pan and place back on the heat. Stir in the coconut cream and add the chopped coriander leaves. Drop in the raw King Prawns.

The prawns will cook very quickly – in just a few minutes, so keep an eye on them. If you think the sauce is drying out a little bit, add a splash of water. Once the prawns are fully pink, quickly stir in the lemon juice and season with a pinch of salt.

Taste, checking if you need more salt, lemon juice or coriander leaves and then serve straight away.