"Spatchcock" is a vaguely rude-sound word dating back to the 1700s to describe a chicken (or other fowl) that is split open and cooked flat (as opposed to stuffed and/or simply roasted whole). I was introduced to this cooking technique by Mickey Trescott from www.autoimmune-Paleo.com who made me her Spatchcock Chicken Adobo on a recent visit. Since then, I haven't been able to get enough of chicken cooked in this manner: the breast meat is so tender and juicy; the skin is that perfect crispy-meets-caramelized texture; and the quick cooking time is amazingly convenient. A 5-pound chicken would normally take 1 hour and 40 minutes to roast, but only 45 minutes once spatchcocked–for about the same amount of prep time.
This is my version of the recipe using a Greek-inspired seasoning mix. Because it can seem a bit intimidating to butcher chicken for this recipe (although you can definitely ask your butcher to do it for you), I've also included cooking demo video at the bottom of this post!
*NEW* The Gut Health Cookbook!
The Gut Health Cookbook is fantastic! Thank you for researching and creating The Gut Health Cookbook! Such wonderful recipes! I'm so excited to try them all! -Sue
The Gut Health Cookbook puts the 20 Keys to Gut Health into practice with:
180+ recipes featuring 61 gut health superfoods

Gut health food lists

Why's behind each gut health superfood
Get instant digital access for $27.99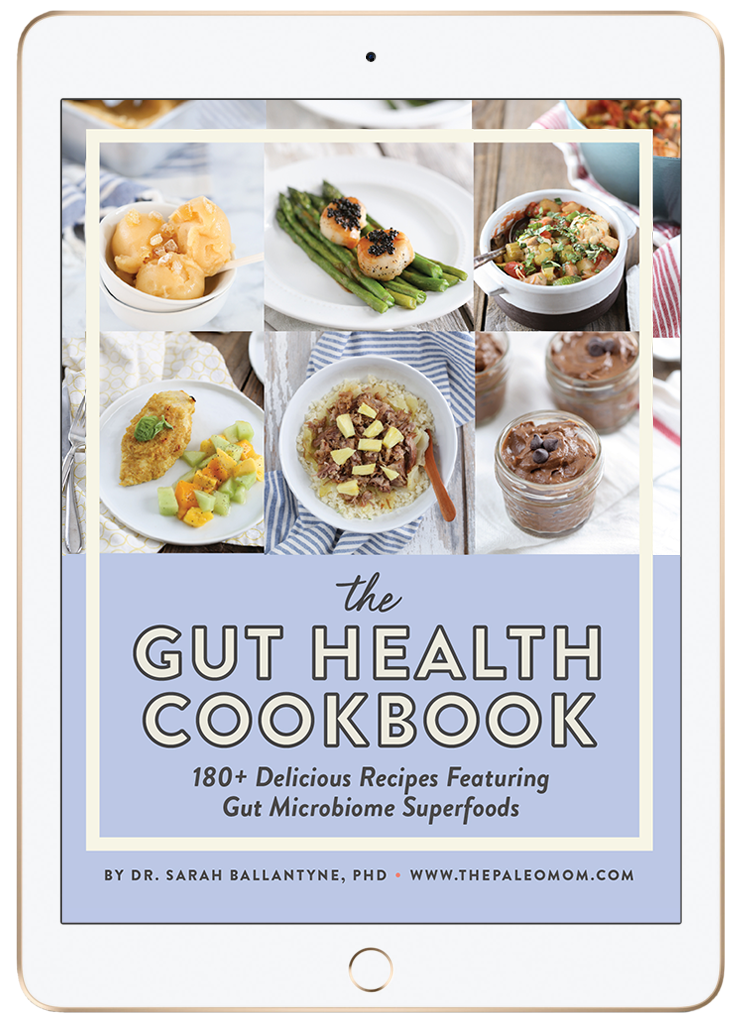 Note: This recipe uses fresh herbs, however dried herbs can absolutely be substituted. As a general rule, use one third the amount called for when using dried herbs instead of fresh. Also note that all fresh herb measurements are made after chopping. Also, this is an AIP-friendly recipe. The only thing you might want to add if you're following a standard Paleo diet and not the autoimmune protocol is about half a teaspoon cracked black pepper!
Servings: 5-8
Prep time: 10 minutes
Cook time: 45 minutes (plus 5-10 minutes rest time)
Ingredients:
The Ultimate Support for Your AIP Journey!
Dr. Sarah Ballantyne has delivered an exceptional course and I highly recommend this to anyone looking to improve their health. There is something for everyone. It was extremely helpful and worth the investment. -Marie Schlichtig
The AIP Lecture Series is the ultimate Autoimmune Protocol educational experience! Learn directly from Dr. Sarah!
6-week online course
42 on-demand video lectures
dozens of printable guides
self-discovery exercises and action steps
online forum and guided discussions
support and guidance from Dr. Sarah Ballantyne!
The next session begins January 18th, 2021.
(Use code AIPLS85 to save $85 and get bonus access to the Gut Health Fundamentals online course!)
Prepare the seasoning slurry. Mix crushed garlic, lemon zest, lemon juice, chopped oregano, chopped thyme, chopped rosemary, salt and 1 tablespoon of avocado oil.
Rub 1 tablespoon of avocado oil over the bottom of a cast-iron or stainless steel skillet (10″ or bigger will fit most chickens).
Preheat oven to 425F.
Using poultry sheers, cut along the right side of the chicken's backbone (so you're cutting through the ribs and not the vertebrae) all the way down the spine. Repeat down the left side to entirely remove the backbone. Turn chicken over (back to breast-side up) and open up to begin to lie flat. You can more thoroughly flatten the chicken by pulling up on one side while pushing down on the other (this breaks the ribs so the chicken will like flat).
Place chicken skin-side-up inside prepared skillet. Pat dry with paper towel. Rub seasoning slurry all over skin side of chicken.
Roast for 45 minutes. Let rest 5-10 minutes in pan before serving. Enjoy!
Removing the backbone sounds harder than it is. Watch this cooking demo to see just how straightforward this preparation really is!