With the approach of the New Year, I know many of my readers will be taking stock of their health and considering how it might improve in 2020. For many of you, that might mean dedicating to the Autoimmune Protocol, or AIP.  And these AIP programs are here to help!
What exactly is the AIP? The Autoimmune Protocol is a specialized version of the Paleo diet, with an even greater focus on nutrient density and even stricter guidelines for which foods should be eliminated. The biggest difference between a standard Paleo diet and the Autoimmune Protocol is where we draw the line between "yes" foods and "no" foods in order to get more health-promoting compounds and fewer detrimental compounds in our diet. Those who are typically quite healthy can tolerate less-optimal foods than those who aren't. You can think of the Autoimmune Protocol as a pickier version of the Paleo diet; it accepts only those foods that are clear winners.
Sound daunting? Once you get the hang of it, it's actually quite straightforward and it's certainly worth it. But to help you get the hang of it, these programs from my friends in the AIP community can really come in handy! Each one of these AIP programs is geared towards different needs, which is amazing because it means that you can choose the right support for you.
Nutrivore Weekly Serving Matrix
An easy-to-use and flexible weekly checklist
to help you maximize nutrient-density.
The Weekly Serving Matrix is very helpful! I've been eating along these lines but this really helps me know where to focus vs. which foods serve a more secondary role. It's super helpful and has taken a lot of worry out of my meal planning. Thanks!

Jan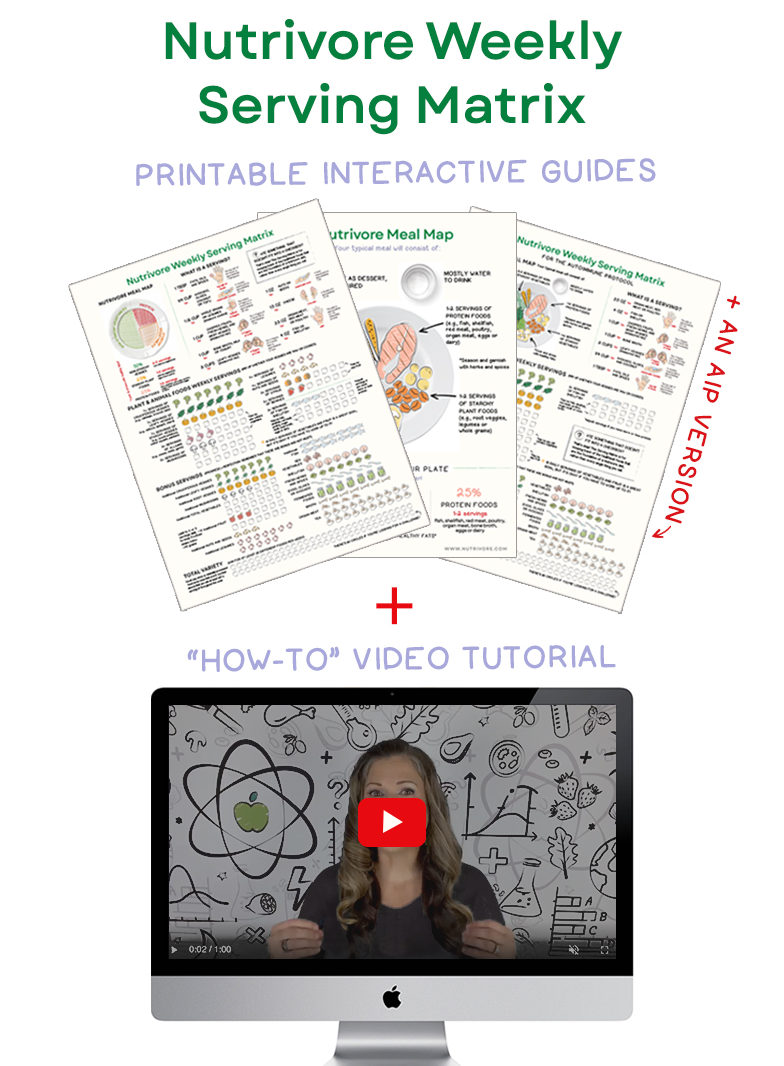 Now is the perfect time to invest in yourself with one of these AIP programs because they're all discounted for a short period of time (including my own AIP Lecture Series, which is 20% off only until January 15th!).  Read more about each program to help you choose the best program for your individual needs, challenges and goals!
My AIP Program: The AIP Lecture Series
The Autoimmune Protocol Lecture Series is quite simply my best AIP resource, AND it's your opportunity to interact with and learn directly from me, plus get personalized guidance and support for the AIP from me.
During this 6-week video-based, intensive online course, I will I teach you the scientific foundation for the diet and lifestyle tenets of the Autoimmune Protocol, plus provide tons of tips and strategies for implementation, refinement, reintroductions and troubleshooting!
The AIP Lecture Series features:
42 on-demand video lectures (totaling 16 hours!), all taught by me!
dozens of printable guides
action steps to help you go from theory to practice
daily self-discovery exercises to reinforce and refine implementation
an online forum to connect with other students and ask me your questions
guided discussions in the online forum
weekly FAQ videos with in the online forum
recommended reading for every topic
interactive quizzes to test your knowledge
support and guidance from me!
This course is changing lives and I'm so honored to be able to provide this advanced level of individual connection, education and support! I personally interact with every student in the private Facebook group for the course and answer every single question posed during the session.
The next session of the AIP Lecture Series begins Monday, March 9th, 2020.
Register before January 15th to get the amazing early-bird price of $459 (compared to comparable programs being sold for $799 or more!).
Register for The AIP Lecture Series
SAD to AIP in Six
If you're feeling run-down, exhausted or just plain overwhelmed by the holiday season, it might finally be time to tackle your health in the New Year. If have been diagnosed with an autoimmune condition or other chronic illness, following the Autoimmune Protocol (AIP) can expedite healing. But don't worry if the AIP sounds hard, because my friend Angie's outstanding program SAD to AIP in SIX is here to support you!
The SAD to AIP in SIX is a group coaching program designed to gently guide you and a group of your peers through a gradual transition from a standard American diet to the AIP in six weeks. This program has helped thousands of people regain their health. In fact, it's so well-developed and successful that it's been used in a clinical trial for patients with IBD and Hashimoto's thyroiditis!
This is the only AIP-focused program with AIP Certified Coaches trained in nutritional therapy. The coaches are able to not only coach you through the transition process, but also help you dive deeper into individual nutritional concerns.
I wish I had this program when I started the AIP! Angie and her team would love to have you join them in the January SAD to AIP in SIX groups! The first cycle for 2020 begins Monday, Jan. 6th
AIP Reset
The February AIP Reset is your perfect solution for bedding down all those resolutions made in January!
It's 30-days of on-line support and camaraderie to help you get back on track after the craziness of the festive season is past. With a focus on creating healthy choices, you're part of a safe and private online community of fellow AIPers to help you take things back to basics and reinforce the key principles of AIP.  It's fun. It's informative. It's engaging. It's full of people who understand. It's facilitated by my friend Joanna Frankham, your AIP Mentor and coach who lives an AIP way of life herself.
AIP Reset has been running since 2014 and there's a reason so many participants come back again and again!
Jo is offering my readers a special 15% discount if you register before 31 December 2019. Simply enter the coupon code 'PALEOMOM' at sign up to take advantage of this offer.
AIP Made Simple
When I'm teaching people about the Autoimmune Protocol, the biggest challenge to sticking with the AIP for most people is the practical day-to-day of meal planning and preparation.  If you're struggling to cook AIP meals–because you're short on time, don't have enough energy, or are can't seem to please the whole family–then I recommend AIP Made Simple by my friend Sophie Van Tiggelen (from the blog "A Squirrel in the Kitchen").
Sophie created this program so you can stop struggling to cook AIP meals for you and your family, and instead finally stick to AIP. With convenient monthly meal prep menus, done-for-you shopping lists, and batch-cooking directions, there's no more hard work required on your part. Just print the meal prep menus, get the ingredients from the shopping list, follow the meal prep directions, and voila!
And there is much more included in the AIP Made Simple membership. Everything inside the AIP Made Simple membership is designed to support you and make the AIP more simple so you can stick to it for good and reap the benefits of this incredible healing diet.
The Hashi's Reboot
The Hashi's Reboot is a 4-week program designed for individuals struggling with hypothyroidism and Hashimoto's to reset their thyroid health to feel healthy, revitalized, and renewed.
Program participants not only learn thyroid health basics, but also how to work with your doctor for proper testing. Also included are steps to boost liver function through gentle detox support, how to manage stress and nurture the adrenals, and steps to heal the gut.
The program comes with both 4 weeks of anti-inflammatory Paleo AND 4 weeks of AIP (including coconut-free) recipes, meal plans, and shopping lists to enhance the Reboot even further. Participants will receive 4 weeks of support emails as well to keep them motivated each week and to cheer them on!
Save 70% Off the AIP Lecture Series!
Learn everything you need to know about the Autoimmune Protocol to regain your health!
I am loving this AIP course and all the information I am receiving. The amount of work you have put into this is amazing and greatly, GREATLY, appreciated. Thank you so much. Taking this course gives me the knowledge I need to understand why my body is doing what it is doing and reinforces my determination to continue along this dietary path to heal it. Invaluable!

Carmen Maier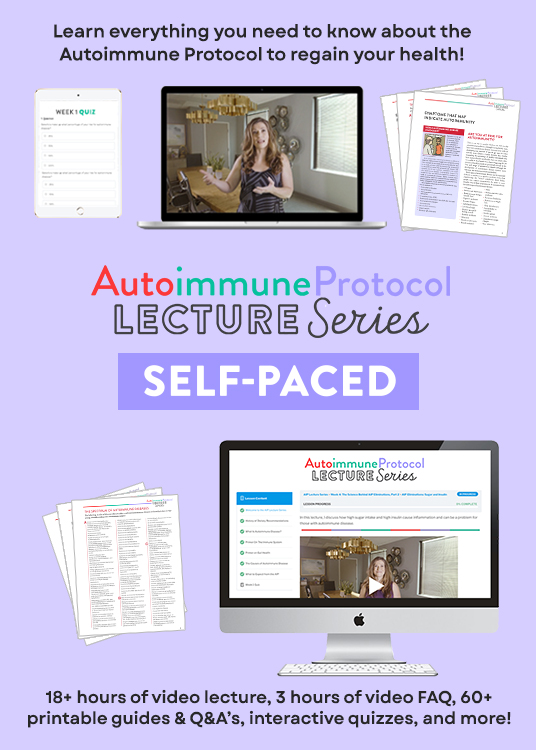 The Reboot is available year-round as a do-it-yourself program for $77 or you can join the upcoming group program in February 2020 for $167.
Register for The Hashi's Reboot
AIP Certified Coaches
These amazing practitioners from across the globe are now some of the most educated AIP coaches in the world. Many of them are starting programs and practices of their own, which I'm eager to share with you in the future!
If you are interested in becoming a AIP Certified Coach, sign up to my Health & Wellness Providers monthly newsletter here.  I'll e-mail you to let you know when registration opens up for the next session.
If you are interested in working 1-on-1 with a qualified coach, check out the directory of AIP Certified Coaches.

Become a Member for FREE!
The Paleo Mom Members' Area is resource central!  
You'll get FREE, unlimited access to dozens of quality resources, including introductory series, downloadable e-books, exclusive recipes, printables, videos and guides!
You may enjoy these related posts:
Alexa Federico is the founder of GirlinHealing.com, a recipe and wellness site …