Vegetables and fruits are independently beneficial. That means that the benefits we get from eating our 8+ servings of veggies per day (see The Importance of Vegetables) are above and beyond the benefits we get from eating our 3+ servings of fruit per day, i.e., we maximize the health benefits when we consume both! Most studies lump veggies and fruit together, and show that the more we eat, the lower our risk of chronic diseases. But, as discussed in Why Fruit is a Good Source of Carbohydrates, there are many health benefits attributable specifically to fruit, separate from veggies, thanks to the unique combinations of prebiotic fiber, phytochemicals, vitamins and minerals in fruit. (See also The Health Benefits of Apples and The Health Benefits of Citrus Fruits).
The health benefits attributable to fruit consumption include:
*NEW* The Gut Health Cookbook!
The Gut Health Cookbook is fantastic! Thank you for researching and creating The Gut Health Cookbook! Such wonderful recipes! I'm so excited to try them all! -Sue
The Gut Health Cookbook puts the 20 Keys to Gut Health into practice with:
180+ recipes featuring 61 gut health superfoods

Gut health food lists

Why's behind each gut health superfood
Get instant digital access for $27.99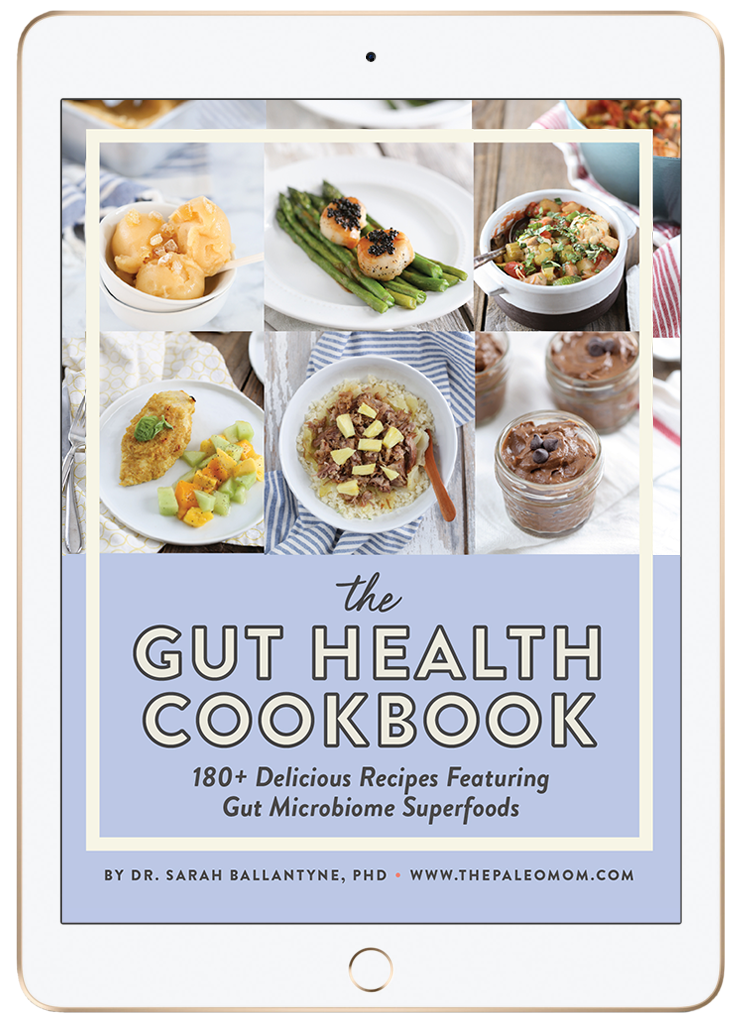 improved gastrointestinal health (including protection from IBS, IBD, diverticular disease, constipation, and colorectal cancer),
reduced risk of cardiovascular disease,
reduced risk of type 2 diabetes,
reduced risk of metabolic syndrome,
long-term weight management,
protection against lung cancer,
improved bone mineral density,
reduced asthma severity,
reduced risk of depression and other psychological conditions,
reduced severity of autism spectrum disorders,
reduced risk of seborrheic dermatitis, and
reduced severity of chronic obstructive pulmonary disease.
But, it's easy to get stuck on recipes like Apple Pie and Strawberry Rhubarb Cobbler when we think about eating more fruit. Fruit, doesn't need to be relegated to dessert! In fact, fruit can take center stage on just about any plate. For example, I almost always serve some kind of fruit with dinner, often just as simply as placing a big bowl of grapes in the middle of the table.
So, here are some of my favorite ways to incorporate a variety of different fruits into appetizers and main dishes!
The Gut Health Guidebook!
The depth of information, practical tips, and the accessible way Dr. Sarah shows me how to apply complex science to improve my health is truly remarkable. -Wendy
The Gut Health Guidebook is the culmination of 6 years of research. This unprecedented deep dive into the gut microbiome delivers:
A new diet for gut health, built from the ground up

Essential gut microbiome superfoods

20 Keys to gut health
Get instant digital access for $27.99