Onelly Hernandez is a Certified Primal Health Coach and an AIP Certified Coach. She has worked as a Certified Nurse Assistant for 9 years in in-home care and health care facilities. She started her healing journey from yo-yo dieting three years ago with the primal/ketogenic lifestyle.
Onelly discovered AIP when she was diagnosed with Hashimoto's thyroiditis and Raynaud's disease in June 2020. Since then, AIP has helped her tremendously reduce her Hashimoto's symptoms, eliminate SIBO, and reduce inflammation.
Outside of the office, Onelly enjoys cooking, reading, and spending quality time with my family. She lives in Haverhill, MA, with her husband of 15 years and three children.
You can find Onelly on Facebook and Instagram.
I caught up with Onelly and asked her a few questions that I thought you'd love to read!
Thinking about joining the next session of the AIP Certified Coach practitioner training program? Classes fill up quickly so make sure to click here and sign up for my Healthcare Professionals e-mail list to get first dibs at enrollment for the next session!
---
Please share a little about your personal health journey and the role that the autoimmune protocol has played.
Before being diagnosed with Hashimoto's thyroiditis and Raynaud's disease in June 2020, I was a super active woman balancing a part-time professional career along with managing the home, my three children, and bringing my children to karate after school. Then the pandemic hit, and I was more time home. Hence, I noticed that I was having difficulties waking up in the mornings, I was fatigued, I had mood swings, sensitivity to cold, brittle nails, gain weight, and difficulty losing weight. I was not my usual self. As a result of my Hashimoto's flares, I would be completely wiped out for several days at a time.
I ask my doctor to check what was going on with me, and she runs all the labs that the conventional doctors run, and nothing came back. All my labs were normal, and then I told her I suspect I have Hashimoto's and that she needs to check for my other labs for my antibodies. She said she didn't think I had it because my TSH was normal, but she did the labs, and they came back positive for Hashimoto's. My intuition was correct, and that's why I teach all my clients to become their own advocates because conventional doctors dismiss us. After all, they think all our symptoms are in our heads.
In July 2020, I started working with a functional practitioner. He ran a SIBO test that came back positive for SIBO, and he put me on the autoimmune protocol diet and some recommended supplements. Following AIP strictly for a month allowed me to see a significant reduction in my symptoms, along with a substantial decrease in my antibodies.
The autoimmune protocol was the missing link that I needed to help me on my healing journey. Without it, I wouldn't be where I am now.
What made you want to be a health coach?
Save 70% Off the AIP Lecture Series!
Learn everything you need to know about the Autoimmune Protocol to regain your health!
I am loving this AIP course and all the information I am receiving. The amount of work you have put into this is amazing and greatly, GREATLY, appreciated. Thank you so much. Taking this course gives me the knowledge I need to understand why my body is doing what it is doing and reinforces my determination to continue along this dietary path to heal it. Invaluable!

Carmen Maier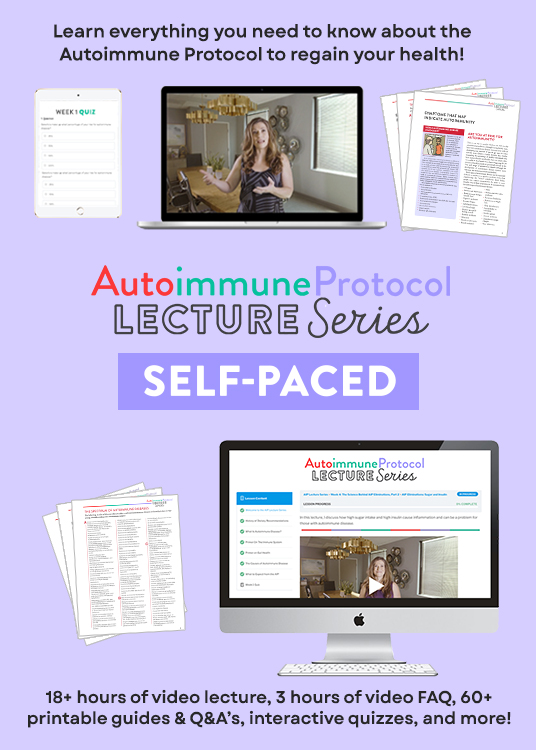 My own experience while working in health care is seeing how the elderly suffer from so many illnesses and think this is all a normal part of aging, and it's not. After I discover the primal lifestyle, I knew I was destined to help others in my community.
What certifications do you have, and why did you choose that program?
I have the primal health coach certification, ketogenic living certification, and AIP Certified Coach. In so many ways, I struggled with the same issue as others and wanted to help them through the process the same way I had to.
I chose these programs because they align with my beliefs and have helped me in my healing journey, and have given me the knowledge I need to help me support my clients and my community.
Share a little more about your practice. How can my readers contact you to work with you?
A lot of my work involves empowering Hispanic women to advocate for themselves and heal from autoimmune diseases. I also empower my community by offering free nutrition workshops at my local church. I had help women with Hashimoto's, Rheumatoid Arthritis, Hypothyroidism, PCOS, Fibromyalgia, and Raynaud's lose 15-30lbs regain energy and confidence with 1-1 and or group coaching programs.
In my practice, I serve clients of all ethnicities as well as Hispanics. I can teach them AIP while still cooking their favorite comfort foods due to my great experience cooking various Caribbean foods and my personal experience with AIP.
I guide my clients to kick start their new healthy lifestyle and keep them motivated and accountable to keep up with their unique journey to a healthier lifestyle. For me, helping others is the most rewarding part of my role.
To work with me, you can reach me at [email protected] or text me via WhatsApp at 978-494-4373
What is your #1 tip that you give all of your clients?
Be your strongest advocate. I think this is the most critical piece of advice I can offer. The fact that you live with autoimmune disease may often make you feel like you are in a boxing ring, but it will also allow you to fight back and learn to advocate for yourself. As an advocate for myself and my clients, I have learned to go above and beyond in order to get the best treatment possible. You can be your own strongest advocate by educating yourself about the disease, forming a solid relationship with your doctor or healthcare team, finding trusted resources, and making sure you are being treated fairly.
---
If you are a healthcare professional interested in this high-value certification, join my Healthcare Professionals e-mail list by clicking here (I send a monthly newsletter with content relevant to health & wellness providers). I will e-mail you with more information on how to become an AIP Certified Coach.