Last month, my assistant Tamar went on a cruise with her family.  Because Tamar suffers from Crohn's disease and follows a modified Autoimmune Protocol (with elements of SCD and inspirations from Dr. Fuhrman thrown in), she had many trepidations about how she was going to get food that she could eat while traveling.  We had several conversations leading up to her departure; and as she was leaving, I sent her a quick text message that said "take pictures of your meals and you can do a post on how it went when you get back!".  Yeah, I gave her work to do on her vacation (what a jerk), but on the bright side, there's now this great resource on how to follow a restricted diet on a cruise ship! Thank you Tamar!
---
A seven day Caribbean cruise on the Carnival Conquest? No cooking, no cleaning, no carpool, no work (sorry Sarah!), no alarm clock….what could be better? Wait….back to that part about no cooking. I take my own food everywhere. I don't leave home without a cooler containing a typical Paleo meal (protein and steamed vegetables) and I always have an apple or pear in my bag. What am I going to eat a on a cruise? I've been a few cruises (pre-Paleo) and I certainly never went hungry. But things are different now… very different.
LAST CHANCE to get the AIP Lecture Series!
RETIREMENT SALE! SAVE 70% OFF!
This online course is being retired on January 31st!
I am loving this AIP course and all the information I am receiving. The amount of work you have put into this is amazing and greatly, GREATLY, appreciated. Thank you so much. Taking this course gives me the knowledge I need to understand why my body is doing what it is doing and reinforces my determination to continue along this dietary path to heal it. Invaluable!

Carmen Maier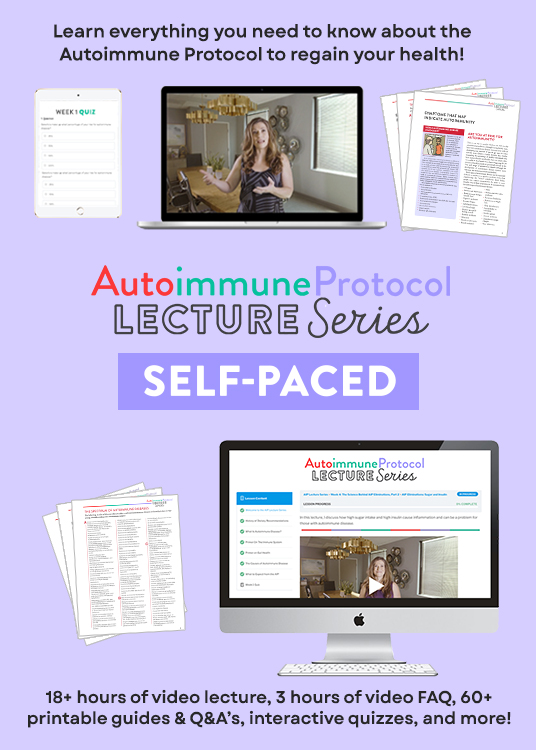 I'm happy to tell you that not only it is possible to cruise Paleo, it's actually not very difficult at all!
Several weeks before our cruise I called Carnival and spoke to them about my concerns regarding the food. The customer service representative said the best she could do was flag my booking number as having food allergies, but that any other special requests could not be done in advance.
I started a thread in the Carnival forum on the Cruise Critic website, and was advised the best thing to do was talk to the maitre d'  when we boarded the ship. You may notice I was asking about green smoothies on board in my post on Cruise Critic. I did not have any smoothies on board and it was not a problem at all.
*NEW* Nutrivore Weekly Serving Matrix
An easy-to-use and flexible weekly checklist
to help you maximize nutrient-density.
The Weekly Serving Matrix is very helpful! I've been eating along these lines but this really helps me know where to focus vs. which foods serve a more secondary role. It's super helpful and has taken a lot of worry out of my meal planning. Thanks!

Jan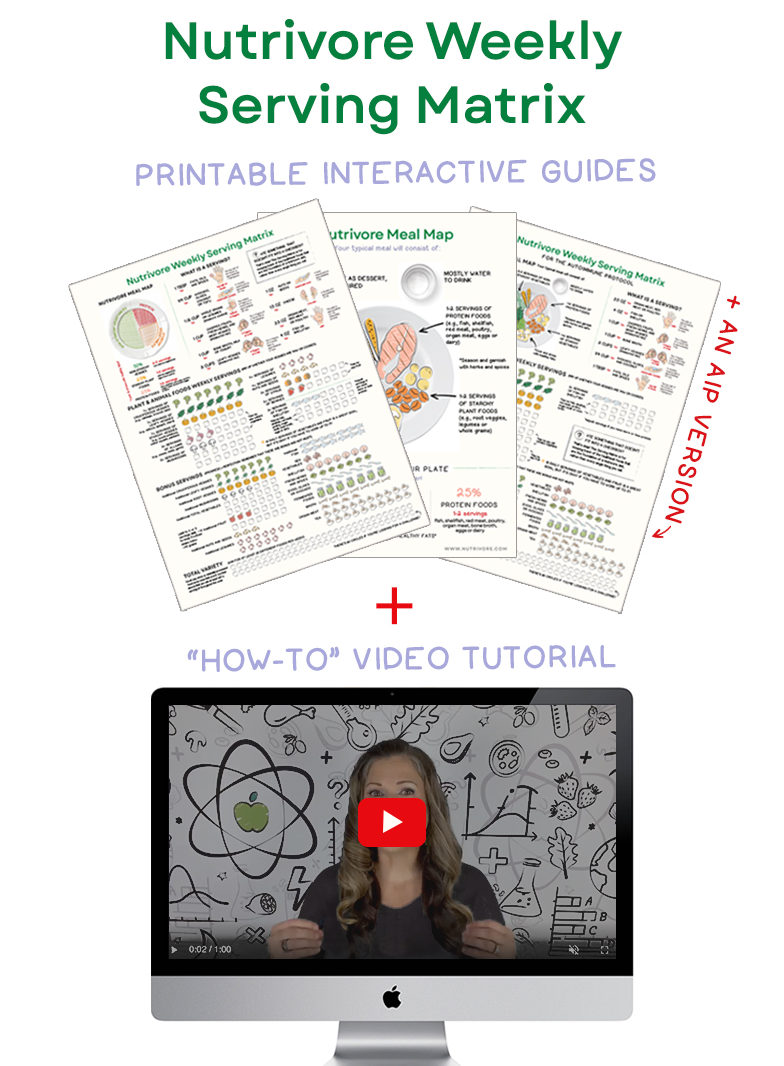 I created a document that explained what I do and do not eat and made several copies. Before the cruise, I emailed the document to other family members that were also going on the cruise. I did this to decrease the number of questions they would ask me about my meals on the cruise. Yes, I'm a traditional Paleo girl: no dairy, no grains, no legumes. However, my diet has a few unique twists. No pork for religious reasons and no raw vegetables (my system does not handle raw foods well). No salad bar for me.
The cruise was Sunday to Sunday departing from Miami. The night before the cruise we slept at a hotel (Marriott Courtyard, highly recommend!) close to the Atlanta Airport. When we left our house to go to the hotel, I thought to myself… "when I am going to eat vegetables again?". Our flight was very early on Sunday morning, and we had to leave the hotel no later than 7:00 am. I did not eat anything until we got to the airport. We had brought several Suja Juices, Go Picnic meals, Clif Kit bars, AMRAP bars, and fresh fruit.
Once on the plane I tried an AMRAP bar for the first time. They are very good and I love the fact that they contain quality ingredients.
Once we landed in Miami, we ate a restaurant in the main terminal. I asked for a container with turkey and avocado, and also had some of the fruit we brought from home. I call it "AIP in MIA".
Much, much later we arrived on the ship. One of the very first things I did was visit the dining room. I gave the receptionist a copy of my document and explained the food situation. She said no problem. At this point we were all hungry. Due to the timing the buffet had ended, and dinner did not start for a few hours. I had several turkey sticks, a Clif Kit bar, and dried fruit. And that's when my belly made it very clear that it was unhappy.
At dinner I had salmon and vegetables. I asked for no seasoning on the fish, and plain, steamed vegetables. I had a fruit plate for dessert. Everything was good.
The next morning at breakfast they brought me a plate of steamed vegetables and turkey bacon. I don't know how to explain it, but the bacon tasted artificial and strange. My stomach was not very happy after this meal, maybe due to the seasonings on the bacon.
When we were leaving the dining room, a staff member stopped me and said the chef wanted to see me. The chef sat down with me and confirmed what I can and cannot eat. He then created a personalized menu for each day of the cruise.  I was very impressed!
All of my meals were excellent. Breakfast was usually hard boiled eggs with vegetables, lunch was usually chicken breast with vegetables, and dinner was fish with vegetables. And I had fruit at every meal. On occasion I had turkey deli meat or a burger with no bun from Guy's Burger Joint (check out their Pig Patty, I think it would be Sarah's choice!) with my vegetables. Although I did not eat there, the BlueIguana Cantina (menu) would also be a good choice for a Paleo meal (protein and assorted veggies). My goal is to eat three large meals a day. However, when there were times between meals that I was hungry I would eat an apple or pear from the buffet area.
Here I am with Chef Santosh, he found me daily to ask if all meals were prepared correctly.
Again, I want to thank the chef and all the kitchen staff on the Carnival Conquest. They really made an effort to ensure that I was happy with all of my meals. Here are some photos of a few of my delicoius Paleo, AIP-ish (I did eat eggs and I'm not sure of the seasoning used on the burgers, but did not eat nightshades, nuts, seeds) meals:
Breakfast:
Lunch:
Dinner:
And I can't forget the glorious fruit!
Here is an example of the document that came with my meals, this one is for breakfast. Also pictured: my probiotic and digestive enzymes.
I don't want anyone to think I'm perfect. Although I was able to cruise grain, dairy, and legume free easily, my "frenemy" sugar was present. Not just in the large amounts of fruit that I consumed, but also in gum and a bit of candy. Not sure why Carnival feels that there should be an actual store where you can buy candy on the ship, but I did visit for Jawbreakers a time or two.
Besides the food, what else was great about this cruise?
Sleeping! We all know how important sleep is, right? It was wonderful to not set an alarm, to wake up based on my own internal clock. And back to the food for a second, it was nice to eat when I was truly hungry, not just because it was 6:30 am and I was in the kitchen preparing food for my family (like I do during the week at home).
Being happy. I was surrounded (literally, there was 17 of us in our group) by family. Family that I don't see often enough. Seeing my children with their grandparents, aunts, uncles, and cousins is very special. Yes, I smiled and laughed often on the cruise.
Spending time outdoors. I had melanoma in 2004 and I am very cautious about my sun exposure. But I also know that there are many benefits to being outdoors. There were some rainy and cloudy days (it even rained at the beach) but I was still able to get outside every day.
Catching up on some very important reading. I was able to read a recent version of The Paleo Approach and in a word, wow! You all are going to love this book! (Sidenote, we were considering an e-reader but purchased an iPad Mini instead and it's awesome. Perfect size to fit in your purse!)
If you're thinking about cruising but worried about the food, I am here to tell you that the Carnival Staff will work with you on special meals. If you eat "standard Paleo", you won't even need to ask for special food. If you're strict AIP, you will need to ask for assistance. But even with special meals made just for you, there is another part to the food equation. You have to be okay with watching people (in my case, my own family!) eating non-Paleo next to you. Be strong, and don't give in to the temptation.
What my husband and kids ate on the cruise could be a whole separate post. At home we all eat basically the same, with some exceptions for playdates, parties, etc (they eat more SAD on those occasions). But on the cruise it was all about compromises: Yes, you may have ice cream if you eat fruit first. or Yes, you may have cake if you eat salmon and vegetables. That was the approach that worked best in this situation.
One last thing, even though Sarah was home working hard (and was actually ill) while I was away, I brought her with me in my own way.
Here she is in St. Thomas…
…and Grand Turk…
Now who is ready for a The Paleo Mom Cruise? I think I'll put that on my to do list right now…
Update: In August 2014 I cruised with Royal Caribbean and ate AIP (plus egg yolks) and low-FODMAP. Everything was fabulous, I'll write a more detailed post about it soon.