Sometimes simplicity wins, and this cranberry kale salad is definitely a win! I love the combination of the salty bacon crunch, the bittersweet kale, the tangy cranberries, and the zingy red onion. It's one of those salads that's crazy easy to make yet hits all those buttons! Ooh, and it's completely autoimmune protocol friendly too, so another win! And, if you're planning a turkey dinner sometime this holiday season, it's a great side dish (although, it's one of those salads that's lovely beside almost any protein!).
Note: pine nuts are a lovely addition to this salad! Add 1/3-1/2 a cup when you mix in the other ingredients! (pine nuts are not AIP, however)
*NEW* The Gut Health Cookbook!
The Gut Health Cookbook is fantastic! Thank you for researching and creating The Gut Health Cookbook! Such wonderful recipes! I'm so excited to try them all! -Sue
The Gut Health Cookbook puts the 20 Keys to Gut Health into practice with:
180+ recipes featuring 61 gut health superfoods

Gut health food lists

Why's behind each gut health superfood
Get instant digital access for $27.99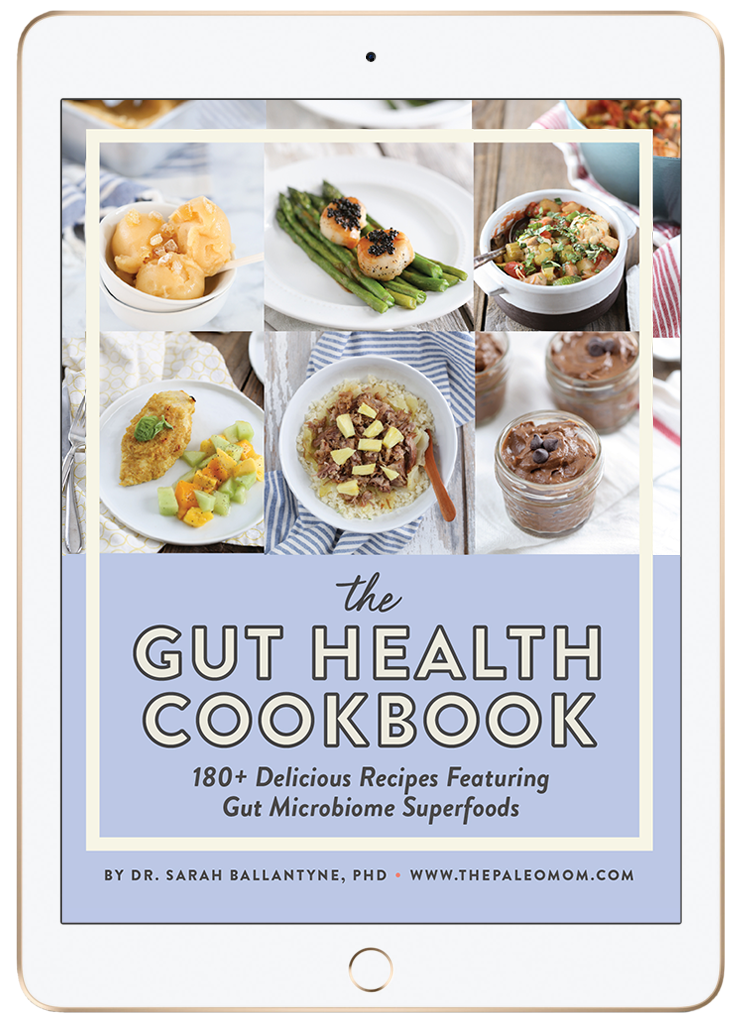 Prep time: 10 minutes
Cook time: 10 minutes
Serves: 4-6
Ingredients
8 ounces bacon

1.5 medium bunches of kale, torn into little pieces and tough stems discarded

3/4 cup dried cranberries
1/3 cup extra virgin olive oil

1/3 cup finely sliced red onion
Instructions
Chop bacon finely and brown on the stovetop in a pan until crispy, 8-10 minutes. Drain excess fat and let cool.

Toss kale with olive oil and mix with hands to coat. Mix in other ingredients, and toss to combine.