This simple salad is inspired by another one of my mother's family recipes. It's a fantastic way to work in a salad during the winter months, when traditional salad greens are harder to come by locally-grown and cabbage, cranberries and apples are abundant.
Plus, cabbage is an incredibly nutrient-dense veggie! If you're focusing on "eating the rainbow," – a great way to get in more nutrients! – the red variety is especially fantastic. In addition to fiber, vitamin B1, vitamin B5, vitamin B6, vitamin K, folate, manganese, iron, magnesium, phosphorous, calcium, and potassium, cabbage is high in phytonutrients such as thiocyanates, lutein, zeaxanthin, isothiocyanates, and sulforaphane. Red cabbage is additionally rich in anthocyanin polyphenols, which are potent antioxidants with diverse health benefits.
*NEW* The Gut Health Cookbook!
The Gut Health Cookbook is fantastic! Thank you for researching and creating The Gut Health Cookbook! Such wonderful recipes! I'm so excited to try them all! -Sue
The Gut Health Cookbook puts the 20 Keys to Gut Health into practice with:
180+ recipes featuring 61 gut health superfoods

Gut health food lists

Why's behind each gut health superfood
Get instant digital access for $27.99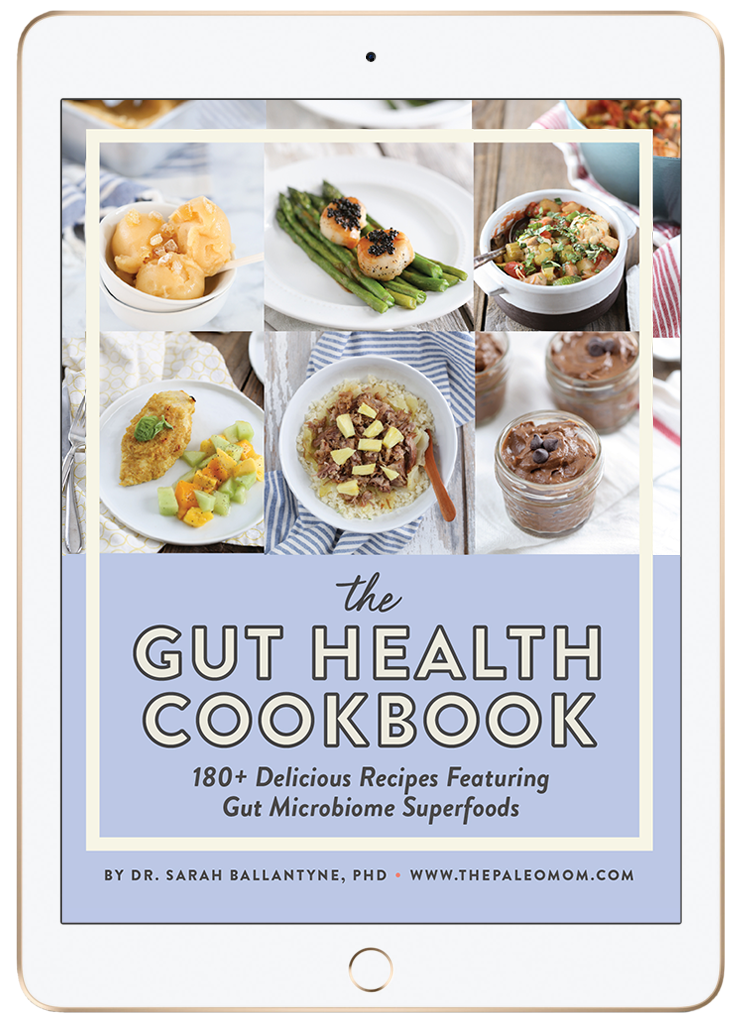 The real secret here is to slice the cabbage as thinly as possible, preferably using a mandoline slicer or food processor. That way, the cabbage can soak up all the delicious flavor of the dressing without adding too much crunch. Apples and cranberries really balance out the flavor and add a pop of tart and sweet to the dish. Plus, they're festive for almost any holiday!
This salad is simple, but it's a great accompaniment to almost any dish. I especially like to take it to barbecues and potlucks. It's one of those dishes that will look familiar on any table, and won't scream "Paleo" to friends and family.
Prep Time: 10 Minutes
Cook Time: none
Serves: 4 to 6
Ingredients:
The Ultimate Support for Your AIP Journey!
Dr. Sarah Ballantyne has delivered an exceptional course and I highly recommend this to anyone looking to improve their health. There is something for everyone. It was extremely helpful and worth the investment. -Marie Schlichtig
The AIP Lecture Series is the ultimate Autoimmune Protocol educational experience! Learn directly from Dr. Sarah!
6-week online course
42 on-demand video lectures
dozens of printable guides
self-discovery exercises and action steps
online forum and guided discussions
support and guidance from Dr. Sarah Ballantyne!
The next session begins January 18th, 2021.
(Use code AIPLS85 to save $85 and get bonus access to the Gut Health Fundamentals online course!)
Directions:
Use a mandoline slicer or food processor to slice the cabbage very finely, ideally 1/16 inch thick (see Tips). Place in a serving bowl.
Combine the olive oil, vinegar, and salt in a small bowl. Pour over the cabbage and toss to coat.
Add the apple and cranberries, toss to combine, and serve. This coleslaw will keep well for up to 4 days in the fridge.
Tips:
If you don't have a mandoline slicer or food processor to slice the cabbage, you can slice it with a knife, sprinkle it with 2 tablespoons salt, and let it sit in a colander in the sink for 1 hour. Rinse the salt off thoroughly, dry with paper towels or in a salad spinner, then follow steps 2 and 3.
Can't find fresh cranberries? Organic naturally-sweetened dried cranberries are a great substitute–use 1/4 cup.