My books are available again at all Costco stores in the USA!!!  I can't wait to see my books again among the stacks in the middle of the store!  Plus, I love Costco!!!! (Seriously, best toilet paper and baby wipes ever.)  Double happy dance!
I am SO excited that my books are back at one of my favorite places to shop that I have to share my FREE Ultimate Costco Guide, a downloadable guide to shopping at Costco if you are following The Paleo Approach!!!
Download my FREE Ultimate Costco Guide right here!
Nutrivore Weekly Serving Matrix
An easy-to-use and flexible weekly checklist
to help you maximize nutrient-density.
The Weekly Serving Matrix is very helpful! I've been eating along these lines but this really helps me know where to focus vs. which foods serve a more secondary role. It's super helpful and has taken a lot of worry out of my meal planning. Thanks!

Jan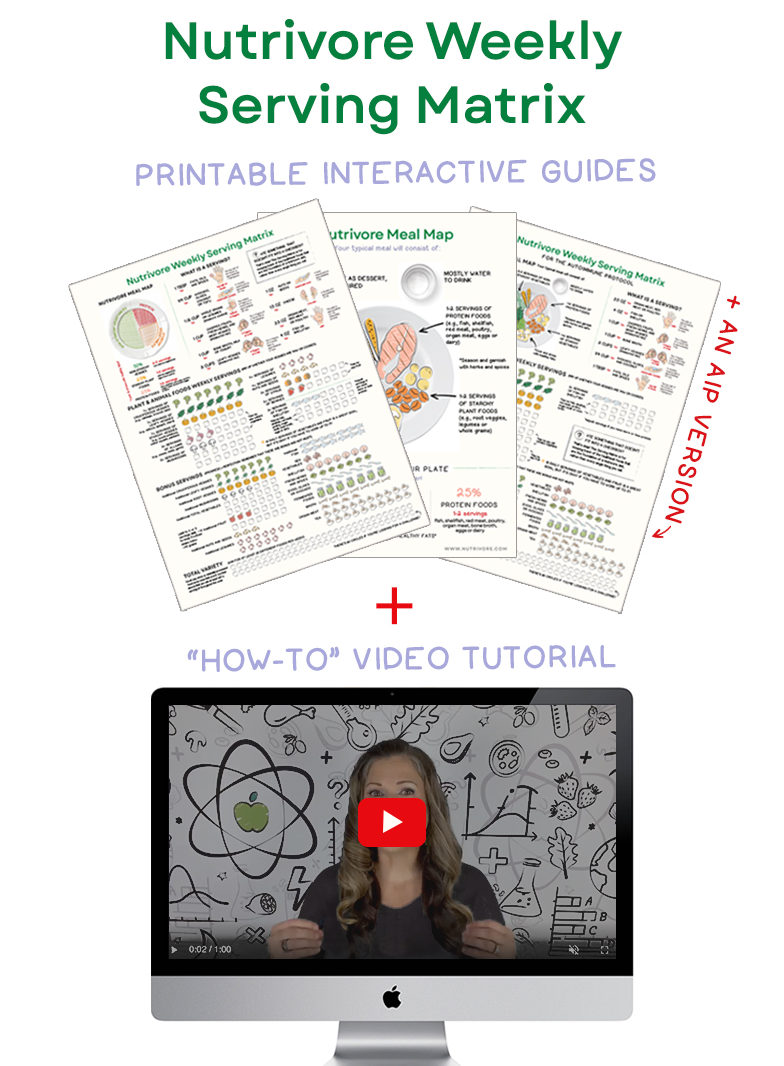 This completely FREE download is called The Paleo Approach Cookbook Ultimate Costco Guide. It's an 11-page guide focused on helping you navigate the autoimmune protocol and the recipes in The Paleo Approach Cookbook at Costco. The guide includes lists of recipes that use budget-friendly ingredients and also includes tips for saving money while prioritizing food quality. Plus, you'll find a list of autoimmune protocol-friendly foods available at Costco!  Super bonus: it also includes a new budget meal plan with shopping list specifically for Costco!
The Paleo Approach Cookbook Ultimate Costco Guide has tons of great information for anyone following the Paleo diet on a budget, although it's specifically designed for those of us following the autoimmune protocol (aka the Paleo Approach or the AIP) and as a companion guide to my nationally bestselling second book, The Paleo Approach Cookbook.
Not familiar with my books?
Both The Paleo Approach and The Paleo Approach Cookbook  are designed to be resources for those struggling with autoimmune disease and other chronic illnesses.
The Paleo Approach is the guidebook, and is a New York Times bestseller!  It contains over 400 pages of scientific explanations of the why's behind diet and lifestyle recommendations to help regulate the immune system and provide the body with the opportunity to heal.  This book goes into scientific detail, while keeping explanations accessible and fun to read, and includes over 1200 scientific references.  This is the book for people who want to understand the detailed Why's behind this the autoimmune protocol, along with tips for transitions, working with your doctor, medical test and treatments that might be helpful, troubleshooting, and when and how to reintroduce foods.
The Paleo Approach Cookbook is the National bestseller companion cookbook to The Paleo Approach!  It is also over 400 pages and includes over 200 recipes, all strict autoimmune protocol (AIP), and lots of resources (over 100 pages worth!) to help you be successful in the kitchen while you tackle the diet recommendations in The Paleo Approach (The Paleo Approach does not contain any recipes).  With such a huge number of recipes (that each include cook time, prep time, servings, tips, variations, nutrition facts, FODMAP alerts), as well as hundreds of recipe variations, there's something for everyone! The Paleo Approach Cookbook also includes a summary of the diet, cooking guides, kitchen How-Tos, shopping lists, food storage guides, kitchen tool essentials, cooking glossary of terms, time management strategies, how to read labels, recipe Top Ten, alphabetical Yes-No-Maybe-So list of foods,  6 one-week meal plans (two of which are low-FODMAP) and MORE!
The Paleo Approach and The Paleo Approach Cookbook are currently available from several popular retailers: Amazon (USA), Amazon (CA), Barnes&Noble, Independent Bookstores,  Book Depository for international locations, AND COSTCO!!!!!!!!
Call to Action:
If you have a Costco membership, please consider picking up an extra copy or two (or three or four) of my books next time you're there. 
Of course, my books make great gifts and I know many people who like to have a few loaner copies in their homes.  But, I'd like to specifically encourage you to buy copies at Costco.  This may be the single greatest thing you can do to support me. That's because Costco is more likely to keep bringing my books back into their regular rotation if they move quickly!  And this also supports everyone because it increases the visibility of the Paleo diet and the autoimmune protocol, introducing new people to this powerful strategy to take control of our health.
Having my books on display in a major retailer is just phenomenally important in spreading the word and helping more people regain their health! If you don't have a Costco membership, then you can find a friend with a membership and go shopping with them!

Become a Member for FREE!
The Paleo Mom Members' Area is resource central!  
You'll get FREE, unlimited access to dozens of quality resources, including introductory series, downloadable e-books, exclusive recipes, printables, videos and guides!
You may enjoy these related posts:
Today I'm giving my readers a truly awesome resource to celebrate The Healing …