Tomorrow is the first day of Fall, which has us planning our annual apple orchard trip. This will be our third year to take a day to drive up to the foothills of the North Georgia Mountains to an apple orchard to enjoy a picnic, pick apples right off the trees together as a family, and enjoy in whatever other activities we choose (two years ago we went to Amicolala Falls State Park which was breathtaking, and last year we went to an orchard that had horse-drawn carriage rides, a big jumpy thing for the kids, music and pig races). There's something so magical about these family day trips and it's a wonderful way for us to mark the coming of Autumn. Even my youngest, who is not quite 4, remembers last year's trip vividly.
I wanted to give you a Fall-themed recipe to celebrate the season. Fall has always been my favorite time of year (something about wind and cooler weather, rain storms, and jumping in leaves). And because for me, apples are as much a part of the season as falling leaves and cooler weather, I am sharing my recipe for Cinnamon Apple 2-Minute Mug Cakes!
*NEW* The Gut Health Cookbook!
The Gut Health Cookbook is fantastic! Thank you for researching and creating The Gut Health Cookbook! Such wonderful recipes! I'm so excited to try them all! -Sue
The Gut Health Cookbook puts the 20 Keys to Gut Health into practice with:
180+ recipes featuring 61 gut health superfoods

Gut health food lists

Why's behind each gut health superfood
Get instant digital access for $27.99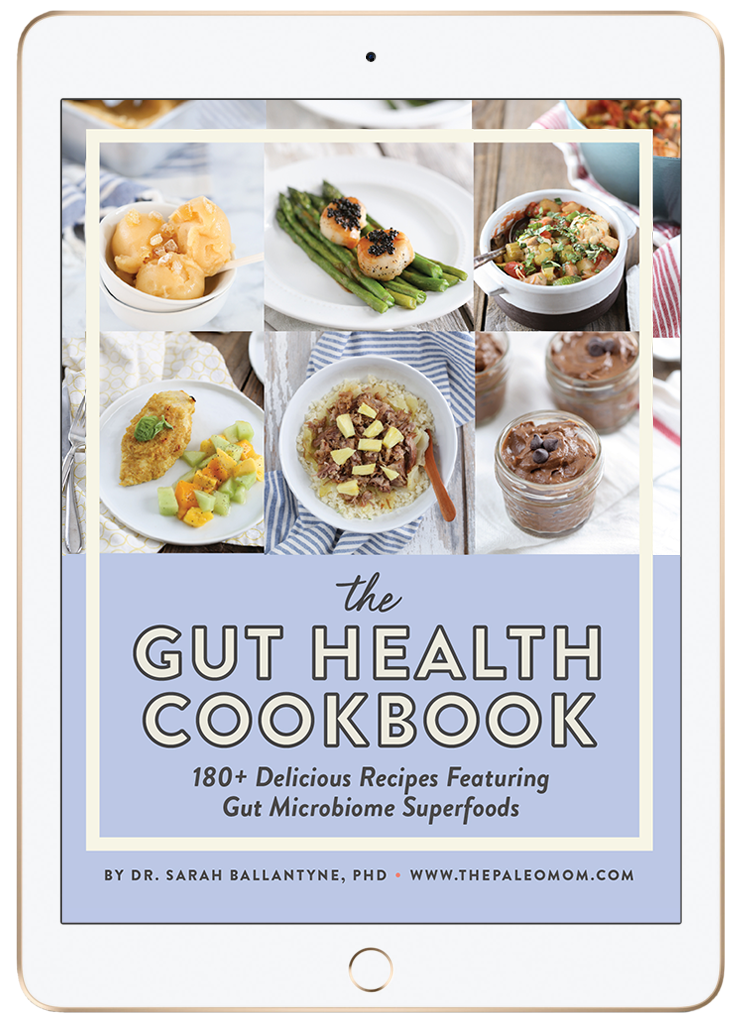 Actually, I can only claim partial credit for this recipe. When Delighted Momma posted her infamous recipe for 3-Minute Chocolate Paleo Mug Cakes almost exactly a year ago, one of my followers sent me a message asking if I'd seen the recipe (I had!). She had been experimenting with an apple cake version and wanted to share it with me. One evening a few week's later, while my table was still covered with apples from our orchard trip, and my husband had lit a fire in the fireplace because the weather was so cold and dreary, it felt like the perfect moment for warm apple cake that I could throw together in minutes. I actually only made a couple of minor adjustments to the recipe, so really the credit should go to Dawn Frazer. Thanks Dawn! And happy Fall!
The recipe below makes 1 cake, but clearly it's more fun to double (or triple or quadruple) the recipe and share with someone special!
Ingredients (for one cake):
Very finely chop apple (I think it's fastest to just throw it in a mini food processor or Magic Bullet and pulse a few times). Chop walnuts.
Combine all ingredients in a microwave-safe mug. Stir to combine (I like using a fork to really incorporate the egg).
Microwave on high for between 1 minute 45 seconds and 2 minutes (less if you have a high powered microwave, more if you have a lower powered microwave).
Enjoy! (fire in the fireplace optional)
The Gut Health Guidebook!
The depth of information, practical tips, and the accessible way Dr. Sarah shows me how to apply complex science to improve my health is truly remarkable. -Wendy
The Gut Health Guidebook is the culmination of 6 years of research. This unprecedented deep dive into the gut microbiome delivers:
A new diet for gut health, built from the ground up

Essential gut microbiome superfoods

20 Keys to gut health
Get instant digital access for $27.99