My first attempt at a Paleo-friendly gravy was way back on my very first Thanksgiving Dinner in 2011. I used coconut flour as a thickener for a traditional pan gravy. It really wasn't very good. The coconut flour worked to thicken the gravy, but also made it taste very coconutty, with a terribly grainy texture. I then discovered that arrowroot powder works well as a thickener with a very neutral flavor and even used this strategy in my Swedish Meatball recipe. I used arrowroot for years afterward to make gravy…. until one day, I made a pot roast. When I found that the vegetables were just too soft for my liking, I decided to puree all the veggies to make a sauce. It was delicious! I then proceeded to experiment with different vegetables, cooked in broth and then pureed. Most veggies end up making something very much like a creamy pureed soup, overwhelming the flavor of the broth. It's good, but it's not gravy. And then, one day, I overcooked cauliflower in broth (I was trying to just make a simple side dish of cauliflower cooked in broth). I pureed it and something magical happened. It didn't taste like cauliflower (I'm actually not particularly fond of cauliflower!). It tasted like gravy.
So, cauliflower gravy was born. And for a much higher nutrient content than using a starch like arrowroot. The secret to this gravy is to have really flavorful broth–the kind you'd enjoy drinking from a mug. I even suggest concentrating your broth by simmering without a lid for 20-30 minutes to reduce the volume by half or more! Make beef gravy by using beef broth, chicken gravy (like in the photo) by using chicken broth, etc.
*NEW* Guide to Nutrivore E-Book!
Nutrivore is the simple yet revolutionary concept:
Choose foods to meet the body's nutritional needs!
I'm very excited about the Nutrivore information! Thank you so much for all your research and hard work you put into this kind of information for all of us to use!! -Debbie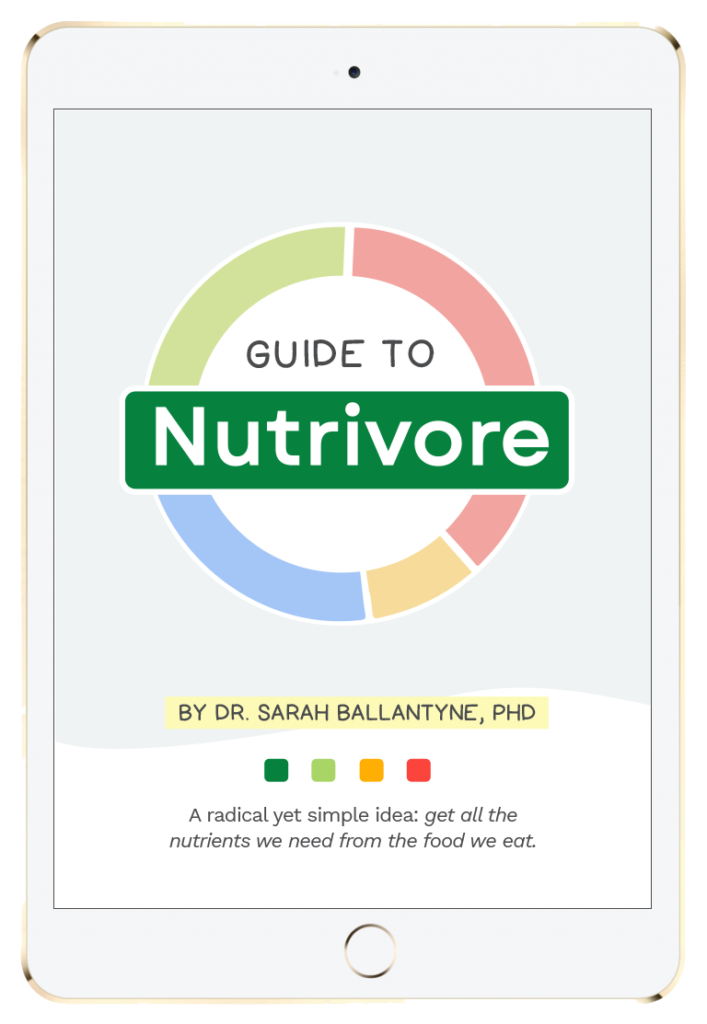 This gravy has the added benefit of being much less fussy than thickening broth or pan juices with starch. Simply simmer the cauliflower in broth until overcooked, pour into a blender, and blend to a puree! Since the goal is overcooked cauliflower (so that the texture is super smooth once pureed), it doesn't matter if you cook the cauliflower a little (or even a lot!) too long! If it's too thick, add a little more broth to thin. If it's too thin (not likely with this recipe), put it back on the stovetop and gently simmer to thicken.
This recipe is so versatile and delicious that it has found its way many places. First published in The Paleo Approach Cookbook, then featured in the Paleo Bites pilot, then included in the Best of AIP Cookbook, and now here, for all of you to enjoy!
By the way, if you haven't checked out the Best of AIP Cookbook created exclusively for the Autoimmune Wellness Bundle, make sure you check it out this weekend because it's only available until Monday and it's amazing!!!!
Ingredients:
1/2 head cauliflower, cut into florets
1 1/2 cups bone broth (chicken, beef, pork, etc.)
1 clove garlic
Salt, to taste
Place the cauliflower in a saucepot with the broth and garlic. Bring to a boil, then reduce the heat to maintain a simmer. Simmer for 15 to 20 minutes, until the cauliflower is overcooked.
Pour the mixture into a high-speed blender. Cover the lid of your blender with a tea towel to make sure you don't burn yourself. Blend for 1 minute, until completely smooth. Taste and season with salt if desired. If too thick, thin with additional broth or water.
This cauliflower gravy recipe is one 166 amazing recipes featured in the Best of AIP Cookbook, which is only available as part of the Autoimmune Wellness Bundle. The Best of AIP Cookbook was created exclusively for this bundle! Enjoy an amazing diversity of exquisite flavors while you embark on the autoimmune protocol with this NEW resource, only available here! With contributions from more than 30 leading Paleo and AIP bloggers and authors, this cookbook includes the best of the best 100% AIP recipes! Fill your plate with flavor and enjoy every bite on the road to better health!
The Autoimmune Wellness Bundle features 45 e-books and 27 discount codes for just $39. That is over 92% off what you would pay if you bought each e-book separately! Plus, you could save hundreds more dollars by taking advantage of the coupon codes (the value of the coupons are not factored into the value of the bundle!
The Ultimate Support for Your AIP Journey!
Get personalized guidance and support from Dr. Sarah in this 6-week interactive online course!
Thank you for your warmth, your AIP mastery, and your dedication to answering each and every one of our questions with such kindness and attention to detail. Thank you for teaching the science behind the principles. The amount of energy you put into creating this course and responding to us in real-time is felt and APPRECIATED!!
-Nicole Wood
The next session of The AIP Lecture Series begins January 10th, 2022.
Use code AIPLS10 to save 10% thru December 15th.
Included in this bundle:
15 AIP Cookbooks and Meal Plans (total value $188)
15 Lifestyle and Exercise Guides (total value $207)
15 Beyond the Basics e-books (total value $136)
9 Brand-new e-books
The Autoimmune Wellness Bundle features 45 e-books and 27 discount codes for just $39. That is over 92% off what you would pay if you bought each e-book separately! Plus, you could save hundreds more dollars by taking advantage of the coupon codes! Best of AIP Cookbook<, exclusive to this bundle!
27 Discount Codes for AIP-friendly vendors and products
Go get the ultimate resource for the autoimmune community NOW! This sale ends MONDAY!