Cassava goes by many names, including yucca, yuca, manioc, tapioca and Brazilian arrowroot. This starchy tuberous root is native to South America, and now grown all over the world, especially Africa and Asia. It is one of the most drought-tolerant crops in the world and is capable of growing in depleted and marginal soils. It's no wonder that's it's a very important dietary staple for developing countries, including half a billion people world wide.
It's also delicious!
*NEW* Guide to Nutrivore E-Book!
Nutrivore is the simple yet revolutionary concept:
Choose foods to meet the body's nutritional needs!
I'm very excited about the Nutrivore information! Thank you so much for all your research and hard work you put into this kind of information for all of us to use!! -Debbie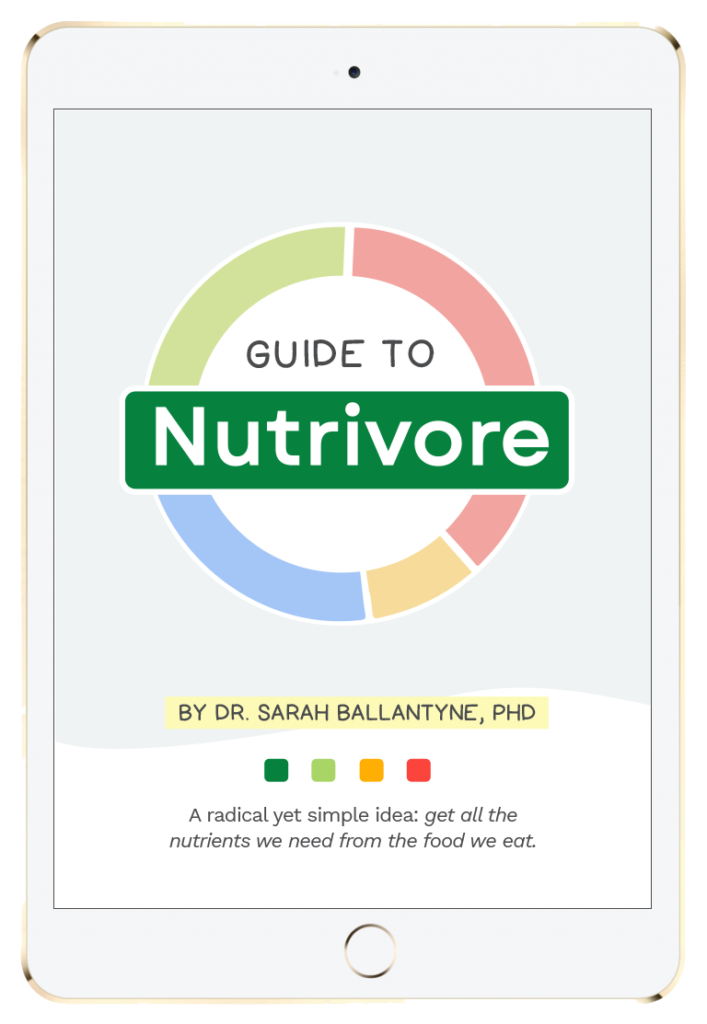 I always though of cassava as being a really dense starch, but I recently looked up both the glycemic index and glycemic load of this delightful starchy tuber and discovered that they're actually much lower than I thought! The Glycemic Index is 46 (that's considered low) and the Glycemic Load is 12 (that's considered medium). I've been finding myself making it these cassava oven fries at least once a week lately, since I seem to do so well on this starch, especially as a workout recovery food. Several of my local stores stock them regularly.
Cassava was originally reported a a gluten cross-reactor, however published research has shown that it is not (see this article or this recent Facebook post). Although it can be a relatively common food intolerance, it is considered an autoimmune protocol-friendly food.
It does contain cyanogenic glycosides however, an antinutrient that releases cyanide into the body if the food is not properly prepared (other common sources of cyanogenic glycosides are almonds, bamboo, cashews and stone fruits like peaches and apricots). The sweet cassava that is available as an imported vegetable in Western countries has only about a tenth of the cyanogenic glycosides of the bitter cassava grown in South America and Africa, which makes it pretty low on the cyanide scale to start with. And even better news is that these compounds can be completely removed with proper preparation, hence the boiling step to make these oven fries!
These cassava oven fries may seem a bit more finicky that sweet potato fries, or other oven fry alternatives–but the hands-on time with these is still pretty low and they are so worth every single minute invested! And, they are pretty forgiving when it comes to boiling time, oven temperature and cooking time. They also reheat well in the oven (I throw them on a pan, turn the oven on to 350F and when the oven is finished pre-heating, take them out!) so you can make a double batch and get more bang for your buck that way too!
Prep time: 15 minutes
Cook time: 1 hour
Servings: 4-6
Ingredients:
2 ½ lbs cassava (also called yucca, yuca, manioc, tapioca root)
½ cup lard or duck fat (or half and half of each), melted
1 ½ tsp salt, to taste
Directions:
The Ultimate Support for Your AIP Journey!
Get personalized guidance and support from Dr. Sarah in this 6-week interactive online course!
Thank you for your warmth, your AIP mastery, and your dedication to answering each and every one of our questions with such kindness and attention to detail. Thank you for teaching the science behind the principles. The amount of energy you put into creating this course and responding to us in real-time is felt and APPRECIATED!!
-Nicole Wood
The next session of The AIP Lecture Series begins January 10th, 2022.
Use code AIPLS10 to save 10% thru December 15th.
Bring a large pot with 3" of boiling water to a boil on the stovetop.
Meanwhile, peel cassava. Cut big cylinders, about 3-4" long, down the length of the cassava. Cut each cylinder in half lengthwise, and then cut each half lengthwise again 2-3 times to make large wedges. Cassava can have a long stringy thread running down the middle of it–if you see that, trim it off your wedges.
Add cassava wedges to boiling water and boil, uncovered, for 10 minutes. Meanwhile, preheat oven to 375F. (Tip: place your rimmed baking sheet with your lard in the oven while it's preheating to melt your lard. It also speeds up the cooking a bit for that pan to be nice and hot when you add the cassava wedges. Just be careful!)
Drain cassava completely. Toss with lard on a rimmed baking sheet. Bake for 40 minutes, stirring and flipping at the 15 minute mark, 25 minute mark, and 35 minute mark. Cooking time will vary based on just how thick your wedges are. They may be done at 35 minutes or 45. You want them to be turning golden brown and be crisp on the outside. If you aren't sure, put them back in for a few more minutes (they are fairly forgiving, especially if they are thick wedges).
Sprinkle and toss with salt, to taste. Serve!