These are the carrot cake version of brownie bites, with a similar cakey and slightly chewy texture. I don't honestly know where the inspiration came from (maybe I was tired of working on nut-free, egg-free recipes for the book). But, these cake bites have the benefit of being portable, containing vegetables and of being sweetened with dates. They are about the size of 2-bite brownie bites, but you could make them smaller if you want. Picnic with the kids, anyone?
If you like chopped nuts or raisins in your carrot cake, I think that would be a great addition to these. Probably about 1/2 a cup folded in to the dough at the end would be about right.
*NEW* The Gut Health Cookbook!
The Gut Health Cookbook is fantastic! Thank you for researching and creating The Gut Health Cookbook! Such wonderful recipes! I'm so excited to try them all! -Sue
The Gut Health Cookbook puts the 20 Keys to Gut Health into practice with:
180+ recipes featuring 61 gut health superfoods

Gut health food lists

Why's behind each gut health superfood
Get instant digital access for $27.99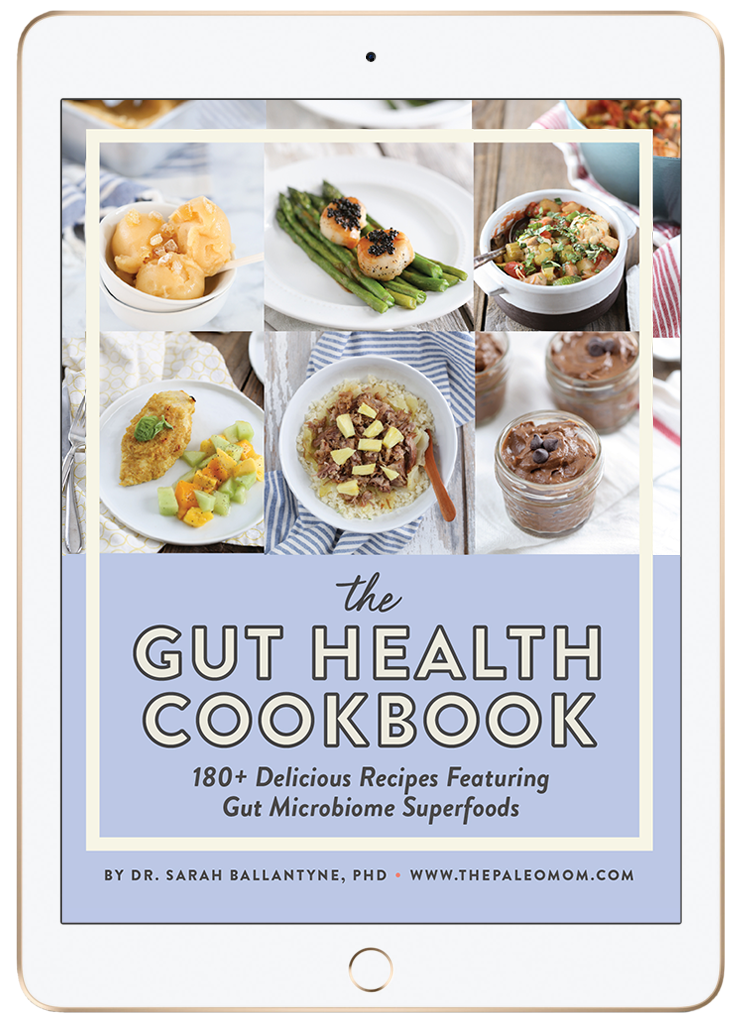 Prep Time: 10-15 minutes
Cook Time: 14 minutes
Yield: 2 dozen
Ingredients:
1 cup grated carrot
3/4 cup chopped walnuts
1/2 cup chopped dates (5-7 Medjool dates)
1 1/2 cup blanched almond flour
2 Tbsp coconut flour
1 egg
1/4 cup unsalted butter or palm shortening
3/4 tsp baking soda
1/2 tsp salt
1/4 tsp ginger
1/2 tsp allspice
1/2 tsp nutmeg
1/4 tsp cinnamon
pinch cloves
Preheat oven to 350F.
Pulse dates and walnuts in a food processor to form a paste.
Add the rest of the ingredients and pulse to combine or mix by hand.
Roll dough into 1″ balls and place on your cookie sheet. Use your hand (or a spatula or the bottom of a glass) to flatten to 1/2″ thick.
Bake for 14 minutes. Enjoy!
The Gut Health Guidebook!
The depth of information, practical tips, and the accessible way Dr. Sarah shows me how to apply complex science to improve my health is truly remarkable. -Wendy
The Gut Health Guidebook is the culmination of 6 years of research. This unprecedented deep dive into the gut microbiome delivers:
A new diet for gut health, built from the ground up

Essential gut microbiome superfoods

20 Keys to gut health
Get instant digital access for $27.99