Note (added 1/15/14): Emily McManus representing TED has commented on this post with the following "Thank you for your concern. We'd like to assure you that this claim is false. We have no plans to take Dr. Wahls' talk off YouTube, and TED has not asked the local TEDx organizers to do so. The talk remains on YouTube, and we encourage you to continue debating and discussing the talk in the comments". Dr. Wahls was told directly by the organizer of the event that TED has repeatedly challenged whether or not her talk should stay up on YouTube. Also, the new warning label remains on the talk. Since when does advocating a nutrient-dense diet require viewer discretion.
Note (added 1/16/14): The curator of the TEDx-IowaCity event has commented below. Here is an excerpt "Indeed, I have had a number of conversations with TEDsters about Terry's video. No, they have never explicitly said they would take the video down, but they have seen fit to slather the video with an unusual and off-putting advisory…. Apparently something has agitated someone at TED. After two and a half years they have decided to further editorialize. Have they done so with other videos? Are all health-related videos getting the same treatment? It seems odd that they should wait until this moment to make this call… 1.5 million views later…. I just cannot fathom why TEDsters feel the necessity to ratchet up the disclaimer on Terry's video at this point." I am relieved that Dr. Wahl's talk does not appear to be in immediate danger of being taken down, but I believe the new warning label needs to be addressed.
*NEW* The Gut Health Cookbook!
The Gut Health Cookbook is fantastic! Thank you for researching and creating The Gut Health Cookbook! Such wonderful recipes! I'm so excited to try them all! -Sue
The Gut Health Cookbook puts the 20 Keys to Gut Health into practice with:
180+ recipes featuring 61 gut health superfoods

Gut health food lists

Why's behind each gut health superfood
Get instant digital access for $27.99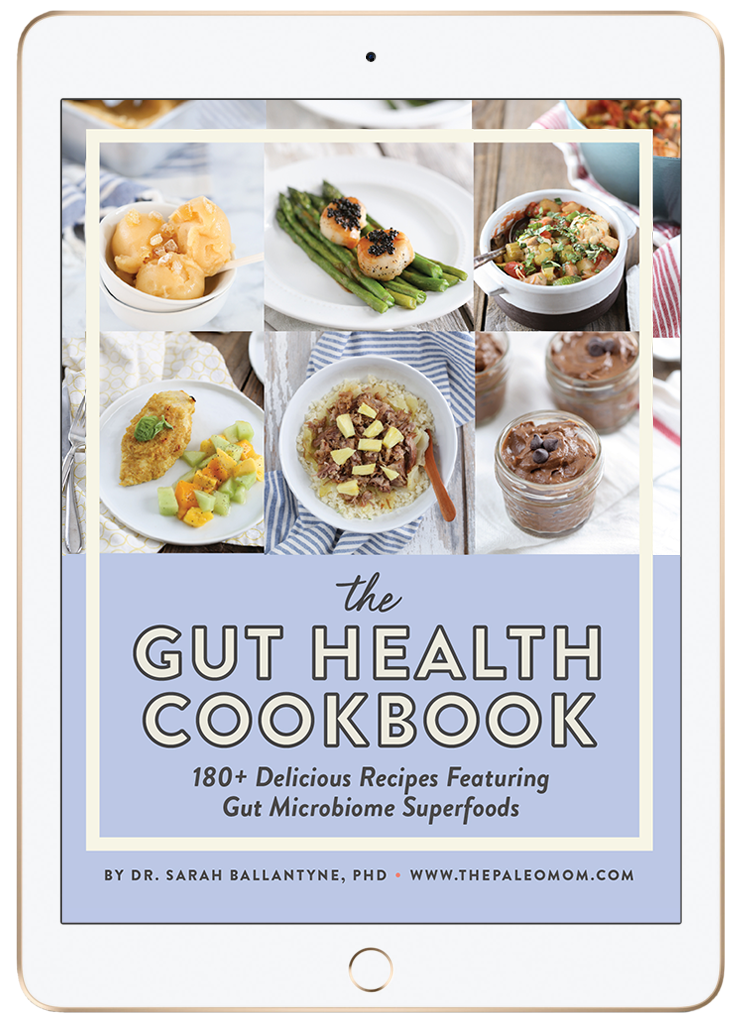 ---
Very early on in my Paleo journey and only a few weeks after I launched this blog, a viral YouTube video came to my attention. It was Dr. Terry Wahls' TEDx-IowaCity talk in which she describes her discovery that a nutrient-dense diet, especially rich in a variety of vegetables and based on a Paleo template, was able to reverse her secondary progressive multiple sclerosis and get her out of a wheelchair (link here and also embedded below). Not only are Dr. Wahls' nutritional recommendations based on sound science, but her personal journey is one of the most inspirational stories I have ever heard.
This talk, which came at a time where a standard Paleo diet was helping a variety of my health conditions but not my autoimmune disease, had a profound influence on me. I was already researching the Autoimmune Protocol and considering trying it out. At the time, there were various lists of extra restrictions (most notably the Autoimmune Caveat in The Paleo Solution by Robb Wolf), but almost no information as to why additional restrictions were required and no discussion whatsoever about nutrient-dense foods that should be included with more regularity. Dr. Wahls' talk was a revelation for me and forever changed how I approach diet–not just with a list of don'ts, but also with a list of do's and do more's. My passion for nutrient-density originates with this talk.
Dr. Wahls' extraordinary impact on how I approach nutrition is visible throughout my book, The Paleo Approach. In Chapter 2 where I detail diet factors that contribute to autoimmune disease (which includes several hundred scientific references), my first focus is on nutrient deficiencies and the impact that insufficient intake of a variety of micronutrients has on the immune system and the body's ability to regulate hormones and heal damaged tissues.
I had the great pleasure of meeting Dr. Wahls at AHS13 (let's face it, I was like an excited school girl meeting her favorite rockstar), and absolutely loved her talk which presented results from clinical trials using Dr. Wahls' Protocol in patients with secondary progressive multiple sclerosis (patients are seeing vast improvements and compliance is extremely high). And when Dr. Wahls agreed to write a cover endorsement for The Paleo Approach, I danced around my living room in excitement. Perhaps even more exciting, I have had the pleasure of previewing her new book, The Wahls Protocol, which I highly recommend pre-ordering!
So, why this call to action?
TED is talking to the organizers of the
TEDx-IowaCity event about having
this inspirational and influential TEDx talk taken down.
The Ultimate Support for Your AIP Journey!
Dr. Sarah Ballantyne has delivered an exceptional course and I highly recommend this to anyone looking to improve their health. There is something for everyone. It was extremely helpful and worth the investment. -Marie Schlichtig
The AIP Lecture Series is the ultimate Autoimmune Protocol educational experience! Learn directly from Dr. Sarah!
6-week online course
42 on-demand video lectures
dozens of printable guides
self-discovery exercises and action steps
online forum and guided discussions
support and guidance from Dr. Sarah Ballantyne!
The next session begins January 18th, 2021.
Register now to get bonus instant access to the Gut Health Fundamentals online course!
Furthermore, TED has also added a warning to Dr. Wahls' talk:
Note from TED: This talk, which features health advice based on a personal narrative, has been flagged as potentially outside TED's curatorial guidelines. Viewer discretion advised.

The guidelines we give our TEDx organizers are described in more detail here:
I have read the guidelines and do not see where Dr. Wahls' talk is in conflict of them. Also, I should point out that the video includes a disclaimer that, because the talk was filmed at an independent TEDx event, it is outside the curatorial guidelines. So, why exactly does it need a warning label? And since when does advocating a nutrient-dense diet require viewer discretion?
The number one most important thing I want you to do is to watch this video before it gets taken down. Here it is:
If you feel as passionately as I do that this video has the potential to help thousands and thousands of people, please consider commenting on the video itself (link to YouTube here) and e-mailing the TED organizers through this contact form.
Also, please use the buttons below and share this post in every way you can. This is a story about triumph over autoimmune disease and essential information about the importance of nutrient density that needs to be heard.