This review was written by my assistant Christina.
---
If you've been eating Paleo for a while, then you've probably heard of the Whole 30–a 30-day, sugar-free Paleo program designed to jump start healing, weight loss, and fitness–or the book that started it all, It Starts with Food. The Whole 30 is the latest from founders Melissa and Dallas Hartwig, providing step-by-step guidance, tons of Whole 30-friendly recipes, and all the resources to get you started on your first 30-day challenge… or to make your second, third, etc. 30-day challenge even more successful than the last.
In The Whole 30, Dallas and Melissa bring their signature tough-love, get-real approach to changing the way you think about food and the way you approach your health–and how it starts with food but doesn't end there. The Whole 30 may be a 30-day plan, but it isn't a quick-fix or a crash diet designed to help you shed a few pounds before going back to the standard American diet at the end of the month. It's a lifestyle shift, a hope that it will change your relationship with food for the long run and for the better. They explain how food can affect inflammation, the immune system, metabolism, and weight loss, and the problems with sugar, alcohol, grains, legumes, and dairy. The most basic guidelines of their program are to avoid those foods as well as anything that might be considered a treat and to focus on nutrient-dense meat, seafood, vegetables, eggs, fruit, and natural fats. They share information for getting started, like choosing a date, finding support, getting temptations out of your house, planning meals, and tips for navigating family events or social outings. You'll learn about all of the benefits you might receive (from having more energy to kicking sugar cravings), and some of the ups and downs you might experience along the way. They'll walk you through reintroducing foods (spoiler: day 31 is not an excuse to binge) and there is an enormous FAQ section with the ins and outs of all kinds of foods, drinks, and supplements. You'll learn how to grocery shop, eat out, travel, fight cravings, adapt for pregnancy or kids, how to fight cravings, and even how to adapt the program for a vegetarian template. There's a troubleshooting guide and all the information you'll need to make your kitchen Whole 30-ready. Best of all, Dallas and Melissa present all of this information in a way that is encouraging rather than overwhelming. This is all fantastic information for real-food eaters and Paleo enthusiasts, never mind whether you plan on doing the Whole 30 or not!
Nutrivore Weekly Serving Matrix
An easy-to-use and flexible weekly checklist
to help you maximize nutrient-density.
The Weekly Serving Matrix is very helpful! I've been eating along these lines but this really helps me know where to focus vs. which foods serve a more secondary role. It's super helpful and has taken a lot of worry out of my meal planning. Thanks!

Jan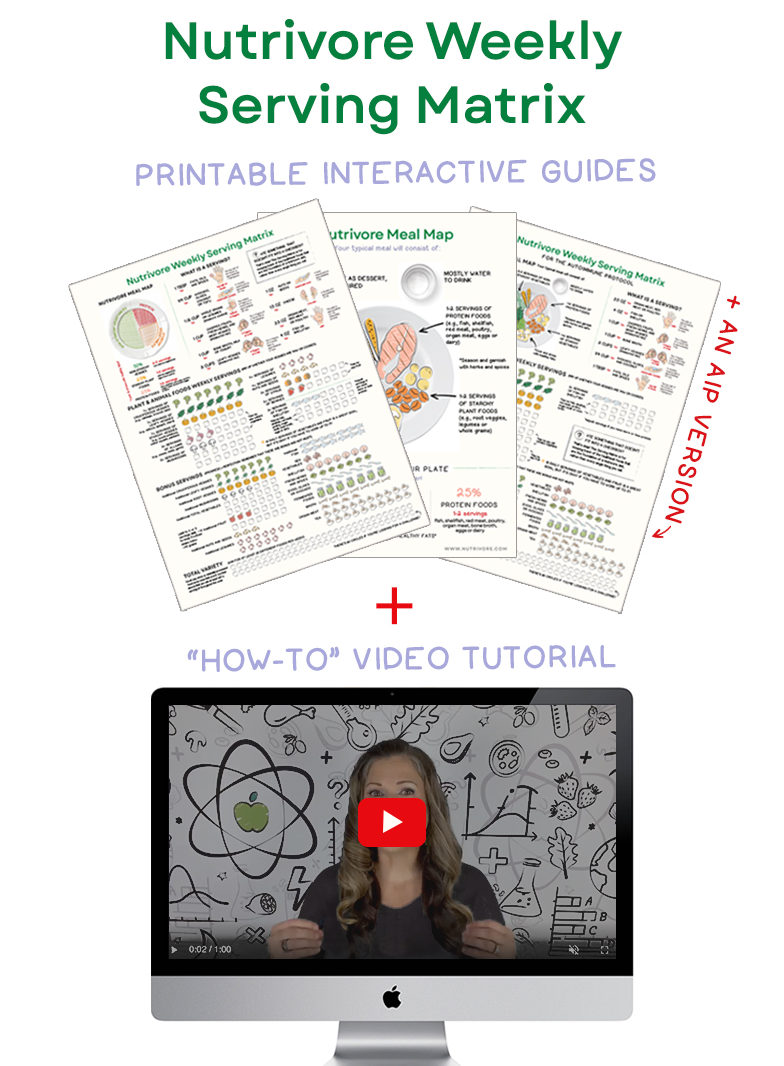 The recipes section of the book includes shopping tips, meal plans, and over 150 chef-developed recipes that are Whole 30-friendly. Each serves 2 and includes a mouth-watering full-page photo. Recipes include meat and seafood dishes like Seared Salmon Benedict, Steak Salad with Cilantro-Lime Mayo, Grilled Coconut-Curry Chicken, and Pulled Pork Carnitas; vegetable dishes and sides including Ratatouille and Gazpacho; one-pot meals like Chicken Cacciatore, Classic Chili, No-Fuss Salmon Cakes, and Shepherd's Pie; entire "fancy pants" meals for a backyard barbecue, date night, tapas party, family lamb dinner, and holiday dinner; and some beautiful "mocktails" like White Tea-a-Sangria and Rosemary Berry Smash.
We're still kind of muddling in some summer heat around here, so the first recipe I opted to try was the Lemon Lime Zinger, a simple beverage combining sparkling water with lemon, lime, and ginger. I was thinking of those summer days as a kid when a nice cold soda really hit the spot. This Zinger isn't as sweet as your favorite lemon-lime soda, but it delivers! The ginger adds just a tiny bit of spice to the tart bite of lemon and lime. If you're struggling to give up soft drinks, this might make a great substitute to help ease the transition. And although the Whole 30 is an entirely sugar-free diet, I think adding just a tiny bit of honey to this would make a much better alternative than reaching for an actual soda if you're really struggling!
Confession: I've never had scallops before. First of all, they're a little on the pricey side around these parts. Second of all, I've had something of a seafood aversion for most of my life, and sticking to my tried-and-true favorites, well, keeps me in my comfort zone. However, these Seared Scallops with Blueberry-Ginger Sauce caught my eye. I am totally down to try anything served up with blueberries. I love those little guys. So imagine my surprise when the scallops were my favorite part of the dish! They are the least fishy-tasting seafood I've ever had, with a flavor a little bit like chicken. Like shrimp, they only take a few minutes to cook. Now I have a new tried-and-true favorite! The sauce, on the other hand, was much too thin for our taste. We found it bland and an unfortunate distraction from the deliciousness of the scallops. If I were to make this again, I would cut the amount of water in the sauce in half and I would leave the sauce chunky instead of pureeing it. It definitely would have looked prettier than the scallop soup I wound up with below.
As a kid, the only way you could get me to eat scrambled eggs was if you covered them in ham and cheese. Looking back, I don't know what that was all about. Sure, ham and cheese are great. But I was missing out on so much more! Dallas' and Melissa's Southwest Scrambled Eggs totally blow ham and cheese out of the water. Combine salty scrambled eggs with fresh, juicy homemade salsa (the only kind of salsa I like, because I can control how spicy it is!) and creamy avocado for a breakfast (or brunch or brinner!) that's packed with flavor as well as nutrition. Add some plantain chips and you've got Paleo migas! In that vein, feel like they were trying to go for the saltiness of tortilla chips with the salt in the scrambled eggs, but 1 teaspoon for two servings is just a little much. I recommend cutting that in half and then adding more salt after the eggs are cooked if you deem it necessary. Their Salsa recipe is spot-on. Tomatoes, onion, cilantro, and just a few seasonings, cool and refreshing. I left out the jalapeno because I'm a wimp. To compensate, my fiancee simply added a dash of sriracha to his eggs. Win-win!
The Whole 30 is an incredible resource. Full of helpful tips and motivational language, it's a great tool to getting started with Paleo and/or the Whole 30 program… and sticking with it for a whole month. The Whole 30 program may be famous for tough-love slogans like "Quitting heroin is hard. Beating cancer is hard. Drinking your coffee black is not hard.", but in The Whole 30, Dallas and Melissa recognize that changing the way you think about food is hard… and provide you with all of the support, knowledge, and tools you will need to improve your health, starting with food.

Become a Member for FREE!
The Paleo Mom Members' Area is resource central!  
You'll get FREE, unlimited access to dozens of quality resources, including introductory series, downloadable e-books, exclusive recipes, printables, videos and guides!
You may enjoy these related posts:
This review was written by my assistant, Christina. Well Fed 2 is the second …