This review was written by my assistant Christina.
---
The Real Paleo Diet Cookbook is the latest book from the father of the Paleo movement, Dr. Loren Cordain. Offering 250 recipes that get back to Paleo's roots–using a variety of meats, vegetables, and fruit with no added sugars–it illustrates how simple this diet really is at its core… and how delicious simple food can be, of course!
First thing I noticed: This is a sturdy, hardcover book. Even though hardcovers cost more and can be prohibitively expensive with larger books, I'd love to see more cookbooks available in hardcover. If they get a lot of use, it's important they hold together over the years! The second thing I noticed was that less than half of the recipes have accompanying photographs, which is always disappointing. It's a trade-off: The more photos you include, the fewer recipes you can fit into the book. At 250, The Real Paleo Diet Cookbook has a lot of recipes… twice as many as most other cookbooks (some notable exceptions are Make It Paleo and The Paleo Approach Cookbook, which each have over 200 recipes) . So it's hard to be too upset at the lack of photos. Still, it's seeing the food plated and ready to eat, so vividly you can almost imagine how it might taste, that makes me want to go to the trouble of cooking it. Even though Dr. Cordain's food is almost always fantastic, I had a hard time getting really excited about any of the recipes I couldn't see. There are a lot of really great-sounding recipes, though: Dried Cherry-Sage Scotch Eggs, Stewed Peaches and Berries with Toasted Coconut-Almond Crunch, Chorizo-Stuffed Jalapeno Poppers, Asian Meatballs with Star Anise Dipping Sauce, Herb-Crusted Roast Eye of Round with Mashed Root Vegetables and Pan Sauce, Grilled Flat-Iron Steaks with Chipotle Caramelized Onions and Salsa Salad, Skillet-Roasted Rosemary-Lavender Pork Chops with Grapes and Toasted Walnuts, Tandoori-Style Chicken Legs with Cucumber Raita, Spice-Rubbed Salmon with Mushroom-Apple Pan Sauce, Blueberry and Roasted Beet Kale Salad, Chocolate-Covered Apple Chips, and Coconut-Mango Mousse-Filled Tartlets are just a few of the ones that screamed "make me!" when I read through the index. And though most of the recipes sound complicated simply because the titles are so wordy, don't let that fool you. Many of the recipes include a protein as well as a side (such as the Herb-Crusted Roast Eye of Round with Mashed Root Vegetables and Pan Sauce), so all you need to do for a complete meal is add a small side salad or something! And if you've been cooking Paleo for a while, you will probably already have most of the pantry ingredients on hand. If not, it's time to stock up!
But before we get to the recipes, let's talk about the introductory material. As you might expect, Dr. Cordain explains the dos and don'ts of the Paleo diet better than anyone. He keeps the intro short and sweet, but you'll learn what to eat (and why) and what to avoid (and why) and you'll also get the low-down on the 85:15 rule (allowing you to eat 15% of your meals with non-Paleo foods, assuming you don't have serious food allergies or intolerances; most people in the Paleosphere have started calling this 80:20 instead), cooking fats, and how to season your meals without salt (that's right, the original Paleo diet omits salt). As Dr. Cordain writes in this chapter, Paleo has very much evolved from its original principles as it has gained popularity. For many of us (especially those of us that can't do 85:15), a less strict approach has enabled us to stick to it long-term. But Dr. Cordain still stands by his original recommendations to avoid things like salt and added sugars and to seriously limit nuts and coffee. The Real Paleo Diet Cookbook really is about getting back to the basics and eating only what your body needs at a cellular level, not an emotional one.
Save 80% Off the Foundations of Health
Expand your health knowledge on a wide range of topics relevant to you, from how to evaluate scientific studies, to therapeutic diet and lifestyle, to leaky gut and gut microbiome health, to sustainable weight loss, and much more!!!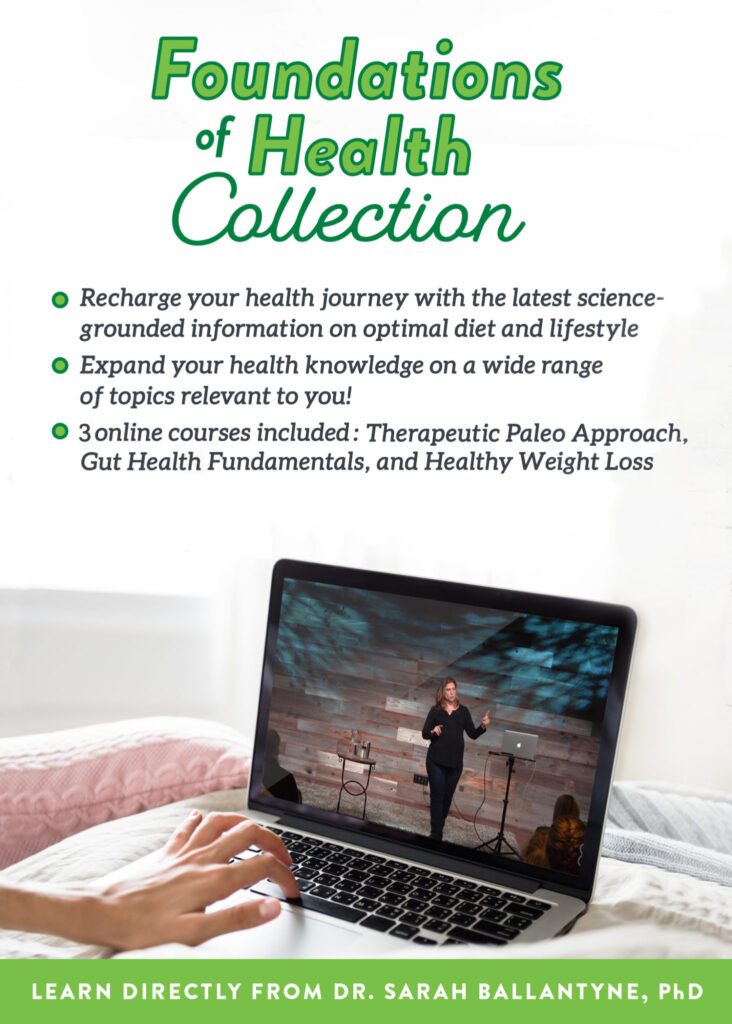 For starters, I went for the Mexican Braised Brisket with Mango Jicama, Chile, and Roasted Pumpkin Seed Salad. The instructions call for cooking the meat in a dutch oven on the stovetop, but I opted to pressure-cook the meat in my Instant Pot instead. Thirty minutes later, I had fork-tender brisket, cooked in broth, Mexican seasonings, chili, and tomatoes. It has just the right mix of spicy, salty, and savory flavors to hit the spot if and when you're craving Mexican food. The salad pairs crispy jicama with mango, more chili, roasted pumpkin seeds, and cilantro. The heat matches it to the brisket, but everything else about this salad is the perfect opposite. Slightly sweet from the mango, with crunch from the jicama and the earthy notes of cilantro, it is wonderfully refreshing after a bite of the hot, spicy brisket. And though they're perfect together, either one of these dishes would make a wonderful potluck or picnic item (for a barbecue, perhaps!) or a quick and flavorful go-to for any meal.
I opted for the Tuscan Chicken Soup with Kale Ribbons to help get rid of some spare carrots and kale I had lying around. I love soups because they're usually ready quickly without a lot of work (30 minutes for this one) and are often a complete meal in and of themselves. That's what makes them such a great breakfast or weekday lunch! Combining carrots, celery, onion, tomatoes, and kale, this is a hearty soup even before you take into account the chicken. Seasoned only with poultry seasoning and lemon zest, it is to die for. Seriously. Just two ingredients plus ground chicken equals some of the most flavorful chicken I've ever had. See what I mean about simplicity being delicious? I am so going to make meatballs out of this recipe!
I love fruit soups for a simple, beautiful, micronutrient-rich dessert. Here in Texas, they're good year-round, but some fruits just suit certain seasons and climes. This Strawberry-Cantaloupe Soup with Lime and Mint is a wonderful warm-weather treat, not only because it's served cold, but because all you have to do is puree the ingredients in a blender. No standing over a hot stove for this one! Cantaloupe and mint are such a refreshing combination and the tartness of the strawberries and lime add perfect depth so the dish isn't overly sweet. I opted to swap the dry white wine in the recipe for white grape juice and though I know alcohol makes everything more fun, we were all more than happy to sit down to this cooling dessert, especially after the spicy brisket! If needed, I think any fruit juice would make a great sub for the wine and would also recommend pineapple or cranberry if you happen to have those on hand.
The Real Paleo Diet Cookbook is a wonderful reminder that the foods our bodies need–meat and seafood, vegetables, and fruit–can also be the foods we want. I know treats and non-Paleo foods can be tempting, but I'll take one of Dr. Cordain's pork roasts or grilled steaks any day. Not only because they won't give me a bellyache, but because his inventive sides, seasonings, and sauces bring unexpected, delightful depth to ordinary ingredients. If you want to learn to cook real, simple food in a way that sounds and looks gourmet, this is the place to start!