Stephanie Gaudreau of Stupid Easy Paleo is not only an athlete, but a brilliant Paleo chef. The Performance Paleo Cookbook provides food to fuel your training so you can get stronger and healthier. Stephanie will show you how to support your workouts or aid in recovery with nutrient-dense, Paleo food that is not only what your body needs, but delicious too!
Stephanie shares advice for what to eat (and when) depending on your training schedule and personal preferences. You'll get a chapter of menus to help get you started, showing you which dishes work well together to get you all the fuel your body needs. The recipes are practical and uncomplicated. You'll find quick-and-easy dishes like Scotch Eggs, Honey Garlic Lemon Chicken Wings, and Prosciutto-Wrapped Salmon with Honey-Lemon Glaze. There are hearty meals like Blackened Fish Soft Tacos with Mango Slaw, snacks like Savory Salt and Vinegar Coconut Chips (say what?!) and Baked Yuca Fries, and treats like Banana Fudgesicles. From pre-workout snacks to post-workout recovery fuel, Stephani's got you covered. Not every recipe has a full-page photo, but the ones that do are breathtaking. Stephanie's an incredibly talented photographer, and she'll have you salivating over her recipes as you flip your way through the cookbook wondering "What should I make first?!"
*NEW* The Gut Health Cookbook!
The Gut Health Cookbook is fantastic! Thank you for researching and creating The Gut Health Cookbook! Such wonderful recipes! I'm so excited to try them all! -Sue
The Gut Health Cookbook puts the 20 Keys to Gut Health into practice with:
180+ recipes featuring 61 gut health superfoods

Gut health food lists

Why's behind each gut health superfood
Get instant digital access for $27.99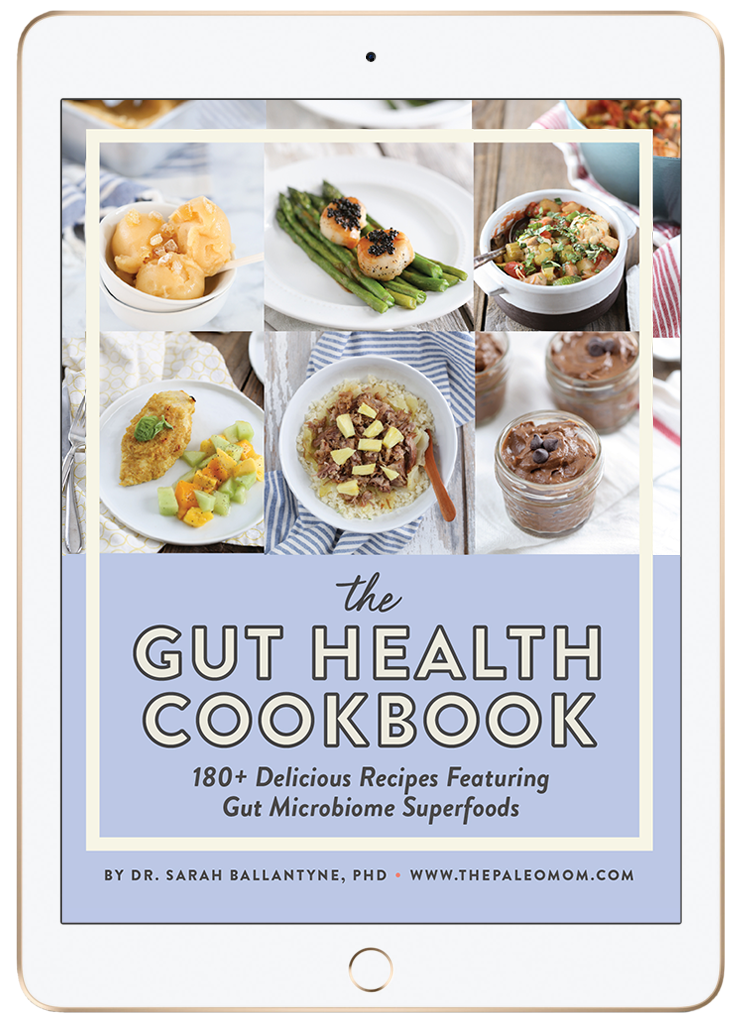 One of the first recipes in the book is Pizza Burger Bites. With a title like that, how could I pass that one up?! Pizza and burger? With a mixture of meat, roasted red peppers, olives, and pizza-inspired seasonings, these meatballs not only come together quickly (about 20 minutes, including a 15-minute cook time!), but taste amazing. Stephanie advertises them as quick, convenient protein bites, especially for a pre-workout pick-me-up, but I will happily eat these at any time of day, for any reason. They'd be great served over veggie noodles with tomato sauce or wrapped up in lettuce for a pizza meatball "sub"! And I absolutely love the idea of hiding a wide variety of veggies inside meatballs. While the roasted red peppers and olives absolutely make the pizza flavor, I think the recipe would also be delicious with just about anything else! Sweet potato, carrot, broccoli… anything you may need to get rid of (or have a hard time getting your household to eat by itself)!
Have you hopped on the plantain bandwagon yet? I have! The recipe that began it all for me was Sarah's Perfect Paleo Pancakes, and since then, I haven't been able to get enough of them. They're so incredibly versatile, and a great source of starchy carbs. Like Sarah's recipe, Stephanie's Cocoa Almond Plantain Pancakes use plantains as the batter base, but with almond butter, cocoa powder, and protein powder added to the mix. Made in small discs about the size of my palm, they cooked in about 4 minutes flat, and on my large griddle, I had the whole batch ready from start to finish in less than 10 minutes. Best of all, they're easy to flip and dense enough to travel with. Again, these are supposed to be a quick source of workout fuel, offering some carbs from the plantains, fat from the almond butter, and protein from the protein powder. If you eat them on the run, you'll enjoy the banana-like flavor of ripe plantains with just a hint of chocolate and almonds. But if you have time to sit down, they're delicious with preserves or butter and a bit of maple syrup!
In the mood for something spicy? Stephanie's Mocha-Rubbed Slow-Cooker Pot Roast combines a variety of peppers with cocoa, coffee grounds, and a thick sauce of coffee, broth, and figs for shredded meat that is not only red-hot, but utterly unique. The rich coffee flavor and hints of cocoa add depth to the spices, giving your tastebuds something to think about aside from all the peppers. As a slow-cooker dish, the pot roast takes several hours to cook, but only 15-20 minutes to prepare. The optional step of reducing the sauce after the pot roast is cooked only takes about fifteen minutes and results in the perfect smoky dressing for any Tex-Mex-inspired application. I served ours in lettuce wraps with sliced avocado and tomatoes. Yum! Using coffee grounds in a rub was a new experience for me, and now I might start putting cocoa and coffee on all the things.
The Gut Health Guidebook!
The depth of information, practical tips, and the accessible way Dr. Sarah shows me how to apply complex science to improve my health is truly remarkable. -Wendy
The Gut Health Guidebook is the culmination of 6 years of research. This unprecedented deep dive into the gut microbiome delivers:
A new diet for gut health, built from the ground up

Essential gut microbiome superfoods

20 Keys to gut health
Get instant digital access for $27.99
The Performance Paleo Cookbook isn't just for athletes. Among the competitors, CrossFitters, and weekend warriors (I salute you all!), there are people like myself who are recovering from chronic illness and just not moving that much. But a body in recovery still needs high-quality fuel, and if that fuel is easy to make (and enjoyable to eat), all the better! Stephanie's recipes are easy for people low on time and energy, trying to squeeze meals in around a busy workout schedule or, heck, just a busy schedule. The recipes offer plenty of fat, protein, and carbs for fueling high-intensity activity and recovery alike, so we can all get healthier!