This review was written by my assistant Christina.
---
The Paleo Foodie Cookbook is the second book from Arsy Vartanian of Rubies and Radishes, offering healthy, Paleo takes on 120 modern, traditional, and ethnic dishes from all over the world. You'll get a brief intro to the foods to eat and avoid on Paleo (as well as the autoimmune protocol), how to prioritize food quality and obtain your ingredients, and some basic kitchen tips (like reading the entire recipe before you start and trying not to rush) that will make the process of shopping and cooking easier if you aren't already a "foodie".
In most of the cookbooks I own, for every recipe that I absolutely love, there's one I really don't like or would never make because it's too time-consuming or expensive. It usually evens out, but even when it doesn't, I love the recipes I love enough to keep the book around. Very rarely do I find a book that doesn't have a single recipe in it I wouldn't happily make. It helps that Arsy sticks to simple recipes for meat, vegetables, and the occasional fruit or nut dish, without any elaborate gourmet meals or fussy baked goods. In The Paleo Foodie Cookbook, you'll find straightforward fare like Salmon Ceviche with Mango and Cucumber, Pork Chops with Pomegranate-Ginger Sauce, Wine-Braised Duck Legs, Pan-Fried Mackerel with Green Olive Relish, Spicy Watermelon and Mint Salad, Slow-Cooker Hawaiian Oxtail Soup, Chorizo Cauliflower Rice, and recipes for condiments and staples like Homemade Ketchup and flavored butters. I had a hard time picking out three to make for this review, but no difficulty at all bookmarking every single page for later!
Nutrivore Weekly Serving Matrix
An easy-to-use and flexible weekly checklist
to help you maximize nutrient-density.
The Weekly Serving Matrix is very helpful! I've been eating along these lines but this really helps me know where to focus vs. which foods serve a more secondary role. It's super helpful and has taken a lot of worry out of my meal planning. Thanks!

Jan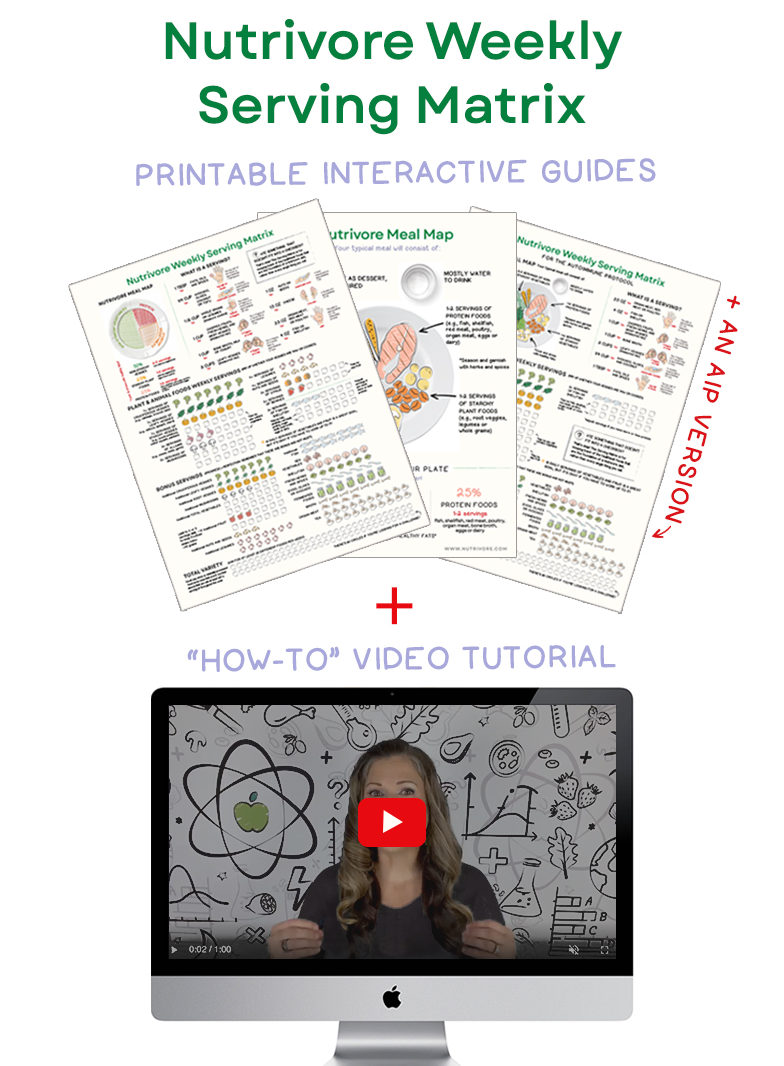 Mole is one of those dishes that's hard to explain. When my fiancee asked me what was in the bowl I was about to put in front of him, the first few ingredients–chicken, onion, tomatoes, some Mexican seasonings–rattle off just fine. But then you throw in "almond butter and dark chocolate", and you get a whole bunch of raised brows. If you haven't encountered mole before, you're probably inclined to think "there's no way this tastes good". But Arsy's Slow-Cooker Chocolate Chicken Mole delivers a dish that's not only stupid easy to throw together, but bursting with flavor. The almond butter and chocolate add just a hint of nuttiness beneath the hot Mexican spices. And my favorite thing about slow-cooker meals (aside from eating them, of course!) is how good they make the kitchen smell while they're simmering. Even if your family thinks the ingredients in this one sound strange, they'll be begging to eat it by the time it's ready! SO yum!
I'd never encountered parsnips before going Paleo. Most of my local markets don't carry them, but every now and then they'll turn up buried among the carrots, looking a little sad among all their brightly-colored kin. Parsnips are much earthier in flavor than carrots, and if you've never had them before, you might have to give them some time to grow on you. They have a very unique flavor that, it turns out, pairs really well with apples! Arsy's Roasted Parsnips and Apples is one of my favorite ways to prepare parsnips these days. I like to use sweet red apples like Pink Lady, but green apples would be fantastic, too. Add a shallot, a hefty amount of cooking fat, and a few seasonings (including orange juice and zest), then bake for an hour. How much easier could it get? Even in my parsnip-averse household, this dish went down a treat. I firmly believe that there's a way to prepare any vegetable that would get even the most picky eater to eat it, it's just a matter of trying a lot of different things. So I'm glad to finally have found my go-to parsnip recipe!
My photo of the Chinese Five-Spice Plum Pork Ribs absolutely doesn't do them justice, so hear me out. As a Texan, I've had a lot of ribs over the years, invariably smothered in some kind of barbecue sauce, sometimes smoked, sometimes grilled. It honestly never occurred to me to cook ribs any other way. That's just how it's done, you know? So I was intrigued by this recipe, which bakes ribs in a sauce of honey, orange juice, five-spice powder, ginger, and garlic along with a handful of plums. Chinese-inspired ribs? With fruit? I had to try it. And with my apologies to all of the Texas ribs I've enjoyed… these are the best ribs I've ever had. With meat so tender it falls right off the bone, the gentler bite of cinnamon, cloves, and ginger perfectly complements the sweet, soft plums. Next time I think I'll puree them with the juices in the pan and reduce the whole thing to a gravy simply because it might look more presentable, but then, ribs are finger food. They're supposed to be messy and might as well look it, right? Get a big bite of juicy meat with a bit of plum and thank me later. Err, thank Arsy later.
My only complaints are that The Paleo Foodie Cookbook, like many of the smaller, cheaper cookbooks, does not have a photo for every single recipe. Most of them are beautifully photographed, so it's a shame not to be able to see the others. There is also no recipe table of contents or index, which is unusual. To find out what recipes are included, you have to actually flip through the book or read through the regular index. On the plus side, The Paleo Foodie Cookbook is a hardcover! Since the hope is that a cookbook will see heavy use over many years, exposed to greasy fingers and kitchen mishaps, it's always nice to have a hardcover copy–especially one that's available for less than $30 (you can currently get it on Amazon for $20)! The Paleo Foodie Cookbook has something for everyone, offering "foodie" quality food that is easier to make than you might expect–and every dish is worth the time put into it. Arsy's love of cooking and food is infectious, and like any good teacher, she'll have you making your own healthy, delicious meals in no time!

Become a Member for FREE!
The Paleo Mom Members' Area is resource central!  
You'll get FREE, unlimited access to dozens of quality resources, including introductory series, downloadable e-books, exclusive recipes, printables, videos and guides!
You may enjoy these related posts:
It is one very exciting week on The Paleo View where Stacy reflects on her …