This review was written by my assistant Christina.
---
Pete Evans is an international chef and television personality in Australia whose book The Paleo Chef provides over 100 100% Paleo recipes that look and taste like gourmet meals but don't require five-star skills to execute. Pete establishes that the Paleo diet isn't a historical re-enactment of our hunter-gatherer ancestors' way of life, but a diet and lifestyle supported by contemporary scientific research. It's "a way of life, not a gimmick or a diet". I think that if Paleo is going to be sustainable for anyone, it's important to understand its principles and that it is so, so much more than a weight loss tool or a fad. To help with that sustainability, Pete urges you to make the transition to Paleo as slowly as you need to to avoid being overwhelmed. And he makes sure you have all the information you need about the ingredients (many of which may be new and unfamiliar) you'll be using along the way.
*NEW* The Gut Health Cookbook!
The Gut Health Cookbook is fantastic! Thank you for researching and creating The Gut Health Cookbook! Such wonderful recipes! I'm so excited to try them all! -Sue
The Gut Health Cookbook puts the 20 Keys to Gut Health into practice with:
180+ recipes featuring 61 gut health superfoods

Gut health food lists

Why's behind each gut health superfood
Get instant digital access for $27.99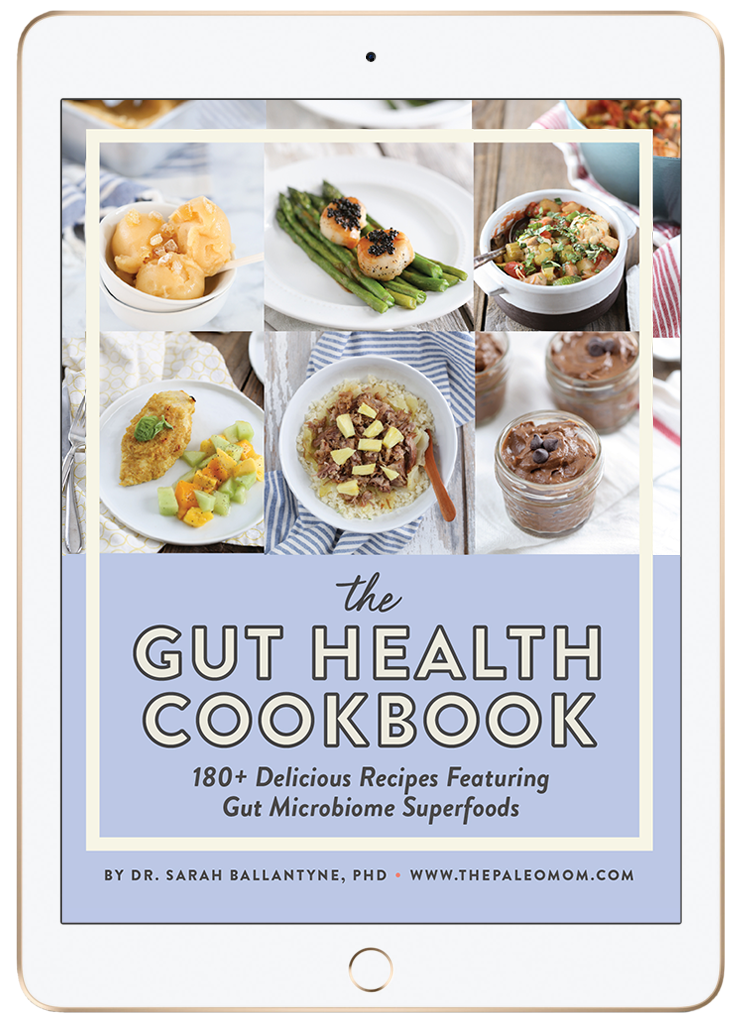 Collect enough Paleo cookbooks and you're going to start seeing similar recipes in a lot of them. There are a lot of staples a Paleo cookbook would simply not be complete without. But sometimes what looks like an old, familiar dish will get a new spin that makes it feel new and exciting again. Pete brings some new flavors and styles into the mix for some truly inspired, delicious meals. You'll find Hazelnut & Banana Pancakes, Soft-Boiled Eggs served with salmon roe, a Seed & Nut Bread that looks like a whole grain loaf, an Asian-inspired Shrimp Omelet served rolled up like sushi, Kale Hummus (say what?!), Nori Chips, a Raw Zucchini Lasagna with Tomato-Olive Pesto that looks gorgeous (props to Pete's photographer, Mark Roper!), Grilled Wild Salmon with Artichoke Salsa, Hot & Sour Duck Livers (and I thought I'd had liver every which way!), Venison Skewers with Beet Chimichurri, Chocolate Beet Mudcakes… and those are just my personal highlights from each chapter. This book has something for everyone and a whole lot of it.
Feel like sushi but don't have the time, skills, or tools for a roll? Pete's Spicy Tuna Hand Rolls will hit the spot! I was tempted to skip the spicy mayonnaise dressing because I was so excited to try these I wanted to throw them together as quickly as humanly possible. (Also, I might have been really hungry.) But it only takes a few seconds to whip together! What was I thinking?! The dressing is not for the faint of heart (especially if you include wasabi in your rolls, too), but then, I'm a bit of a wimp when it comes to spicy foods. Use it judiciously if you share my sensitive taste buds. As for the rolls themselves, the collection of tuna, cucumber, carrots, avocado, radish, and cauliflower rice makes for a dish–no, I'm going to call it a treat–that is not only delicious but an excellent way to get a variety of veggies in. And let's not forget the nori wrap! Sea vegetables are often overlooked, but contain some awesome nutrients its difficult to get from other food sources (like iodine). Tuna Roll Tuesdays, anyone?
What I love about the Grilled Sirloin with Mushrooms, Horseradish, and Arugula (and so many of the other recipes in this book) is that the recipe is actually a complete meal (so don't be put off by the seemingly long lists of ingredients!). I mean, you could totally add in some cauliflower mash or roasted root vegetables if you wanted to, but you don't have to. A beautiful medium-rare 6-ounce steak, a handful of mushrooms sauteed in ghee and herbs, and peppery arugula dressed simply with lemon juice and olive oil… what more do you need? Never mind the fact that while the mushrooms are cooking on the stove, you can broil or grill the steaks and toss the arugula with the dressing so that everything is ready to go all at once, and in the span of about 10-12 minutes. Huzzah!
The Ultimate Support for Your AIP Journey!
Dr. Sarah Ballantyne has delivered an exceptional course and I highly recommend this to anyone looking to improve their health. There is something for everyone. It was extremely helpful and worth the investment. -Marie Schlichtig
The AIP Lecture Series is the ultimate Autoimmune Protocol educational experience! Learn directly from Dr. Sarah!
6-week online course
42 on-demand video lectures
dozens of printable guides
self-discovery exercises and action steps
online forum and guided discussions
support and guidance from Dr. Sarah Ballantyne!
The next session begins January 18th, 2021.
Register now to get bonus instant access to the Gut Health Fundamentals online course!
I've seen watermelon-based desserts before, but none as simple and stunning as Pete's Watermelon "Cakes" with Coconut Cream and Rose Water-Poached Figs. Sliced watermelon is layered with a mixture of homemade whipped coconut cream and vanilla yogurt and then topped with crumbled pistachios and figs poached in honey and rosewater. All of that may sound complicated, but if you start with poaching the figs, everything else will be ready to assemble by the time they cool. We all know that watermelon is probably the most refreshing summer treat, and the addition of smooth, slightly-sweet cream and crunchy, salty pistachios bring it to a whole new level. I presented these to some friends and their eyes just lit up. "What is that?" they wanted to know. And boy, did I sound fancy when I told them the dressing was "homemade whipped coconut cream" and the garnish was "figs poached in rose water". I did not tell them the recipe only took me about ten minutes of actual work! Thanks for helping me impress my company, Pete!
The Paleo Chef is so much more than just another Paleo cookbook. With his culinary background and professional, encouraging language, Pete has made eating Paleo look easier and more delicious than ever. The variety and creativity of the recipes in The Paleo Chef will have even seasoned Paleo eaters drooling, while giving newbies an incredibly well-rounded first taste of Paleo. With gorgeous photography and design, it's the kind of book that begs to be showed off–almost as much as the food inside it!