This review was written by my assistant Christina.
---
Diana Rodgers is a Nutritional Therapy Practitioner living on a farm in Massachusetts. The Homegrown Paleo Cookbook is a guide to sustainable living, helping you understand modern food production (and how it has played a large role in our decreasing health and quality of life) and make more sustainable choices for you and your family.
You'll learn about the benefits of raising and consuming meat, why and how to transition to a Paleo diet and what to eat to get started, how to troubleshoot your diet when Paleo doesn't seem to be enough, how food is produced on decentralized farms and how you can help your local farmers, and how to begin raising your own bees, poultry, rabbits, sheep, goats, pigs, cows. You'll learn how to choose wild-caught fish that doesn't contribute to overfishing, how to hunt, and how to deal with processing your own animals should you choose to raise them for meat. You'll learn how to start and maintain a garden, how to compost and rotate crops, and which crops should do well in your climate as well as specific care instructions for a variety of plants including berries, sweet potatoes, alliums like onions and garlic, and squash. You'll also learn about container gardening, foraging for wild plants, and managing your wood if you happen to have a forest on your land. In a final chapter after the recipes, Diana breaks down a healthy lifestyle with tips for getting enough sleep, sunlight, play, physical activity, and redicing stress as well as guides to entertaining, holidays, making your own soap and candles, and how to give back to your community. And that's only half the book–we haven't even gotten to the recipes yet!
Nutrivore Weekly Serving Matrix
An easy-to-use and flexible weekly checklist
to help you maximize nutrient-density.
The Weekly Serving Matrix is very helpful! I've been eating along these lines but this really helps me know where to focus vs. which foods serve a more secondary role. It's super helpful and has taken a lot of worry out of my meal planning. Thanks!

Jan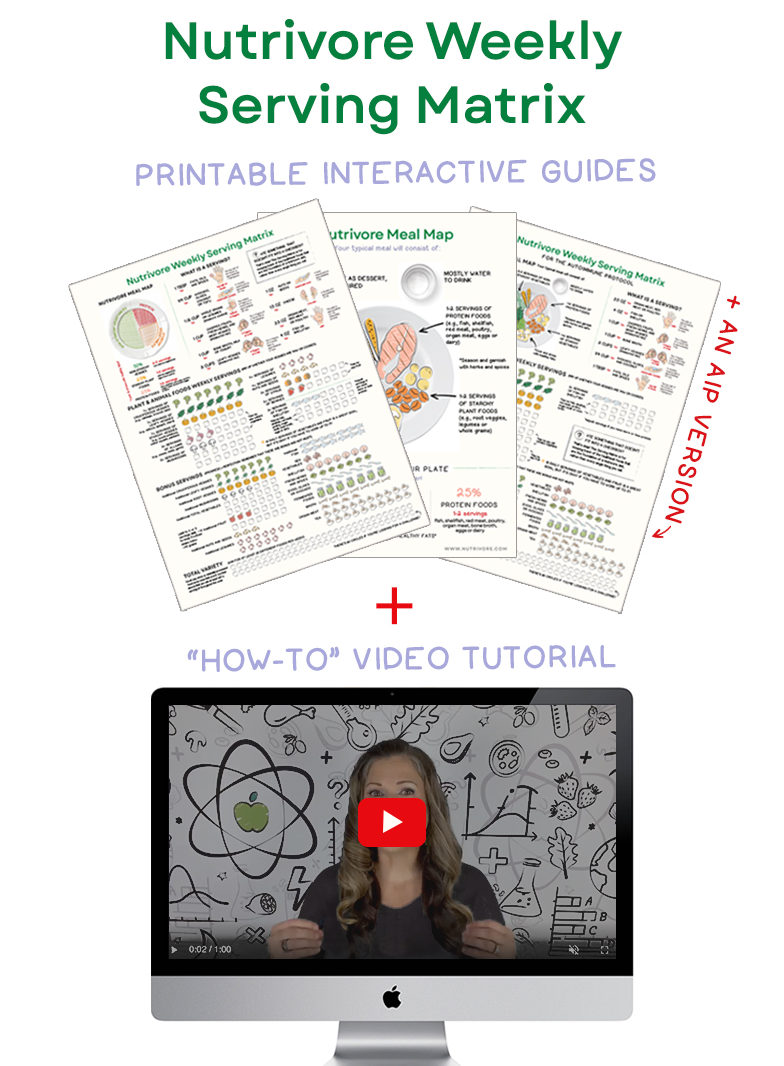 The Homegrown Paleo Cookbook boasts over 100 recipes organized by season with Early Season Recipes like Egg Drop Soup with Lemon-Ginger Meatballs, Turnip, Beet, and Carrot Gratin, and Birch Bark Sun Tea; Midseason Recipes like Kohlrabi Cakes with Bacon and Dill, Maple-Spiced Venison Jerky, Lemon Crepes, and Hickory-Smoked Brisket; and Late Season Recipes like Moroccan Egg and Lamb Tagine, Hard Cider, and Cardamom-Ginger Pots de Creme, as well as Basic Recipes like broth, ferments like kraut and kefir, lard, condiments like mayo and barbecue sauce, and how to preserve foods by freezing or canning them, as well as tips for grilling, cooking meat, and caring for cast-iron cookware. Each recipe features a gorgeous, rustic full-page photo as well as a guide to whether or not the recipe is Whole 30, nut-free, egg-free, or autoimmune protocol-friendly. Diana uses a huge variety of ingredients, from everyday items like sweet potatoes and tomatoes to ingredients you've probably never seen in a grocery store like fiddlehead ferns and stinging nettles, giving The Homegrown Paleo Cookbook a perfect balance between adventurous dishes and comforting, familiar favorites. And you'd be surprised at how many recipes are autoimmune-friendly!
Speaking of comforting, familiar favorites, if I had to name my all-time favorite food, I would have to go with saag, an Indian dish that involves braising greens in curry spices, often with soft paneer cheese (saag paneer) or potatoes (saag aloo). Braising greens is a wonderful way to get more of them into your diet because they cook down to about 1/4 of their original volume, and saag is my favorite way to braise them because the seasonings are so aromatic and delicious! When I saw Diana's recipe for Chicken Saag with Turnip Greens, I may or may not have squealed with uncontainable excitement. It's the first Paleo saag recipe I've seen that doesn't incorporate coconut or nut milk in lieu of dairy, which I feel spoils the flavor by distracting from the spices too much. Diana simply suggests leaving out the dairy if you don't tolerate it well. Her version uses leftover chicken and turnip greens, though you could substitute any meat or greens you happen to have on hand for an equally satisfying dish. It takes about an hour and a half to cook, but most of that is hands-off while the greens simmer and the sauce reduces. Meanwhile, your kitchen fills with the incredibly appetizing aroma of spices like cumin, turmeric, ginger, garlic, and coriander. I found myself repeating the mantra good things come to those who wait while waiting impatiently for my kitchen timer to tell me the dish was ready to eat. And by the time it was–oh goodness. It's been a long time since I've tasted a dish and immediately said "oh, wow" and had to sit back with my eyes closed while taking in all the flavors. It is certainly the best saag I've ever made, and I might even go so far as to say it was the best saag I've ever had (sorry, chef at my favorite Indian restaurant). It has joined our regular rotation of recipes and it pairs very well with rice or cauliflower rice or other starchy vegetables for a complete meal. Diana recommends serving it with her Coconut Crepes (also included in the cookbook), which also look fabulous. And in the future, when I find myself craving Indian food, I won't feel like I'm compromising on flavor when I make it myself instead of heading to the nearest Indian restaurant!
Despite my generally adventurous eating (I won't bat an eye at heart, liver, or tripe), there are a few foods I still feel a little "iffy" about. Mussels were one of them because I'd never tasted or cooked any molluscs before! New foods are always a little intimidating. When confronted with shellfish, I always flash back to my first experience eating lobster as a kid: It took forever to get any meat, there wasn't that much of it, and it didn't taste like any meat I'd ever had before. And while mussels don't boast a lot of meat either, it is extremely simple to get to. When I actually sat down with my bag of live mussels (the fishmonger at my local grocery store was very helpful with instructions for taking care of them after I told him I'd never cooked them before) and read through Diana's recipe for Red Curry Mussels with Ginger and Cilantro, I was shocked at how easy it sounded: Bring the curry sauce to a simmer and steam the mussels for five minutes. That's it! Less than ten minutes after reading the recipe, my fiancee and I were helping ourselves to big curry-laden plates of mussels. And they were divine. The curry sauce has just enough spice to really complement the somewhat fishy (in a good way) taste of the mussels without being too spicy for my wimpy taste buds. There's plenty of sauce to go around, and it would be excellent with any veggies you might like to serve on the side for a complete meal, like braised greens, roasted asparagus, or steamed broccoli. If I'd known mussels could be this simple and delicious, I'd have been cooking them all along. With this recipe, I am more than happy to make up for lost time by eating them more often!
For dessert, we wanted something light and fruity to complement the riot of flavors we knew we'd encounter in the Red Curry Mussels and Chicken Saag. Diana's Almond Panna Cotta with Roasted Strawberries looked perfect. For those of you that aren't familiar with panna cotta, it is somewhere between pudding and Jell-o in texture, and less sweet than both. Diana's recipe involves creating a slightly sweet blend of almond milk and coconut milk and setting it with gelatin overnight. This sweet and creamy treat then gets topped with fresh strawberries roasted in a balsamic sauce. The recipe only takes about 10 minutes of actual work and yields something both simple and beautiful, perfect for serving to company, sharing with loved ones on a special occasion, or treating yourself to just for the heck of it. It's a truly guilt-free dessert, and the strawberries smell so delicious while roasting that you may have a hard time leaving any to top the panna cotta with!
The Homegrown Paleo Cookbook is about getting back to the basics for a more sustainable and meaningful relationship with your food from farm to table, whether you live in the city, suburbs, or countryside. With more-than-comprehensive information on growing or raising your own food and over 100 delicious recipes to bring to the table, it's an impressive and inspiring all-in-one-guide to better, healthier living.

Become a Member for FREE!
The Paleo Mom Members' Area is resource central!  
You'll get FREE, unlimited access to dozens of quality resources, including introductory series, downloadable e-books, exclusive recipes, printables, videos and guides!
You may enjoy these related posts:
On this episode of The Paleo View, Stacy and Sarah are joined by a return guest, …