This review was written by my assistant Christina.
---
Here at The Paleo Mom, we often receive questions about not only raising Paleo children, but how to approach breastfeeding and weaning and whether or not Paleo is even an appropriate diet to follow while pregnant. Pregnancy is such a complicated topic depending on so many factors of your individual health, but with The Everything Paleo Pregnancy Book, you'll learn why to follow a Paleo diet during pregnancy–and how to do it safely.
*NEW* Guide to Nutrivore E-Book!
Nutrivore is the simple yet revolutionary concept:
Choose foods to meet the body's nutritional needs!
I'm very excited about the Nutrivore information! Thank you so much for all your research and hard work you put into this kind of information for all of us to use!! -Debbie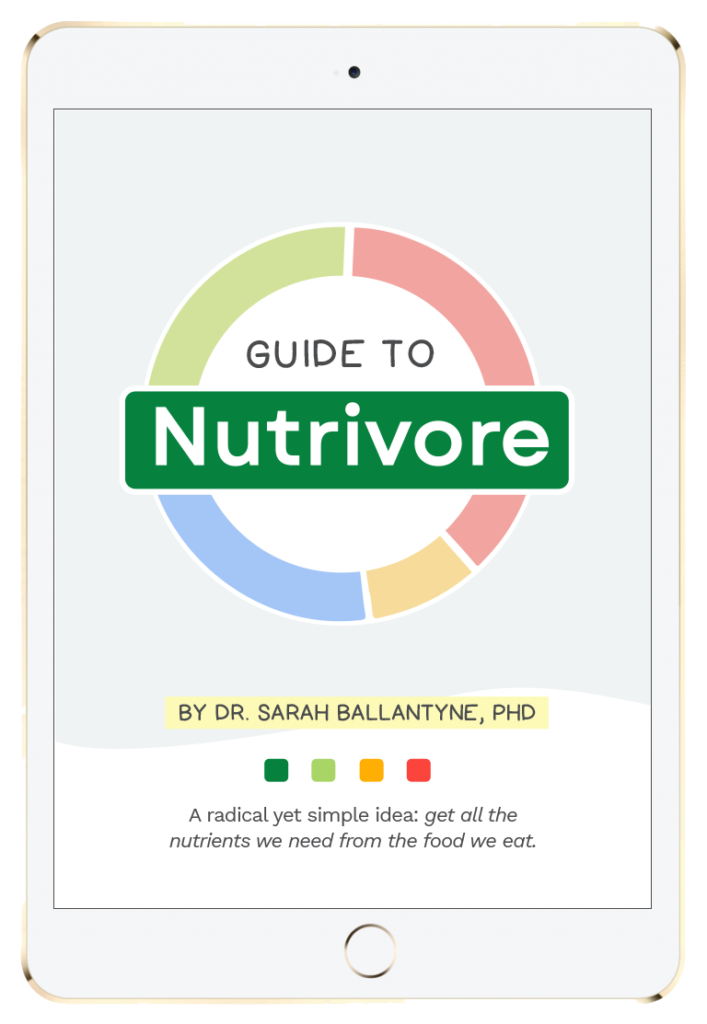 The first chapters explain the dos and don'ts of Paleo (with complete food lists in the appendix) and the variety of nutrients you will need to support your baby's development as well as the foods you can get them from. Tarah provides information on tailoring Paleo to fit your pregnancy needs even if morning sickness or food aversions have you steering clear of just about everything, how to combat cravings for things you know you shouldn't eat (or replace them with healthier, safer alternatives), and how to choose the most nutrient-dense foods so that you (and your baby) are getting the most nutritional bang for your buck.
Tarah shares tips for finding a healthcare team that suits your needs, the things to look for in a prenatal vitamin, and explains the steps you can take to reduce your chances of complications like preeclampsia, gestational diabetes, common birth defects, high birth weight, or low birth weight. You'll learn how to exercise safely before and during your pregnancy, how to cope with mood swings and your changing body, how to set yourself up for breastfeeding (or alternatives if you aren't able to breastfeed), and how to recover postpartum whether you had a vaginal birth or Cesarean, are dealing with postpartum depression, or are having trouble adapting to your post-birth body. You'll learn what happens in each week of pregnancy both to your body and your growing child. Did you know the baby can hiccup and cry around six or seven months? Or that about 25% of your weight gain during pregnancy is the result of your body producing extra blood and body fluids for the baby? If, like me, you find the thought of pregnancy very, very overwhelming (maybe even terrifying), Tarah's guidance will provide comfort. She explains everything in simple, straightforward terms and provides you with all the basics you need to know going into that new chapter of your life.
But that's not all. The remaining chapters, roughly 2/3 of the book, feature 125 delicious Paleo recipes (with a 28-day meal plan in the appendix) designed to keep you healthy throughout your pregnancy. Each recipe includes nutritional information and there are factoids on the different nutrients and why they're important during pregnancy sprinkled throughout the book. Tarah also shares tips for adapting recipes for your needs, whether it's feeding a large family, needing a quick post-partum meal, or saving time in the kitchen. There are no photos, so I wouldn't quite call The Everything Paleo Pregnancy Book a cookbook.
We all love pizza, right? It's a tough word to resist, at least for me. So obviously I had to make Tarah's Pizza-Stuffed Bell Peppers even though I have never been a huge fan of bell peppers. These take a good bit of time, but not that much effort. After I had all of my ingredients prepared, they were ready in about an hour, and that includes a 40-minute passive baking time. The meat mixture, which includes olives, red onion, mushrooms, tomato sauce, and a handful of other ingredients, has to be cooked before that and takes about twenty minutes. Bell peppers are such a wonderful, presentable vessel for just about any kind of filling, but if you wanted a faster meal, you could easily dice the bell peppers and add them to the meat mixture instead of stuffing them. Do they taste like pizza? Not really, but they are delicious in their own right! How can you argue with such a savory, comforting mix of vegetables and sausage?
I made the Paleo Stuffin' Muffins in a 9×13″ baking pan instead of muffin cups (because I don't have a muffin tin!), then cut the "cake" into the bite-size squares pictured below. While the "Muffi"n is made primarily of ground meat and almond meal, the "Stuffin'" part comes from a mix of carrots, celery, mushrooms, and herbs for the same earthy, delicious flavor so many of us associate with Thanksgiving, family, and comfort. My favorite thing about this recipe is that, even though there are a large number of ingredients comparable to any other kind of meatloaf or meatball recipe, it's as simple as combining all the ingredients in a bowl, placing the mixture in a pan, and sitting back while it bakes. It took about ten minutes of actual work and was ready in about forty. This would be an excellent dish to batch cook so that you can have single servings saved in the freezer for any time you don't feel like cooking–or for after the baby comes, when you might need a quick snack or protein!
Tarah's Taco-less Taco Salad is not only gorgeous (look at all those beautiful colors!), but so, so easy to make. This is one of those meals I could easily talk my fiancee into making on a busy weeknight (a great thing to have in your arsenal if you are pregnant or have a newborn in the house) because all you have to do is throw the meat and seasonings into a pan and then chop up the salad veggies while the meat cooks. Ten minutes later, you have a phenomenal dinner salad, and you can easily add in or swap out your favorite taco fillings. Olives are one of my personal favorites, and my dairy-eating fiancee added sour cream to his. The avocado-cilantro dressing is creamy and mild, the perfect complement to all that spicy taco meat. And I do mean spicy. With nearly two tablespoons of various kinds of hot pepper spices to only one pound of meat, you may want to adjust the seasonings to taste. Unless you are part dragon, like my fiancee. He was over the moon with the riot of flavors in this dish!
The Ultimate Support for Your AIP Journey!
Get personalized guidance and support from Dr. Sarah in this 6-week interactive online course!
Thank you for your warmth, your AIP mastery, and your dedication to answering each and every one of our questions with such kindness and attention to detail. Thank you for teaching the science behind the principles. The amount of energy you put into creating this course and responding to us in real-time is felt and APPRECIATED!!
-Nicole Wood
The next session of The AIP Lecture Series begins January 10th, 2022.
Use code AIPLS10 to save 10% thru December 15th.
The Everything Paleo Pregnancy Book is an excellent introduction to both Paleo and pregnancy for anyone that hasn't had experience with either one (or both at the same time). With supportive, accessible language, realistic meal and exercise plans, and more helpful tips than you can shake a rattle at, Tarah provides all the things you need to know and prepare for whether you are thinking about having kids, actively trying to conceive, or already pregnant. With this book, having a healthy, happy Paleo pregnancy just got a lot less overwhelming!