This review was written by my assistant Christina.
---
Sweet Paleo by Lea Hendry Valle is a collection of more than 90 creative recipes to make gluten-free and Paleo treats affordable, accessible, and delicious for those special occasions when something sweet is just called for. Got a birthday, anniversary, wedding, family reunion, or other special event coming up? With Lea's recipes, you can have your cake (or pie, or cookies, or whatever) and eat it too… because it's Paleo!
In the introductory pages, Lea discusses the basics of Paleo (including the role of sweets in a healthy, whole-foods diet) and the problems with non-Paleo ingredients like grains and legumes. She goes into depth on the staples of grain-free baking by breaking down the sweeteners, flours and starches, fats, and animal products that will be used in the cookbook as well as the kitchen tools you'll need. She also provides tips for substituting ingredients you may need to restrict due to additional allergies, such as eggs or nuts (there is also a helpful index for the many nut-, egg-, and dairy-free recipes in the back of the book). With choices like Cinnamon Cheesecake Bites, Madeleines, Candied Blood Orange Tart, Linzer Cookies, Chocolate Pistachio Biscotti, and Cherry Clafoutis (not to mention many, many more goodies like pancakes, crepes, breads, muffins, and ice creams!), where do you even start? There is something for every occasion, whether you're looking for a casual breakfast for the weekend or an elaborate birthday or anniversary treat. The gorgeous, colorful full-page photographs accompanying every recipe don't make it any easier to decide where to start, either. I'll have one of everything, please!
Nutrivore Weekly Serving Matrix
An easy-to-use and flexible weekly checklist
to help you maximize nutrient-density.
The Weekly Serving Matrix is very helpful! I've been eating along these lines but this really helps me know where to focus vs. which foods serve a more secondary role. It's super helpful and has taken a lot of worry out of my meal planning. Thanks!

Jan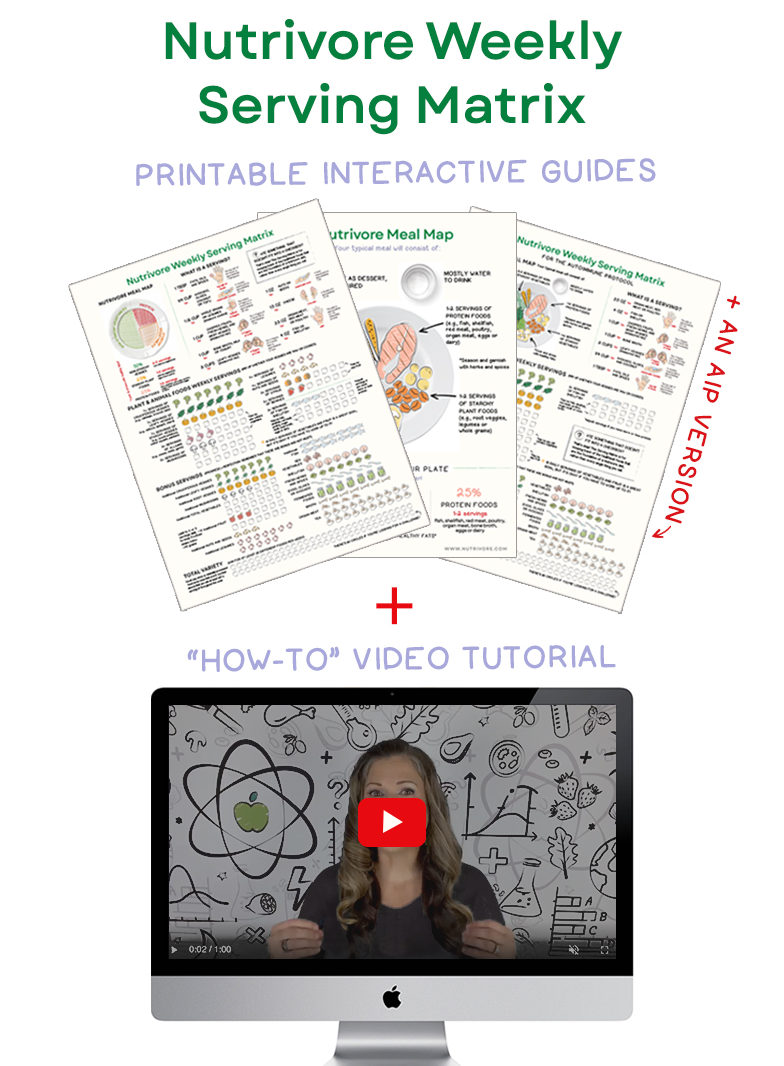 I decided to try the Raspberry Coconut Macaroons with the optional dark chocolate coating. I was astounded at how easy they turned out to be, in addition to how beautiful and delicious they are! After mixing all of the ingredients together, all you have to do is shape them into balls and bake them. That's it! For ten minutes of work, you have a wonderfully presentable treat for any special occasion. Even adding the dark chocolate dip only took an additional five minutes to melt the chocolate, dip the macaroons, and quickly set the chocolate in the freezer. I wasn't able to find the called-for maple sugar (although you can order it online if you plan further in advance than I do), so I used dark brown sugar instead. I know the maple sugar would have had a different flavor, but the recipe still came out great! I will happily be making these for both formal and casual events in the future, as these gorgeous little macaroons would be the perfect Paleo finger food for reunions, holidays, and perhaps even my upcoming wedding reception!
For something more elaborate, I decided to try Lea's Chocolate Cake with Avocado Fudge Icing. The cake is tree nut-free (woot!), made primarily of eggs, sugar, and coconut flour. The result is a decadent, dense cake that holds together well (although I did use the old trick of freezing the cooled cakes in their pans before flipping them out for frosting, to keep them from falling apart), doesn't get dry despite all the coconut flour, and doesn't taste eggy despite all the eggs. The avocado frosting combines maple syrup, avocado, and cocoa powder for an extremely rich and creamy topping. I decided not to frost the sides of the cake because the whole thing was already so chocolatey and delicious! The recipe for the frosting includes the option of mixing in some chocolate chips, which I took advantage of. However, as a result, the frosting was difficult to spread without ripping up the cake, so in the future I would leave the chocolate chips out of the frosting  and just sprinkle them on top of the cake afterwards. My only regret is that I didn't have any milk to enjoy along with this wonderful treat!
The Goat Cheese Fudge Truffles are insanely simple to make, combining all of the ingredients in a bowl, shaping the fudge mixture into balls, and then coating them in your choice of topping (I chose cocoa powder because it's what I had on hand, but shredded coconut, the powder of dehydrated fruits like strawberries or raspberries, or chopped nuts would also be delicious) before letting them set in the fridge for 20 minutes or so. The fudge is rich to the point of decadence, a creamy, bittersweet concoction of creamy goat cheese and bitter dark chocolate (although you can adjust the sweetness of the recipe by using whatever percentage chocolate you prefer). This is another beautiful, deceptively easy, and, of course, delicious treat suitable for a special occasion or just as a well-earned treat for making it through a hectic week!
Sweet Paleo is a beautiful collection of recipes whether you are transitioning to a gluten-free or Paleo diet and feeling left out on special occasions or a seasoned pro looking to expand your recipe collection. From familiar favorites like pancakes, muffins, breads, cupcakes, cakes, and ice cream to unique fare like her Apple Cider Donuts or Caramelized Banana Dessert Pizza, there's something for every occasion, every experience level, and every palette. Lea's creative recipes and the book's gorgeous photos and design will surely impress friends and family, whether Paleo or not!

Become a Member for FREE!
The Paleo Mom Members' Area is resource central!  
You'll get FREE, unlimited access to dozens of quality resources, including introductory series, downloadable e-books, exclusive recipes, printables, videos and guides!
You may enjoy these related posts:
This review was written by my assistant Christina. Clean Eating with a Dirty …