This review was written by my assistant Christina.
---
Paleo Takeout is a new cookbook by Russ Crandall of The Domestic Man that focuses on recreating everyone's favorite quick-and-easy take-out foods. It includes more than 150 recipes for Chinese, Korean, Japanese, Southeast Asian, and American takeout staples. Russ knows how easy and tempting it can be to order take out, so he set out to create recipes that would be not only delicious and authentic, but easy to make even on a busy weeknight.
In the first chapter, Russ breaks down the Paleo diet and explains the gray area foods he includes in his diet like rice, potatoes, dairy, and fermented soy like miso and tamari. He illustrates how to portion a plate, how to plan your Paleo Takeout meals and learn to prepare them in an hour or less, the various cooking techniques used in the book, the tools and gadgets you will need (there aren't many), and a guide to the ingredients you will encounter in his recipes, many of which may be unfamiliar. Russ explains not only what these ingredients are, but where to find them, how to handle them, and the function they perform in a recipe. You'll learn all about the various types of noodles you can use (including kelp, sweet potato, rice, and vegetable noodles), techniques for breaded meats and meatballs, and get a primer on preparing and substituting the different types of meat included in Paleo Takeout. In other words, Russ has provided everything you need to know to get started cooking your own Asian takeout meals at home!
The book is divided into chapters by the recipes' country of origin. From China, you'll find classic recipes like Hot and Sour Soup, Fried Rice (with a cauliflower option for those of you that do not include rice in your diets), Chow Mein, Spring Rolls, Egg Foo Young, Creamy Coconut Shrimp, and Moo Shu Pork. You'll recognize dishes like Miso Soup, Ramen, Gyoza, Tempura, Katsu, and Teriyaki from the menu of any Japanese restaurant. In the chapter Southeast Asia and Beyond, Russ rounds out Paleo Takeout's recipe collection with things like Tom Kha Gai, Pad Thai, Tandoori Chicken, Lamb Vindaloo, and Grilled Chicken Adobo. As if that wasn't more than enough to have our mouths watering, Russ has also included a chapter of American fast food favorites like Chili Fries, Calzones, Wings, Chicken Parmesan, Gyros, and Burrito Bowls (and hey, you're at home, so load up on all the extra guac you want!). And for those of you following the autoimmune protocol or Whole 30, Russ has provided a thorough guide on his website here.
Save 80% Off the Foundations of Health
Expand your health knowledge on a wide range of topics relevant to you, from how to evaluate scientific studies, to therapeutic diet and lifestyle, to leaky gut and gut microbiome health, to sustainable weight loss, and much more!!!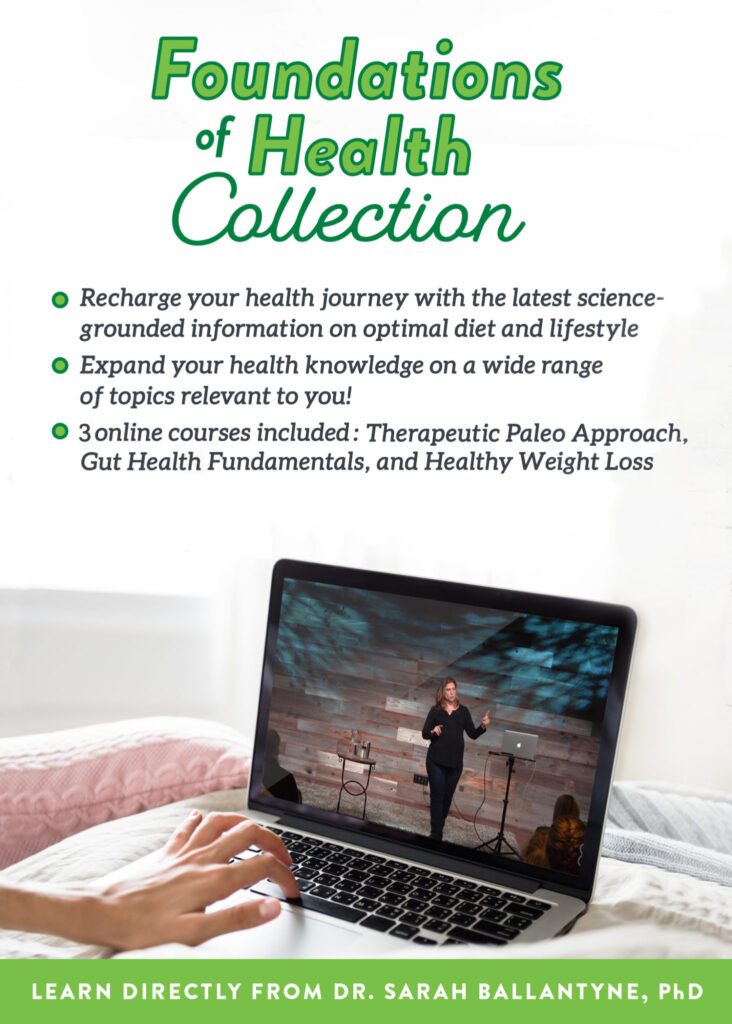 Okay, Russ. We loved The Ancestral Table, but you've really outdone yourself with this one. Give me a minute to wipe the drool off my face before I rave about the dishes we've tried so far.
Gyudon is a Japanese dish that involves stir-frying onions and beef in a simple sauce and then serving them over rice with an egg yolk. I've seen it on menus before, but never tried it. With Russ' enticing photo and the beautiful garnish of egg yolk, green onions, and sesame seeds, I couldn't resist! Of all the Asian-inspired stir-fry dishes we have tried, this one has become our favorite. If you already have cooked rice on hand, it's ready in about thirty minutes (if you don't, it's easy enough to cook rice at the same time you are cooking the onions and beef) and the sauce is mild enough to add flavor to the rice without detracting from the flavors of beef and onion which are the true stars of this dish. I definitely recommend using the highest-quality beef you can find for this one! Sliced thin and cooked just until the sauce reduces, our sirloin was almost buttery when we finally sank our teeth into it. Yum!
I thought making Egg Drop Soup would be a little intimidating, having to get the eggs swirled in just right to keep them from clumping. But this was the easiest soup I've ever made! There are only eight ingredients (including seasonings) and the soup takes less than ten minutes to make. The trick is pouring the yolks through the tines of a fork to get that stringy look and it was so easy I was kicking myself for not making this delicious, warming soup earlier in the winter. With spicy white pepper and ginger, a creamy soup base, and a garnish of green onions, this soup will simultaneously wake up your taste buds and warm you to the soul. I think it will be my new cold weather and flu season go-to instead of chicken soup!
Among the pizzas, burgers, chili fries, and many other American takeout staples in the final chapter of Paleo Takeout, Russ shares a recipe for Chicken Nuggets that is absolutely unlike any fast food chicken nugget I've ever had because it is so much more delicious! After marinating the nuggets in pickle juice (one of my new favorite ways to flavor chicken, by the way), Russ breads them in a simple but very spicy starch mixture and fries them until cooked through. The breading is light, just a little crispy, and packed with flavor. If you like hot wings, these nuggets will be right up your alley. If you prefer a milder flavor, it's easy enough to reduce or omit the paprika when preparing your breading. The recipe is straightforward from start to finish and only takes about twenty minutes (after the chicken has marinated). That's some fast food, considering it might take longer than that to run out for actual fast food!
And trust me when I say that we'll be back for more. There isn't a single dish in this book I don't want to make, and since my fiancee so often craves Asian food, he's volunteered to cook from Paleo Takeout at least once a week. That's another thing I love about Russ' books: His straightforward, authentic, and unfailingly delicious dishes inspire my man to get in the kitchen, too. (Thanks for the nights off, Russ!) And with Paleo Takeout, he has your every fast food craving covered. With simple, delicious dishes from all over the world ready to go in the same amount of time it would take you to order and wait for delivery, Russ has proven that healthy eating can taste and feel an awful lot like a guilty pleasure!