This review was written by my assistant Christina.
---
George Bryant of Civilized Caveman Cooking Creations and Juli Bauer of PaleOMG are two of the funniest, most talented Paleo bloggers out there. Their witty, dry sense of humor, sassy personalities, and endearing charm make them a duo to be reckoned with. George has a knack for ingenious Paleo treats and Juli can do more things with squash than you could ever have imagined possible. Their new book, The Paleo Kitchen, takes full advantage of their joint creativity and charisma. With over 100 brand-new recipes–most of which are unique spins on classic recipes like Lavender Vanilla Bean Granola, Sweet Plantain Guacamole, Spaghetti Squash Chicken Fritters, and Blueberry Rosemary Ice Cream–The Paleo Kitchen is an excellent addition to any cookbook collection.
First of all, the book is beautifully laid-out. With stark, simple design and stunning photography on virtually every page, not to mention George and Juli's trademark charisma, the book is a page-turner. Introductory material like "What is Paleo and is it right for you?", simple Paleo shopping lists, tips for getting started (my favorite: making your kitchen a fun place to be in), kitchen tools worth checking out, and notes on food storage, batch cooking, curbing cravings, and eating out will give you the insight and inspiration to get going if you're just getting started with Paleo–or to fine-tune your approach to get the most out of your time in the kitchen if you're already a Paleo pro. Many of these are featured as tear-outs in the back of the book, so you can keep your Paleo shopping lists or other useful guides on the fridge or wherever else is convenient for you.
Nutrivore Weekly Serving Matrix
An easy-to-use and flexible weekly checklist
to help you maximize nutrient-density.
The Weekly Serving Matrix is very helpful! I've been eating along these lines but this really helps me know where to focus vs. which foods serve a more secondary role. It's super helpful and has taken a lot of worry out of my meal planning. Thanks!

Jan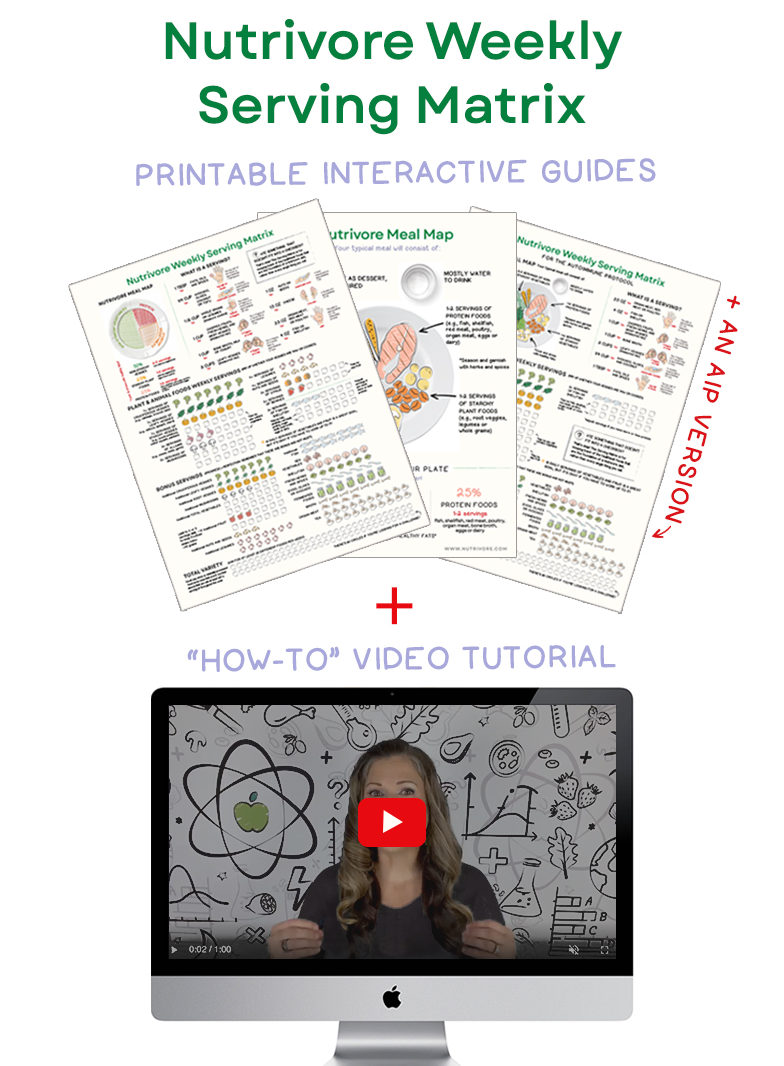 I've already hinted at the wide variety of unique recipes The Paleo Kitchen has to offer. George and Juli's creativity shines. They have a real talent for using ingredients in unexpected ways, bringing new flavors and textures to otherwise classic dishes. Their Baked Banana Chip Crusted French Toast is a two-part recipe: Before you make the French toast itself, you'll need to make some Paleo banana bread. I made the Cinnamon Chocolate Swirl Banana Bread also featured in the book and was tempted not to make the French toast. Cinnamon chocolate swirl? In banana bread? Why mess with a good thing? I used a slightly larger loaf pan than called for and still wound up with a ridiculously delicious bread. But I couldn't stop there. The idea of battering it with banana chips sounded too ingenious not to try. And I am so, so glad I followed through. Even though this two-part recipe was a little lengthy, the directions were easy to follow, the ingredients easy to source, and the flavor worth every second spent in the kitchen (drooling in front of the oven). It is a crunchy-on-the-outside, soft-in-the-middle, not-too-sweet spin on the French toast we all remember from our days before Paleo. It is wholly unique, perfect for an indulgent Sunday brunch (or brinner).
For something a little more savory, I made their Mongolian Beef over Cauliflower Rice. Oh. My. Goodness. This may be the first Paleo Asian-inspired dish I've had that actually hits the spot. A sweet and spicy sauce thickened with arrowroot powder pairs excellently with the thin-sliced steak and mild cauliflower rice. It's even autoimmune protocol-friendly if you make a few simple substitutions.
Speaking of which, not many of the recipes are autoimmune protocol-friendly, but most of the savory ones could be adapted with a little creativity by substituting certain spices and omitting or replacing ingredients like tomatoes and sesame seeds. If you are more interested in autoimmune protocol recipes, you might consider some of the resources on this page instead.
The only criticism I have is that some of the instructions are a little strange. For example, one recipe directs you to preheat the oven to 400F and then marinade your ingredients for 1-4 hours before baking them. I don't know about you, but I'm not about to leave my oven on 400F for 1-4 hours (not this time of year, anyway)! Many of the recipes have similarly quirky instructions, but a little common sense goes a long way. I know that George and Juli did not intend for anyone to broil their kitchen while waiting for the marinade. And I know that if it looks like there's an easier or more practical way to make the recipe, their food will still turn out great.
At the end of the day, George and Juli love food (and if you read their bios in the beginning of the book, you'll know that wasn't always the case). They want to help you love food, your body, and feeling well too. The Paleo Kitchen is fun to read, has delicious recipes, and is an excellent starting place for anyone new to Paleo or for anyone looking for something a little different.
The Paleo Kitchen releases June 10th and is currently available for pre-order. In the meantime, check out preview recipes here and here.

Become a Member for FREE!
The Paleo Mom Members' Area is resource central!  
You'll get FREE, unlimited access to dozens of quality resources, including introductory series, downloadable e-books, exclusive recipes, printables, videos and guides!
You may enjoy these related posts:
Juli Bauer of PaleoOMG.com is one of the most talented Paleo food bloggers out …