This review was written by my assistant Christina.
---
Feeling overwhelmed by Paleo cooking or just looking for easy weeknight meals that taste great to round out your recipe collection? One-Pot Paleo by Jenny Castaneda is the perfect combination of simple, beautiful, and flavorful, featuring nearly 100 recipes, many of which are complete meals, that only require one pot, bowl, or pan to make, which means filling meals that don't require much cleanup. That's my kinda cookbook!
With a huge variety of stir-fries, casseroles and bakes, soups and stews, salads, and broiled or grilled dishes to choose from and an appetizing mix of classic and exotic dishes, One-Pot Paleo has something for everyone and every occasion. Keep it simple with Chicken Salad Wraps, Meatball Minestrone, or Oven-Roasted BBQ Ribs. Spice things up with a Cajun-Style Shrimp Feast or Sweet and Sour Pork. Impress guests with Blackened Trout with Mango Papaya Salsa or Austrian Pancake Bites, or please the kids with Plantain Pizza or Open-Faced Sloppy Joes. Whatever you choose, you'll wind up with a delicious dish that was deceptively easy to make. Most of the recipes, no matter how exotic, use everyday Paleo ingredients, with just a few exceptions for some specialty items like coconut aminos and kelp noodles, and there are an abundance of nutrient-dense seafood and offal recipes (WOOT!). Some of the recipes do include dairy or rice, and Jenny has provided a very helpful substitution guide for those who don't tolerate them. There's also a brief guide to meal prep and planning and an allergen index for grain-, dairy-, nut-, and egg-free recipes.
Nutrivore Weekly Serving Matrix
An easy-to-use and flexible weekly checklist
to help you maximize nutrient-density.
The Weekly Serving Matrix is very helpful! I've been eating along these lines but this really helps me know where to focus vs. which foods serve a more secondary role. It's super helpful and has taken a lot of worry out of my meal planning. Thanks!

Jan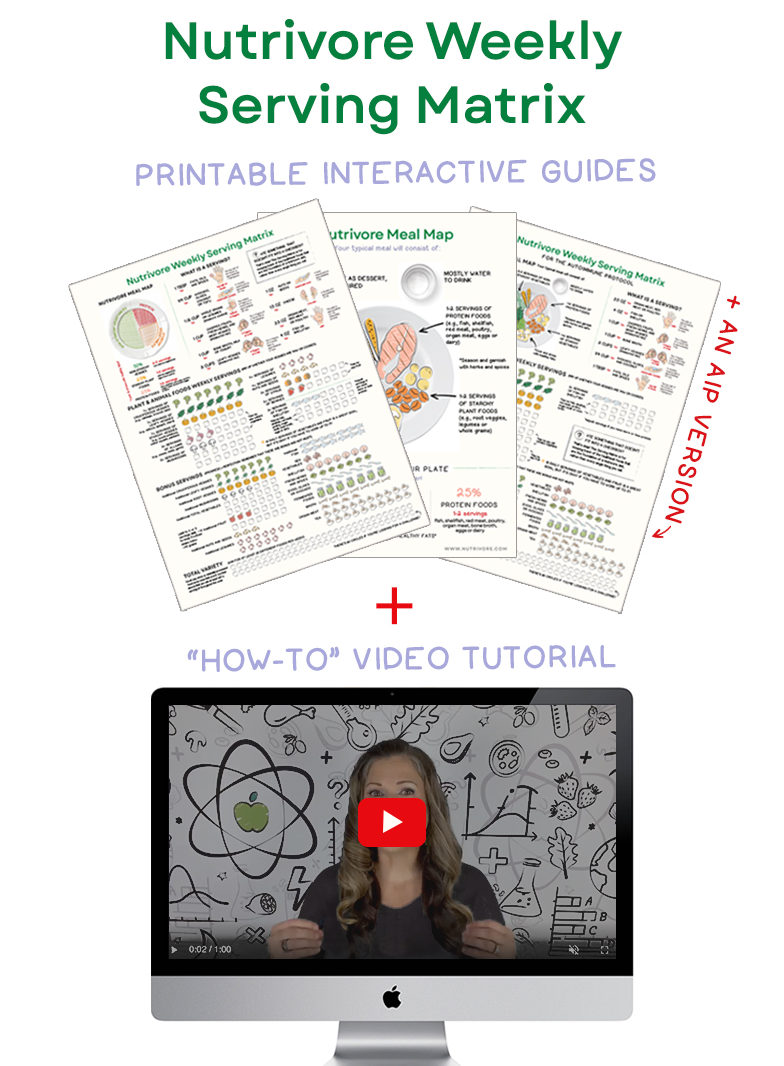 Many Asian pasta dishes are very easy to Paleo-ize with simple subs like veggie-based noodles and coconut aminos, making them a wonderful choice for a delicious, healthy, easy meal! Jenny's Korean Noodles (Japchae) feature beef, kelp noodles (although I subbed julienned yellow squash because I couldn't find kelp noodles locally), mushrooms, spinach and carrots. That's a lot of vegetables! And the best part? They taste great. With the simple flavors of sesame oil, coconut aminos, and fish sauce to draw the dish together, this recipe will have you happily downing these nutrient-dense vegetables for a quick, guilt-free, takeout-style meal.
Does it get any simpler and more satisfying than fajitas? Move over, Taco Tuesday! (Or should I say, "Hello, Skirt Steak Sundays"?) Jenny's Skirt Steak Fajitas serve marinated-and-seasoned steak up with a ton of stir-fried vegetables… and they will fill your kitchen with drool-worthy aromas. Serve them in your favorite Paleo tortilla substitute if you must (I have always favored lettuce wraps), but this skillet works just as well as a hot, spicy "salad" of onions, bell peppers, avocado, tomato, beef, herbs and spices. I left out the jalapeno and still thought the seasonings on the steak were too spicy, but my tastebuds are wimps and I should know by now to reduce or just omit any hot pepper spices a recipe calls for! For some variety, I think this recipe would also be fantastic with chicken and I would even give it a go with a mild-flavored whitefish any time I need some more seafood in my day!
For something a bit more in the vein of the meat-and-potatoes kind of meals my mom used to serve, I tried Jenny's Hamburger Steak. This recipe serves up everyone's favorite ground meat (hamburger!) more like steak is traditionally served, with mushrooms, onions, gravy, and crisp green vegetables (the recipe called for green beans, but I subbed asparagus). First of all, who doesn't love a rich gravy involving mushrooms? The condiment just screams "comfort food". This is a straightforward, unassuming dish, the epitome of a home-cooked meal. And it would pair very well with some mashed cauliflower to really bring home that feeling of "mom's cooking"!
Other dishes I'm looking forward to making? Crab and Shrimp-Topped Salmon, Chicken Biryani, Aromatic Mussels, and, oh, pretty much all of them…. One-Pot Paleo is the perfect marriage of simple and satisfying and the perfect resource for anyone looking to save time in the kitchen while still eating nutrient-dense, flavorful foods. With an emphasis on meat-and-vegetable dishes that are complete meals, eating Paleo has never been easier!