Juli Bauer of PaleoOMG.com is one of the most talented Paleo food bloggers out there.  Her witty writing style, vivacious personality, and dry sense of humor combined with stunning recipes, a love of food, and beautiful photography have made her blog the tremendous success that it is.  And, just as you would expect from such a talented blogger, Juli's book is a success as well.  All of the aspects that make her blog so fun and fulfilling to read and cook from shine through in OMG that's Paleo? 
OMG that's Paleo? is Juli's first cookbook.  It takes 70 of her most popular recipes from her blog plus 30 new recipes created just for the cookbook and packages it together.  It is a very lightweight book for 100 recipes and is nicely laid out.  The introduction to Paleo made me laugh out loud more than once.  Juli's simple and yes, sassy, way of describing Paleo in many ways just cuts to the chase.  Even better (and funnier) are Juli's tips on learning to love cooking.  She also provides lists of her favorite kitchen tools and foods to keep on hand in your fridge, freezer and pantry.  Each recipe page includes a spot for your own notes and a few tips or suggested variations.
One of my favorite aspects of OMG that's Paleo? is Juli's writing style, especially with recipe directions.   Again, that endearing sass shines through, with directions that are charming, corny, crass, risque, cute and just plain ol' laugh-out-loud funny (see the Caramel Cheesecake Bars for my personal favorite–plus, just go look at that recipe for an amazing recipe!).  It's not often that a cookbook is this much fun to just read, whether you plan to make the recipe you're looking at or not.
Nutrivore Weekly Serving Matrix
An easy-to-use and flexible weekly checklist
to help you maximize nutrient-density.
The Weekly Serving Matrix is very helpful! I've been eating along these lines but this really helps me know where to focus vs. which foods serve a more secondary role. It's super helpful and has taken a lot of worry out of my meal planning. Thanks!

Jan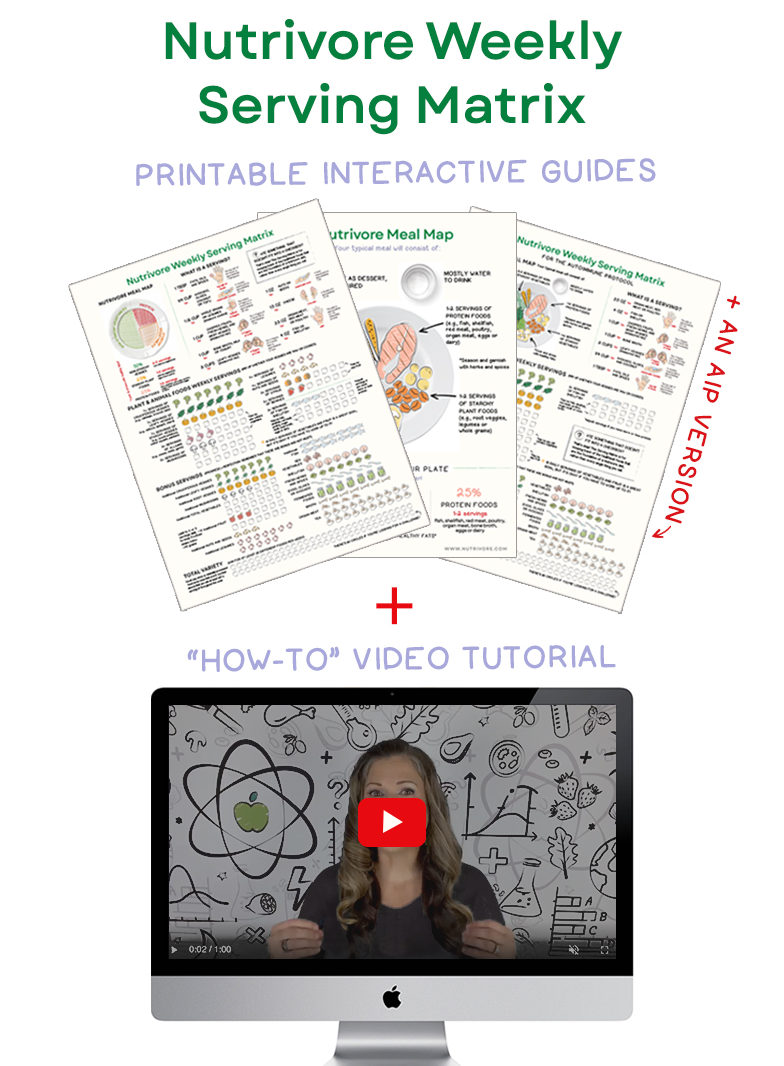 Of course, I always think the most important part of any cookbook is the quality of the recipes.  I've made quite a number of Juli's recipes in the past from her blog posts (especially treats, I admit) and have always loved everything I've made.  So, it wasn't a surprise to me that the recipes I made for my book review were ridiculously delicious.  I might not have said "OMG!", but I'm pretty sure I said "omnomnomnom".
The first recipe I made was Apple and Bacon Rosemary Pork Burgers.  A recipe with just 6 ingredients, but such an amazing flavor.   I found the prep and cook times to be inaccurate (it took me probably double the stated 15 minutes the time I cooked the filling and then the stuffed pork burgers).  I actually think the underestimation of cook time may be fairly pervasive though the book.  As I read through a few other recipes, it looks as though the various times that are spelled out in the directions are added up to give the cook time, but other directions like "cook until brown" are ignored in the calculation.   I don't usually put too much stock into cook time estimations anyway, but it's something to be aware of if you when you are planning your meals and deciding what time you need to start cooking at to have supper ready on time.  But, otherwise, the directions were easy to follow, I had just the right amount of stuffing, and they were so perfectly delicious.  Even my kids gobbled them up!
The second recipe I made was the Banana Bread French Toast.  I used a slightly different sized loaf pan than the one the recipe called for and I wish I had baked the banana bread for just 5 more minutes.  It was just the teeniest bit uderdone, which made it sag in the middle a little while it cooled, but by the time I made it into French Toast, it didn't matter at all and it tasted amazing.  We enjoyed this French Toast with scrambled eggs, bacon, and fruit for a breakfast-for-dinner night and the whole family was in heaven.  Juli describes this recipe as "epic" and she's not joking.  Even better, this was the best Paleo banana bread I've ever tasted even before it was made into French Toast (may even be the best banana bread Paleo or not!), so I feel a little like I got two recipes in one.
If you are looking for an Autoimmune Protocol-friendly cookbook, this one may or may not be worth it to you.  Maybe 20% of the recipe are AIP-friendly (or easily adaptable).  Juli likes her nightshades and they do feature prominently.
The one criticism that I have of OMG that's Paleo? is actually the quality of the printing.  The paper is lightweight and mat, so Juli's beautiful photography ends up looking a little like the Living section of my local newspaper.  The pages in my copy even have subtle little printer streaks through the photographs that really detract from the beauty of the recipes.  I think it's a shame this wasn't published on more substantial glossy paper, especially knowing that Juli's photography is top notch.   On the bright side, this does mean the price tag is only $24.99 (and amazon has it on sale for under $20!!!), which is probably $10-$15 less than it would have cost otherwise.  Even with this one disappointment (and perhaps the underestimated cook times), I feel like this is a terrific cookbook.  The recipes are delicious and the book is just so fun to read.  Plus, Juli makes Paleo approachable and shows you that food can still be crazy good.  A great gift for someone who is starting Paleo but is overwhelmed and doesn't feel like they know what to cook!
In fact, I like this cookbook so much that I'm going to give one away (not my copy!  I'm keeping that!  I mean another copy!). 
Contest Is Now Closed.
You can enter the giveaway below:
BTW:  if you have already bought a copy or if you order one as part of the entry requirements for this giveaway, you can always give away the copy you win (or I guess you can return the copy you already bought, but wouldn't it be much more fun to share the OMG that's Paleo? love with your friends and family?)!  This prize can only be shipped to residents of the USA and Canada.

Become a Member for FREE!
The Paleo Mom Members' Area is resource central!  
You'll get FREE, unlimited access to dozens of quality resources, including introductory series, downloadable e-books, exclusive recipes, printables, videos and guides!
You may enjoy these related posts:
This review was written by my assistant Christina. Juli Bauer's Paleo …