When I got a sneak peek at Nourish several months ago, I was so excited that I agreed to write the foreword! But instead of just including the foreword in this post, I also wanted to showcase some of the amazing recipes you'll find in Nourish, so my assistant Christina came in and shared her thoughts, too!
---
Autoimmune disease has reached epidemic proportions with an estimated 50 million Americans afflicted. But, this doesn't have to be the case. As scientific research reveals more and more details of how food directly impacts the immune system, we are reaching a new understanding of the role that diet plays in autoimmune disease. But of more importance, we are also able to distinguish a long list of health-promoting foods, foods that are rich in nutrients and devoid of inflammatory compounds, foods that thus can support immune system regulation and provide the body with the opportunity to heal.
The therapeutic value of food cannot be overemphasized. Vitamins, minerals, phytochemicals, essential amino acids, and essential fatty acids provide the raw materials for every chemical reaction and every cellular structure in the body. By consuming a variety of nutrient-dense foods, the body has the wealth of resources it needs to recover health. Furthermore, by avoiding those foods that can contribute to immune system dysfunction and by addressing lifestyle factors equally as important for immune system regulation, we can finally put an end to the brutal attacks of the immune system on our own tissues. We can put autoimmune disease into remission.
Nutrivore Weekly Serving Matrix
An easy-to-use and flexible weekly checklist
to help you maximize nutrient-density.
The Weekly Serving Matrix is very helpful! I've been eating along these lines but this really helps me know where to focus vs. which foods serve a more secondary role. It's super helpful and has taken a lot of worry out of my meal planning. Thanks!

Jan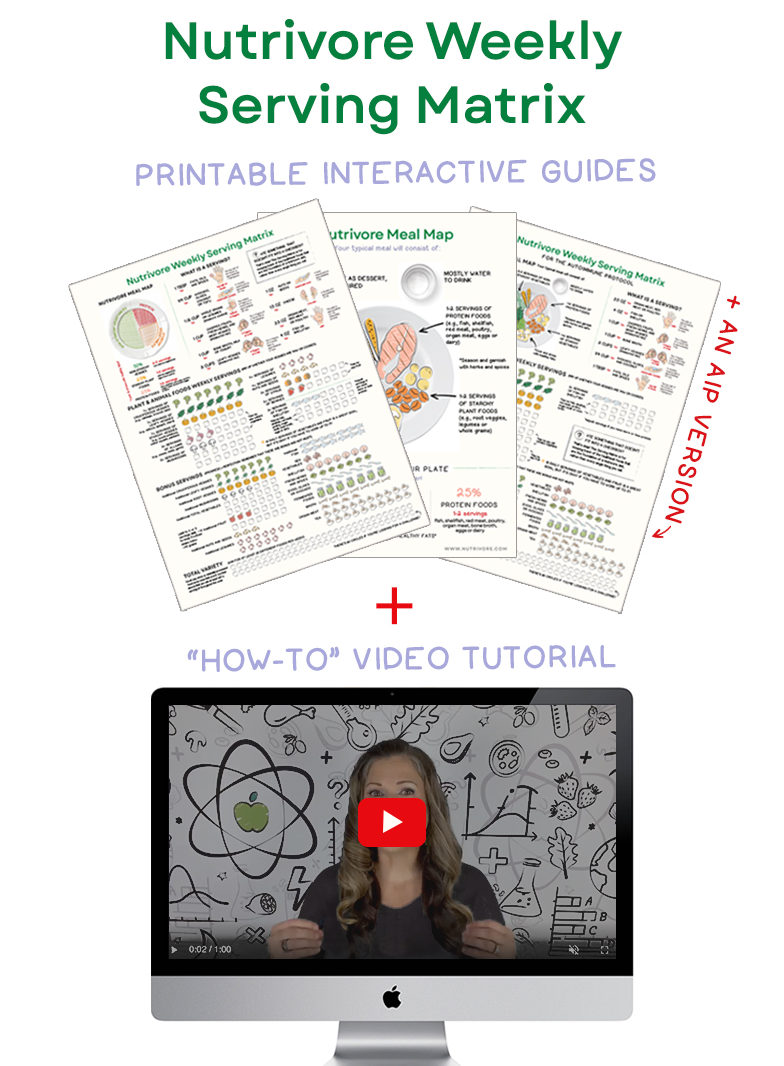 How to eat to restore normal immune system function and manage autoimmune disease has been formulated into therapeutic diet called the Paleo autoimmune protocol (AIP) or the Paleo Approach. It is a diet that reflects everything we currently know about how food impacts health for the most sensitive among us, those of us with autoimmune disease. While it is a very powerful tool for regaining health, that doesn't mean that following this diet is easy. In fact, the autoimmune protocol can be overwhelming and just plain ol' difficult.
The biggest challenge to successfully following the autoimmune protocol is figuring out what to eat, and how to cook a more limited collection of ingredients into delicious and satisfying meals. Once mastered, you'll quickly see that food does still get to taste amazing and that you needn't feel deprived. However, it can feel like a pretty steep learning curve to get you there. And that's where Nourish comes in.
Nourish is a masterful collection of innovative yet accessible recipes, which follow the strictest form of the autoimmune protocol, designed to get you eating this healing diet without even a second of missing out on flavor! With a focus on simple ingredients and straightforward cooking techniques, the range of scrumptious options will have you feeling pampered if not spoiled for choice. Can you think of anything better than improving your health with food so delicious you'll be closing your eyes while you eat to better savor each bite?
Let's start with Rachael's German Potato Salad with Bacon and Herbs. I've tried a lot of "notato" salad recipes in my years following the autoimmune protocol, most of which use sweet potatoes or turnips in lieu of potatoes. All of them left something to be desired. Namely, the starchier taste of potatoes! This one knocked it out of the park. The white sweet potatoes have a much milder flavor than orange sweet potatoes and give the salad a familiar look that could fool anyone into thinking it really had potatoes in it. And with celery, red onion, bacon, and fresh herbs, it is gorgeous! Bright, colorful dishes like this that are easy to make (this one only needs about 15 minutes to prepare and then some time to marinate) and delicious make bringing vegetables to the table so much more fun. I will happily prepare this again for company. And because it's so good, I highly recommend doubling or tripling it so there are plenty of leftovers!
Nourish's Crispy Shrimp with Preserved Lemon and Chive "Mayo" not only tastes great, but looks and smells amazing. It combines garlicky "breaded" shrimp with a zesty "mayo" dip made from a mix of creamy cooking fats. I couldn't find preserved lemons for the mayo, so I used a bit of lemon zest instead and the result was a mild-flavored lemon cream. The breading is a simple mix of arrowroot starch and spices and it takes just a few minutes to fry the shrimp until golden. They went from fridge to table in about fifteen minutes and were gone in about five!
Rachael's Chicken Street Tacos are an ecclectic combination of jicama wraps, chicken, blueberry salsa, and an avocado cream sauce. I love all of these ingredients, but would never have thought to combine them, so I was intrigued. You'd be surprised how well blueberries, onion, and avocado go together! If you have leftover chicken, slicing the jicama and preparing the salsa and cream sauce takes less than ten minutes, making this a wonderful dish for a weeknight or quick lunch! The tacos are very small, so plan on eating a lot of them or having one of the many vegetable dishes in Nourish on the side. I found that the recipe served two comfortably, but would probably need to be doubled or tripled for a larger household.
There are many, many more where that came from. With recipes like Coconut "Oatmeal", Chicken Curry, Oven-Baked Chinese Pork Jerky, Crispy Orange Vanilla Duck Spread, Smoked Seafood Spread, Watermelon Gazpacho, Greek "Couscous" Salad, and Layered Coconut Mousse, plus some basic introductory information on the autoimmune protocol and menus in the back for game days, picnics, and a variety of ethnic meals, Nourish has you covered on your autoimmune protocol experiment.
Best of all, Nourish gives you recipes that will have the whole family supporting you on your journey toward health. While you follow a therapeutic diet, everyone else at your table won't even notice that they're eating the healthiest foods available. With complex, bold yet enticing flavors, Nourish delivers a meal that everyone will love. With Nourish, you get to do just that: nourish both your body and soul with the same amazing bite!

Become a Member for FREE!
The Paleo Mom Members' Area is resource central!  
You'll get FREE, unlimited access to dozens of quality resources, including introductory series, downloadable e-books, exclusive recipes, printables, videos and guides!
You may enjoy these related posts:
This review was written by my assistant Christina. Authored by the talented, …