This review was written by my assistant, Christina.
---
If you aren't already familiar with Nom Nom Paleo, you've been missing out. Michelle Tam and Henry Fong are an incredible husband-wife team: She's a night-shift pharmacist, he's a lawyer, they have two kids, and they still somehow find the time and energy to produce a blog, app, and now a cookbook with exotic, flavorful recipes and gorgeous photography and design. I was eagerly looking forward to getting my hands on the book, Nom Nom Paleo: Food For Humans. It did not disappoint.
In the opening pages, cartoon Michelle (pictured on the cover) explains what Paleo is and why she follows it in short, cute comic strips. She summarizes her relationship with the three Fs (food, family, and fun) with the same down-to-earth, cheery voice that makes the Nom Nom Paleo blog so delightful. There's a simple one-page food guide to set you on the right track and a summary of useful kitchen tips, tricks, and tools to help you get started. And then you're off! Michelle, a true foodie, wastes no time getting to the recipes.
Nutrivore Weekly Serving Matrix
An easy-to-use and flexible weekly checklist
to help you maximize nutrient-density.
The Weekly Serving Matrix is very helpful! I've been eating along these lines but this really helps me know where to focus vs. which foods serve a more secondary role. It's super helpful and has taken a lot of worry out of my meal planning. Thanks!

Jan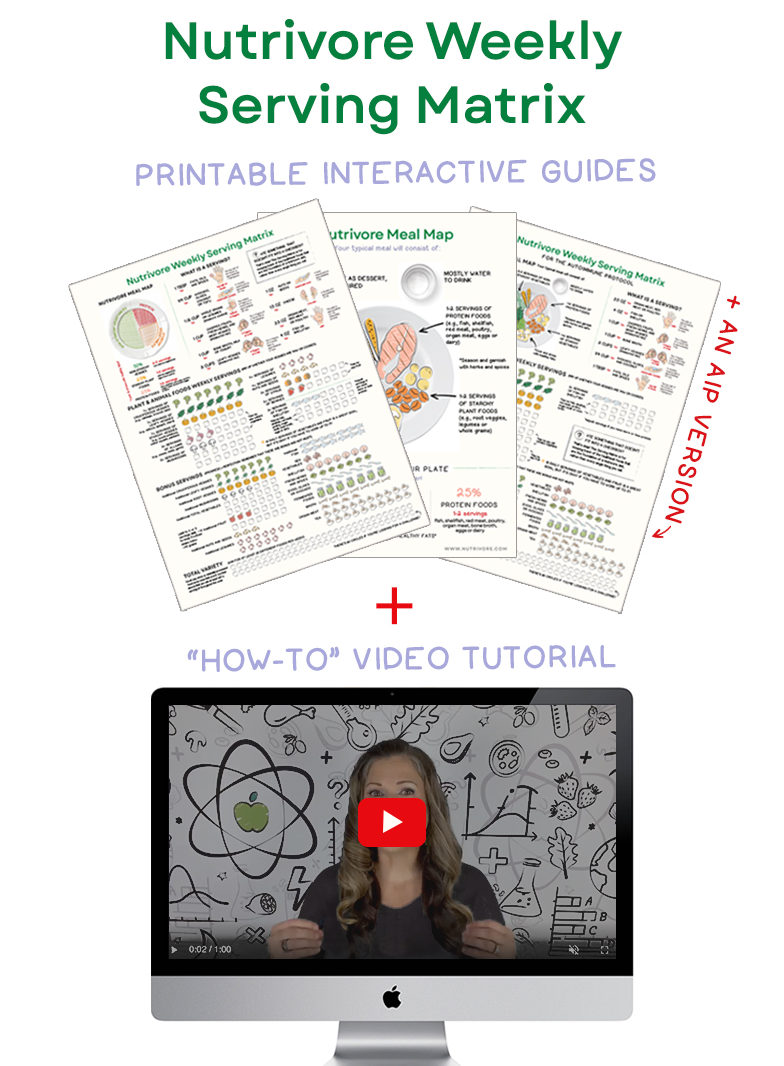 Nom Nom Paleo features a wide selection of Paleo superfoods like bone broth and liver; flavor-packed curries and sauces; and comfort foods like pot roasts and chicken wings. Those of you that have struggled with sugar addiction or finding the budget for Paleo baking will be delighted that Nom Nom Paleo is light on treats (but does have some very excellent ones). Each recipe is accompanied by step-by-step photographs (users of the app will have expected this) and many of them are illustrated with comics. Most are budget-friendly and could easily be adapted for the autoimmune protocol. The design is absolutely phenomenal, making the book a feast for the eyes as well as fodder for the appetite. I just could not stop turning the pages to see what was next. The appendix features all the metric conversions you could want. My only complaint (and it's a very small one) is that the only place all of the recipes are listed together is on the inside of the back cover. This is a little inconvenient if you want to know what's in the book before you read it, but it is very easy to access once you know it's there.
I made the Kai Jiao (Thai Omelette), Fiona's Green Chicken, and Mexican Chocolate Pots de Creme. The Kai Jiao was light and fluffy, almost like a pancake, and it only took about five minutes to make. Michelle recommends serving it with cauliflower rice and sriracha, but it would be phenomenal with just about anything. I served mine with nothing but a sprinkle of green onion, and it was by far the best omelette I've ever had (and we eat a lot of omelettes). Who knew something as simple as a bit of lime juice and tapioca flour could yield something so delicious?
Fiona's Green Chicken is a recipe from Michelle's professional-chef sister, Fiona. A marinade of onion, garlic, and a variety of greens gives grilled chicken a savory, earthy flavor with minimal fuss. This is an excellent example of the sort of protein dishes Nom Nom Paleo has to offer: Simply-prepared meats with exotic marinades, seasonings and sauces that will yield a wide variety of flavors, often within the same recipe.
Michelle makes the Mexican Chocolate Pots de Creme look "so easy a caveman could do it". (Did I really just say that?) Eggs and I don't have the best history. If a recipe involves doing anything to an egg other than scrambling it, you can bet that I will screw it up. True to form, I overcooked my "creme" (Michelle did warn me not to leave the stove, I just didn't listen!) and had to strain out bits of cooked egg which, instead of making a custard, had scrambled. It is a testament to the recipe's integrity that I was able to plow ahead with what amounted to cinnamon-flavored coconut water instead of custard and still have a beautiful, decadent dessert. I mean, you just can't go wrong with chocolate, can you?
Put simply, Nom Nom Paleo is a must-have for any home chef, Paleo or not. It is an artistic masterpiece. The recipes are straightforward and hassle-free, getting back to the basics and proving that good food does not have to be elaborate or expensive. It's getting a prime spot on my bookshelf right next to Practical Paleo and Beyond Bacon, and it will be coming down often.

Become a Member for FREE!
The Paleo Mom Members' Area is resource central!  
You'll get FREE, unlimited access to dozens of quality resources, including introductory series, downloadable e-books, exclusive recipes, printables, videos and guides!
You may enjoy these related posts:
When I started eating Paleo 4 years ago, Nom Nom Paleo's recipes were some of …