This review was written by my assistant Christina.
---
My Paleo Patisserie by Jenni Hulet of The Urban Poser draws on Jenni's extensive experience in patisserie baking to create an elegant, inspirational gluten-free and Paleo cookbook. With an extensive introduction to baking techniques (both basic and advanced), dozens of recipes that can be combined in hundreds of ways, accessible ingredients, and stunning photography, My Paleo Patisserie is far and away one of the best Paleo baking resources to date for beginners and pros alike to help "your creativity to flourish as you learn to live beyond your dietary limitations".
Before diving into the recipes, Jenni highlights the importance of baking basics such as having the right tools, staying in the kitchen and being patient, and having even temperatures. She also shares how to source, store, and use all of the ingredients in the book, like eggs, Paleo flours and sweeteners, coconut and cocoa products, fats and oils, and gelatin before explaining the types of kitchen tools and appliances that will be necessary. For novice bakers or anyone intimidated by Paleo baking, this section is  essential and tremendously helpful. Baking is a science as well as an art form, so much can go wrong, and it can be frustrating when your attempt at a recipe doesn't come out just like the photo. Jenni acknowledges that learning how to bake involves some trial and error and encourages the patience and creativity to stick with it, and arms you with the basic knowledge you will need to start off right.
Nutrivore Weekly Serving Matrix
An easy-to-use and flexible weekly checklist
to help you maximize nutrient-density.
The Weekly Serving Matrix is very helpful! I've been eating along these lines but this really helps me know where to focus vs. which foods serve a more secondary role. It's super helpful and has taken a lot of worry out of my meal planning. Thanks!

Jan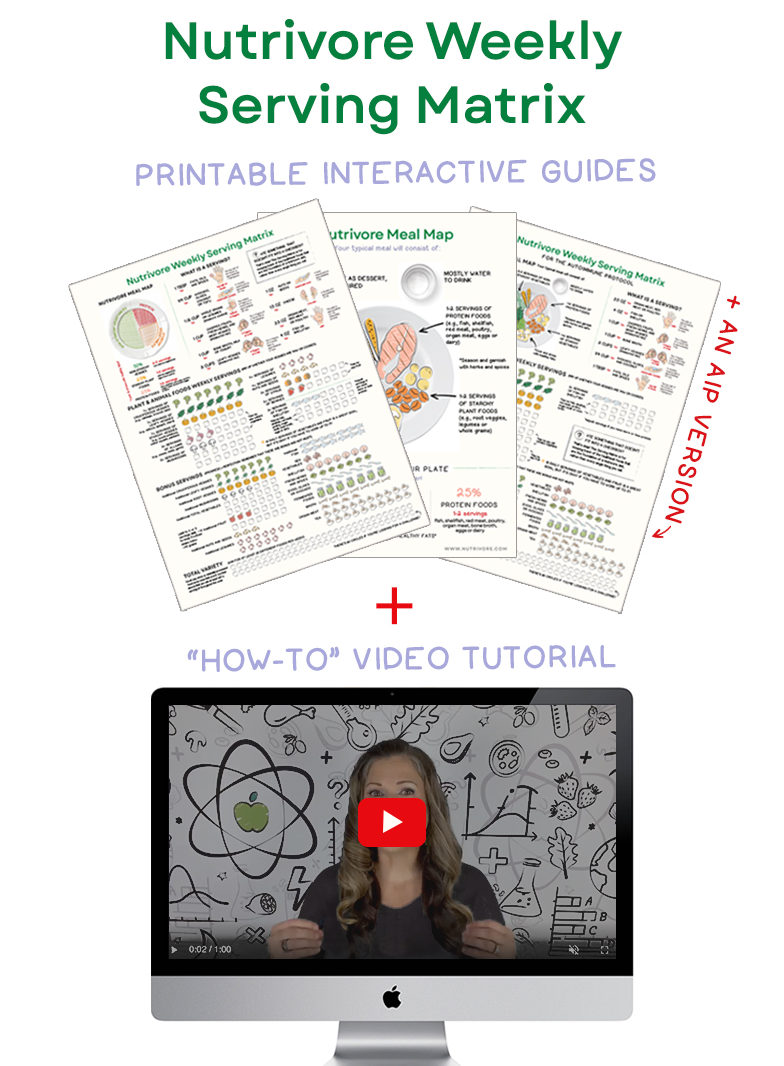 My Paleo Patisserie offers mix-and-match recipes so that you can pair a cake or tart crust with any filling or topping you like from elsewhere in the book, making for hundreds of unique combinations. With fillings, glazes, frostings, cakes, cookies, tarts, ice cream, choux pastry, savory breads, and even several different types of marshmallows, the possibilities are endless and exciting! Almost every recipe has a gorgeous full-page photo that will have you salivating at every turn of the page. There are also step-by-step photos in the back of the book for many of the more complicated recipes, along with recommended reading, conversion charts, an index of egg- and nut-free recipes for those with allergies,  suggested places to source various ingredients online, and a photographic recipe index so you can easily peruse what's in the book. For international readers, measurements and temperatures are provided in both US imperial and metric. The only thing the recipes lack are prep and cook times, but it's safe to assume that most baked goods will be more of a weekend project than a weeknight treat.
To test the waters, I chose to start with something that looked beautiful, but easy to make. Jenni's No-Crust Black-Bottomed Banana Pies combine her recipes for Ganache, Pastry Cream, and Swiss Meringue with sliced bananas. The Ganache and Pastry Cream were exactly what I was looking for: simple to make, unbelievably delicious, and the perfect pairing for the bananas sandwiched in between. The Pastry Cream has the consistency of jello with a mild, sweet vanilla flavor while the Ganache is nothing but rich, decadent chocolate. I left off the meringue because I don't have a stand or hand mixer, and I did not think trying to whip it by hand would turn out very well. While I am sure the meringue adds to the flavor as well as the presentation, these little cups of chocolate-banana-cream goodness were a huge hit without it! I will happily be making these again, perhaps with additional bananas or strawberries on top in lieu of the meringue!
The Chocolate Cherry Naked Cake combines Jenni's recipes for chocolate cake batter and Chocolate Whipped Cream with fresh cherries. As you can see, I had to use frozen cherries instead because I couldn't find fresh ones anywhere (they're no longer in season). While my version wasn't as pretty as Jenni's, piled high with brightly-colored fresh cherries, it was certainly delicious! The chocolate cake is rich, dense, and nutty (there is a nut-free version, but I opted to make the version that uses almond flour) and although the steps to make it seemed a little involved to this inexperienced baker (anything other than an omelet that involves beating eggs puts me on edge because I am worried I will under- or overdo it), they were very simple to follow and the cake came out beautifully. It didn't even crumble when I removed it from the pan, which might be a first in my history of cake-making! As for the Chocolate Whipped Cream, it was divine, especially paired with the cherries, and extremely simple to make. I parceled the cake out to our friends, including my sister, who is a much better baker than I am. With its nutty flavor, I don't think it could pass for a traditional chocolate cake among non-Paleo eaters, but with the rich chocolate, creamy topping, and the little bit of depth the cherries add, it was gone in short order!
If you aren't familiar with Popovers, they can be difficult to describe. They have the savory taste and texture of a dinner roll, but because of the unique way a popover pan is shaped, they rise up out of the pan as they bake, forming a hollow inside (which is the perfect well for a pat of butter or a spoonful of gravy). Jenni's recipe is surprisingly easy and straightforward, involving only seven ingredients (most of which I already had on hand) and about ten minutes of work (plus a thirty-minute cooking time). But what really caught my attention was that the recipe is nut- and tapioca-free! Since I am sensitive to both and there aren't always good substitutes for either, I just about did (metaphorical) back flips when I realized I wouldn't have to make any compromises to sample these popovers. In fact, they are made primarily of eggs, so they don't even feel like a Paleo treat! The result is delightfully airy rolls that would pair well with any meal, though I found myself wishing I had some of Sarah's Herbed Chicken with Wild Mushroom "Cream" Sauce to dip these in!
My Paleo Patisserie is a thorough and beautiful celebration of the occasional treat, with all the tools to introduce both practiced and inexperienced bakers to gluten-free and Paleo baking. Jenni puts her considerable skill and charisma to excellent use, with her passion for the art of baking apparent on every page. The huge variety of recipe combinations, incredible photography and design, and encouraging advice from Jenni make My Paleo Patisserie an indispensable resource for sustainable Paleo eating that is sure to become a classic!

Become a Member for FREE!
The Paleo Mom Members' Area is resource central!  
You'll get FREE, unlimited access to dozens of quality resources, including introductory series, downloadable e-books, exclusive recipes, printables, videos and guides!
You may enjoy these related posts:
This review was written by my assistant Christina. Sweet Paleo by Lea Hendry …