This review was written by my assistant Christina.
---
In Make it Paleo II, Hayley Mason and Bill Staley of Primal Palate, with the help of Hayley's sister Caitlin Nagelson (a trained sushi chef), transform a huge variety of traditional and exotic non-Paleo dishes into delectable Paleo fare. From simple sides and elegant entrees to decadent desserts, all beautifully photographed, Make it Paleo II will inspire you to try new things, hone your culinary skills, and enable you to impress guests, celebrate special occasions in style, and enjoy flavors from around the world without leaving the comfort of your own kitchen.
After a brief overview of how Bill and Hayley came to eat Paleo and what Paleo actually is, Make it Paleo II begins with a guide to buying the best quality meat, seafood, produce, fats, nuts and seeds, and herbs and seasonings; a primer on the unique ingredients (such as almond flour and kombu) and kitchen tools you will need; and an overview of different cooking or preservation techniques used in the book. The appendix includes menus for 11 different meals, an index of whether or not recipes are dairy-, nut-, egg-, or nightshade-free (there is no information on whether or not recipes are autoimmune protocol-friendly), a photographic recipe index, and a comprehensive index of tools, ingredients, recipes, and other subjects covered in the book. In short, it includes just about everything you need to know to jump into Paleo cooking!
Nutrivore Weekly Serving Matrix
An easy-to-use and flexible weekly checklist
to help you maximize nutrient-density.
The Weekly Serving Matrix is very helpful! I've been eating along these lines but this really helps me know where to focus vs. which foods serve a more secondary role. It's super helpful and has taken a lot of worry out of my meal planning. Thanks!

Jan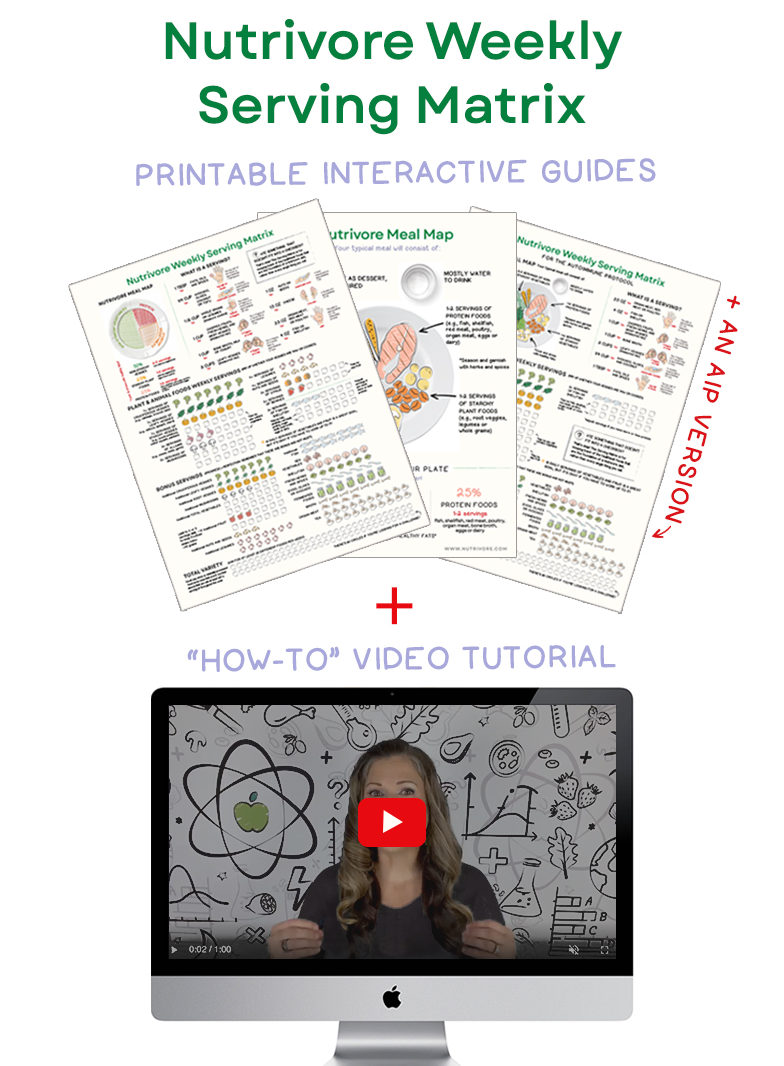 Speaking of cooking, there are over 175 new recipes in Make it Paleo II, including dishes like Thai Fried Chicken with Tangy Mango Sauce, Ramen with Chashu and Marinated Eggs, Lamb Barbacoa Tacos, Scallop Ceviche, Cherry Vanilla Coconut Milk Yogurt, and Dark Chocolate, Olive Oil and Sea Salt Ice Cream. This is just scratching the surface of the incredible variety of unique dishes you won't find versions of in other Paleo cookbooks, making this book a welcome addition to my already expansive Paleo library. With bright full-page photographs accompanying every recipe, Make it Paleo II is a feast for the eyes. Judging by the photographs for recipes like Lemon Blueberry Waffles and Lobster Fettuccine Alfredo, you would never know that this is a Paleo cookbook!
While most of the recipes are very accessible, there are several for which you may find yourself ordering ingredients online or looking for a new kitchen appliance. Many of the recipes require specialty ingredients not available in many grocery stores like almond flour, tapioca flour, or bonito flakes. There are also recipes that include ingredients like stevia, xanthan gum, or coconut sugar, which Sarah does not consider to be safe Paleo choices for many due to their potential to cause gut irritation (you can read more about that here, here, and here). It's a book for those who don't mind putting a little extra effort into shopping for ingredients, spending a few extra minutes in the kitchen, or adapting recipes to meet their needs in order to make something truly fantastic.
I chose to sample some of the dishes that felt more adventurous because they required an ingredient I couldn't find locally, but were very easy to make once everything was in hand. For starters, I dove into Caitlin's Spicy Tuna Dip, which combines raw tuna with a dressing of mayonnaise, red pepper paste, bonito flakes, coconut aminos, and a few other more-everyday ingredients like salt and vinegar. The dip takes all of five minutes to prep but feels like it came straight from the sushi chef. The trick is to use high-quality fresh tuna, which doesn't taste as fishy (or smell as strong) as the canned tuna we all know and love (you may read sarcasm into that phrase if you like). With beautiful colors, heat you can adjust by using more or less pepper paste, and all the health benefits of seafood, this is a dish worthy of special occasions with guests but simple enough for weeknights alone, too. It should have served two or three as an appetizer, but I will definitely at least quadruple the recipe in the future. My fiancee devoured the entire dish in less than five minutes, leaving us both wanting more. With a whole package of bonito flakes to use up now, this one is going to become a staple around here!
Ginger Beer involves making a ginger-infused simple syrup, diluting it in water, and then fermenting it for a few days with champagne yeast. The recipe yields enough for four 16-ounce bottles (two of which are pictured) and takes about 35 minutes to prepare (minus the couple of days the beer has to ferment). Like most ferments, it involves minimal effort, just a little patience, and rewards you with something delicious as well as healthy (you can read about the benefits of fermented foods here). I let mine sit in a cupboard for just under three days before deciding to pop one open. It was bubbly and just a little sweet, with the strong spicy flavor of ginger. If you let it ferment longer, it will become less sweet, but it will also develop more alcohol. We've had a streak of unseasonably warm days recently, and the ginger beer, served on ice, really hit the spot. I already have another batch tucked away in the cupboard. It's going to be my warm-weather alternative to ginger tea from now on!
For something sweet, I made Bill and Hayley's Stracciatella Gelato. It is made with coconut milk, thickened with tapioca starch (although I had to use arrowroot instead due to a tapioca sensitivity), and drizzled with homemade chocolate sauce. Many dairy-free frozen treats use coconut milk as a base and very few succeed in masking or working with the unavoidable and unmistakable flavor the coconut milk imparts. With the help of chocolate and maple sugar, this recipe boasts just enough rich chocolate and sweet maple flavor to complement the coconut very well–not trying to deny its presence or pretend that this dish is just like the dairy-based traditional one. Instead, you might think that Stracciatella was always made with coconut!
Make it Paleo II is a work of art, a beautifully crafted resource for a new level of Paleo home cooking. The combined skills and palates of Bill, Hayley, and Caitlin make for an adventurous, extraordinarily well-rounded, and utterly unique cookbook geared toward anyone looking to take their Paleo cooking to the next level. I can already see my copy stained with greasy fingerprints and dusted with almond flour, well-worn from regular use, the kind of cookbook a stranger could look at and know "That is a much-loved book!"

Become a Member for FREE!
The Paleo Mom Members' Area is resource central!  
You'll get FREE, unlimited access to dozens of quality resources, including introductory series, downloadable e-books, exclusive recipes, printables, videos and guides!
You may enjoy these related posts:
For many people, the Paleo diet can seem like an overwhelming number of changes …