This review was written by my assistant Christina.
---
Spiralized vegetables like zucchini make a frequent appearance in Paleo "pasta" recipes, from spaghetti and meatballs to chicken noodle soup. While they are by no means the only Paleo pasta substitutes around (spaghetti squash, shredded cabbage, and sweet potato or kelp noodles come to mind), they are easily the most fun and creative. Inspiralized is an ode to the spiralizer, with over 80 recipes making imaginative use of this kitchen gadget for over 20 different vegetables. While Inspiralized is not strictly Paleo (some of the recipes include legumes and dairy), it is a wonderful low-carb, gluten-free, and mostly-Paleo resource for anyone wondering how to get more use out of their spiralizer or looking to invest in one. You'll learn about the health benefits of replacing grains with vegetables, tips on the types of produce that can be spiralized and how to use your spiralizer's different blades, how to take care of your spiralizer and store your produce, and how to stock your pantry for the recipes in this cookbook.
The recipes include simple breakfasts like frittatas, waffles, and muffins, snacks like nachos, salsa, and spring rolls, soups and salads like chicken noodle soup, chili, and pho, sandwiches and wraps, casseroles, "rice" and "pasta" dishes using various vegetables, and desserts like pear rhubarb crisp, rice pudding, and ice pops. And yes, all of these use spiralized vegetables! All of the recipes are highly adaptable depending on what vegetables you have on hand, and non-Paleo recipes like those using soy sauce can be adapted with Paleo ingredients like coconut aminos. And for many of the pastas that use cheese to make a sauce, I think basil pesto or any salad dressing would be wonderful substitutes. The nice thing about using spiralized vegetables with a mild flavor like zucchini is that they go well with just about everything!
Nutrivore Weekly Serving Matrix
An easy-to-use and flexible weekly checklist
to help you maximize nutrient-density.
The Weekly Serving Matrix is very helpful! I've been eating along these lines but this really helps me know where to focus vs. which foods serve a more secondary role. It's super helpful and has taken a lot of worry out of my meal planning. Thanks!

Jan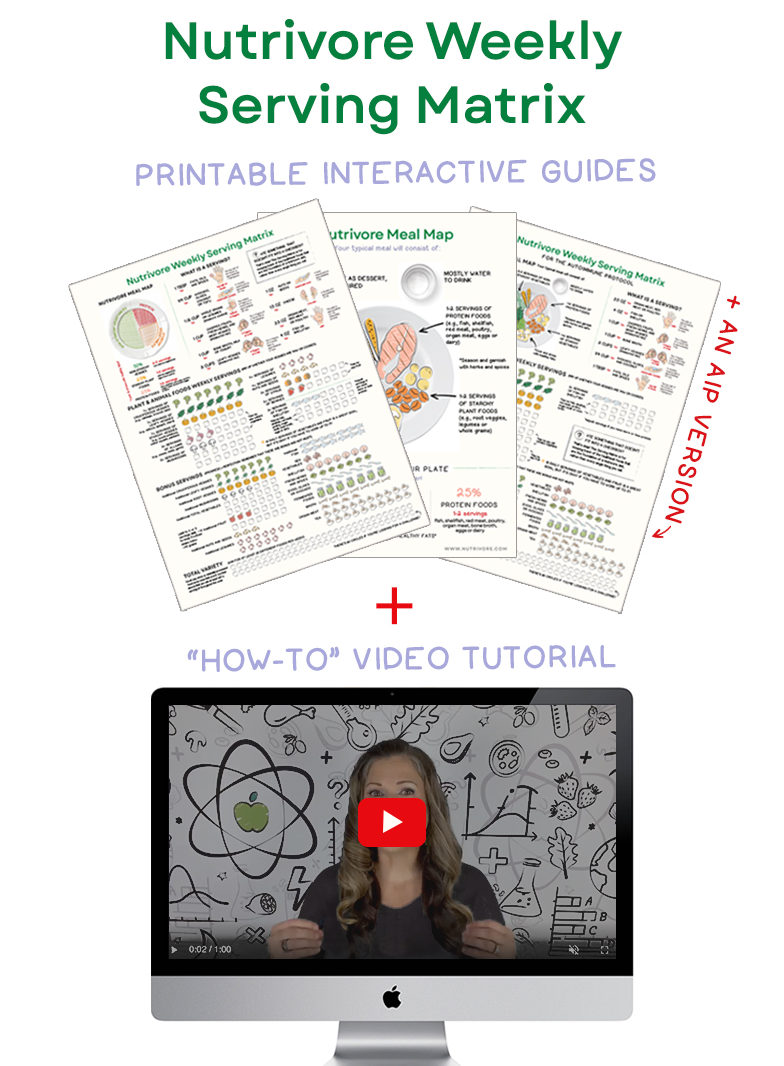 For this review, I choose to make the Spicy Jicama Strings, Italian Zucchini Pasta Salad, and Stuffed Grape Leaves Casserole. Prior to this review, I'd never spiralized anything, but I had been eyeballing a spiralizer for a long time. So I finally bit the bullet and bought one. They look complicated, but don't let that deceive you–the instruction manual for mine was only half a page, and Ali's tips provide further instruction to make the spiralizer one of the simplest kitchen gadgets I own. Plus, it's kind of fun to crank it and watch all of those noodles spit out!
The Italian Zucchini Pasta Salad tasted just like the pasta salad my mom used to make at least once a week, even though it only shares a handful of ingredients (because it's healthier)! Crisp raw vegetables like the zucchini noodles, cherry tomatoes, olives, and red onion combine with a zesty Italian dressing and artichoke hearts for a truly refreshing and delightful appetizer or side dish. It took less than ten minutes to make and tasted even better as leftovers after marinading in the fridge overnight (just like mom's pasta salad did). The recipe includes provolone cheese, but would be equally delicious without it. You could also easily substitute the salami for prosciutto, ham, or bacon if you liked. Who doesn't love a versatile recipe?!
Ali's Spicy Jicama Strings take mere minutes to prepare (plus a 30-minute cooking time), but be warned–they are really spicy! Never a huge fan of hot peppers, I couldn't eat more than a bite, but I would certainly make the recipe again using half (or maybe even a quarter) as much chili powder and cayenne. Even my fiancee, whose family hails from spice-loving Louisiana, thought they were too hot. I never thought I'd see the day! But the crunch was perfect, and I look forward to using these as a condiment on southwestern-inspired salads or meats!
The Stuffed Grape Leaves Casserole is Ali's answer to dolmas, a traditional Greek food of individual grape leaves stuffed with a rice mixture. Instead of going to the trouble to stuff all those grape leaves one by one, Ali's casserole lines a dish with grape leaves and uses a filling of riced celeriac, currants, pine nuts, tomatoes, and herbs. Celeriac, a tough root vegetable, doesn't slide through the spiralizer quite as easily as zucchini or jicama, and I was worried that I might break the plastic prongs holding the root to the blade. Take it slow and have some patience. After baking, the grape leaves are dry and crisp, pairing well with the moist celeriac and currant filling. Equal parts sweet and savory, with hints of mint and lemon, this is a satisfying and unique dish that has more "wow factor" than the simple preparation would lead you to expect!
The closing pages of the book include a guide to shopping for and spiralizing Ali's favorite 22 fruits and vegetables, from carrots and squash to rutabaga and plantains. She also includes the basic nutritional information of these vegetables and how many grams of noodles each will yield as well as a handy table with preparation notes, cooking times and temperatures, and serving suggestions for each.
Inspiralized is a wonderful resource for getting more use out of this popular kitchen gadget. Ali's Italian heritage and love of healthy, grain-free foods have combined for an inventive, refreshing take on spiralized vegetables that extends beyond zucchini noodles and pasta dishes. If you are looking for more ways to love vegetables or just need a break from the everyday, this book will certainly leave you inspired!

Become a Member for FREE!
The Paleo Mom Members' Area is resource central!  
You'll get FREE, unlimited access to dozens of quality resources, including introductory series, downloadable e-books, exclusive recipes, printables, videos and guides!
You may enjoy these related posts:
My inexpensive mandoline slicer is one of my favorite kitchen tools! It makes …