This review was written by my assistant Christina.
---
He Won't Know It's Paleo by Bre'anna Emmitt was born when, after six months of secretly switching her Standard-American-Diet family over to a Paleo autoimmune protocol diet, she and her husband both noticed dramatic improvements in their health and decided to share their story with the world. This cookbook is the result of Bre'anna's love for her family, creative cooking to sneak healthy ingredients past her husband, and the desire to eat better without sacrificing family favorites and making anyone feel deprived.
After a brief introduction to autoimmune disease, the benefits of eating Paleo, and the differences between Paleo and the autoimmune protocol (including tips for getting your family on board, stocking your pantry, and reintroducing foods after you have experienced some healing), Bre'anna gets right to the goods: All the creative, delicious recipes! With staples like Nightshade-Free Red Salsa, Queso, Mexican Green Suace, and egg-free Mayonnaise; breakfast ideas like smoothies, sausages, hash, and Hot N'oatmeal; nutritious entrees and sides like Italian Pastaless Salad, Broccoli-Cheddar Soup, and Teriyaki Chicken Tenders; and treats like Banana Bread Bars, Breadsticks, Chocolate Cupcakes, Blackberry Cobbler, Dutch Apple Pie, and Snickerdoodles, there's plenty to choose from! While a large part of the recipes are all-American staples like pie, cobbler, and wings, there are also many Southwestern-, Italian-, and Asian-inspired recipes. Speaking of which….
Nutrivore Weekly Serving Matrix
An easy-to-use and flexible weekly checklist
to help you maximize nutrient-density.
The Weekly Serving Matrix is very helpful! I've been eating along these lines but this really helps me know where to focus vs. which foods serve a more secondary role. It's super helpful and has taken a lot of worry out of my meal planning. Thanks!

Jan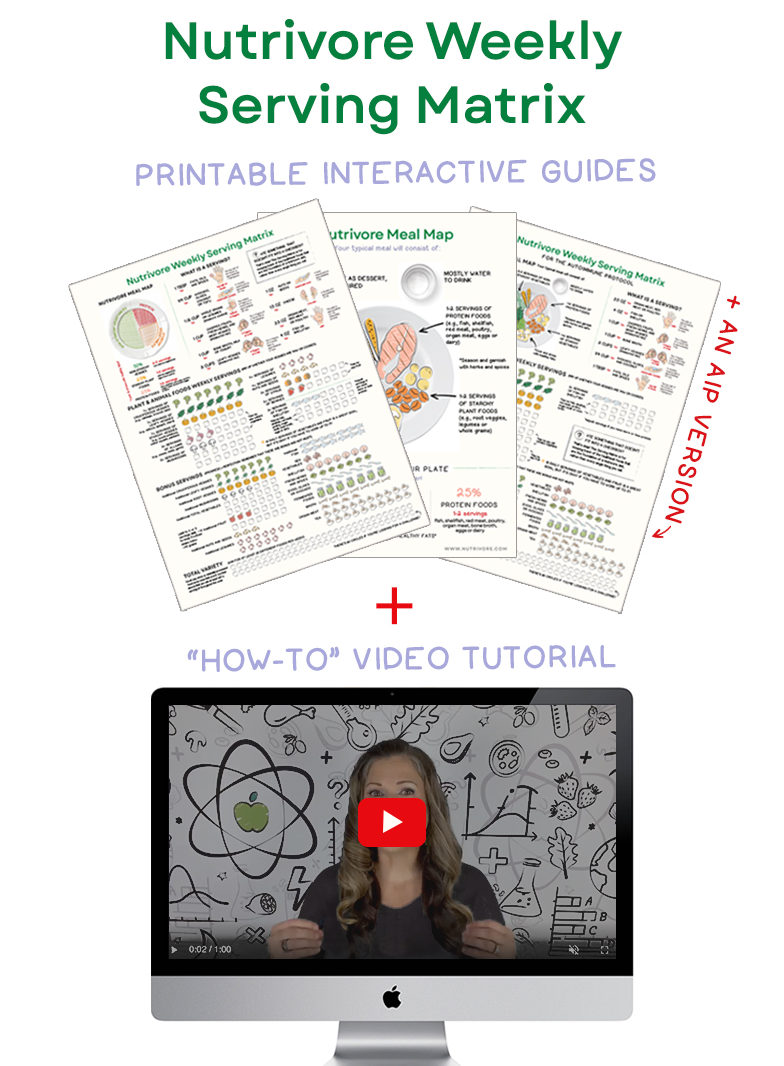 Bre'anna's Asian Lettuce Wraps were inspired by everyone's favorite P. F. Chang's appetizer, iceberg lettuce bowls filled with stir-fried chicken, mushrooms, water chestnuts, and a savory sauce. I love stir-fries because, like soups, they are usually one-pot meals so there isn't much cleanup afterwards and because they are so straightforward that they are hard to get wrong! Even if you aren't brain-fogged, fatigued, and in pain from autoimmune disease, you probably appreciate quick and easy recipes for those nights you just don't feel like cooking but also want something delicious. This one takes about 30 minutes from start to finish, and it is definitely a crowd-pleaser! Mild chicken and mushrooms, crisp water chestnuts and iceberg lettuce, and a rich coconut aminos-based garlic sauce are the perfect marriage of flavors.
The Stacked Chicken Enchiladas Verdes are an equally simple recipe involving layering chicken, sweet potatoes, and a green sauce of avocado, onion, cilantro, and other seasonings in a baking dish for a Tex-Mex meal ready in about 30 minutes. Traditional green enchiladas are made with a tomatillo sauce, and this recipe comes pretty close to capturing their flavor for those who are following the autoimmune protocol or otherwise unable to eat nightshades. However, I found the sweetness of the sweet potatoes a little too overpowering to pair well with this savory southwestern dish (but then, I have never been a huge fan of sweet potatoes in the first place). The verdict in our house was "They're really good, but they're not enchiladas." The beautiful thing about uncomplicated, quick recipes like this one is that they are very easy to adapt to your personal preferences. I am looking forward to trying it again with something more "southwestern" like plantains or taro root instead of the sweet potatoes!
Finally, the Chocolate Mousse-Stuffed Strawberries make an easy, presentable dessert for casual potlucks, afternoon snacks, and anniversary treats alike. The book states there is a 15-minute prep time and 25-minute cook time, but the recipe is quick to throw together and only needs to chill in the fridge if your ingredients aren't chilled before you begin. We were eating ours in less than ten minutes! The avocado-based "chocolate" filling (the recipe uses carob powder instead of cocoa, as cocoa is not autoimmune protocol-friendly) is rich, creamy, and just a little sweet, the perfect complement to tart, fresh strawberries. For a more elaborate (but not autoimmune-friendly) special occasion treat, I would love to cover these in Sarah's chocolate magic shell for mousse-stuffed chocolate-covered strawberries!
The colors, layout, and photographs in He Won't Know It's Paleo are absolutely gorgeous and clearly a labor of love for Bre'anna. The layout of the recipes is unique in that most pages are split in half vertically, with the recipe on the inside portion of the page and the photograph on the outside portion. I love the creativity that visually sets this cookbook apart from the many others out there, however, the inside margins are quite small and if the open book isn't pressed flat, some of the text on the inside margins can get buried in the crease between the pages. And in the text-heavy introductory pages, the creative choice of font and font color as well as the generous spacing can be a little hard on the eyes. That said, all but ten of the pages are recipes, and there is absolutely nothing wrong with those!
For anyone who feels they or their family could benefit from the autoimmune protocol but is overwhelmed at the thought of giving up staples, sacrificing flavor or variety, or just doesn't know where to start, He Won't Know It's Paleo is a wonderful resource full of creative, delicious recipes for any palette. From condiments, appetizers, and breads to nutritious vegetables, main dishes, and desserts, Bre'anna has all of the bases covered. Best of all, her recipes are simple to make and even easier to enjoy!

Become a Member for FREE!
The Paleo Mom Members' Area is resource central!  
You'll get FREE, unlimited access to dozens of quality resources, including introductory series, downloadable e-books, exclusive recipes, printables, videos and guides!
You may enjoy these related posts:
This review was written by my assistant Christina. Juli Bauer's Paleo …