This review was written by my assistant Christina.
---
If you were born and/or raised in the south or are just looking for some classic all-American comfort food, Down South Paleo by Jennifer Robins will see to it your every craving is satisfied without compromising your health. Jennifer's recipes stay true to the soul of Southern cooking, simply offering allergen-free alternatives for those of us unable or unwilling to eat "the real deal". Filled with Southern charm (with chapter titles like "Roughage", "Nibbles", and "Wet Your Whistle"), Jennifer's fun, accessible wit to guide you through the recipes, and creative use of lesser-known Paleo ingredients, Down South Paleo does what many of us thought was impossible… makes Southern cooking healthy.
What kinds of Southern recipes are included in this book? A better question would be "What kinds of Southern recipes aren't included in this book?"! You'll have your pick of Home-Style Chicken Fried Steak and Cream Gravy, Lone Star Huevos Rancheros, Gulf Coast Fried Shrimp and Remoulade Sauce, Mississippi Fried Catfish and Homemade Tartar Sauce, Crescent City Shrimp and Sausage Gumbo, Soulful Collard Greens and Crisped Bacon, Fried Green Tomatoes, Deep South Grain-Free Grits, Bourbon Street Bread Pudding and Caramel Sauce, Mixed Berry Cobbler, Rodeo Funnel Cakes… and so, so much more. Like most books from this publisher, Down South Paleo does not have a photograph to go with every recipe, but what photographs there are are simple, rustic, and vibrant in their details.
Nutrivore Weekly Serving Matrix
An easy-to-use and flexible weekly checklist
to help you maximize nutrient-density.
The Weekly Serving Matrix is very helpful! I've been eating along these lines but this really helps me know where to focus vs. which foods serve a more secondary role. It's super helpful and has taken a lot of worry out of my meal planning. Thanks!

Jan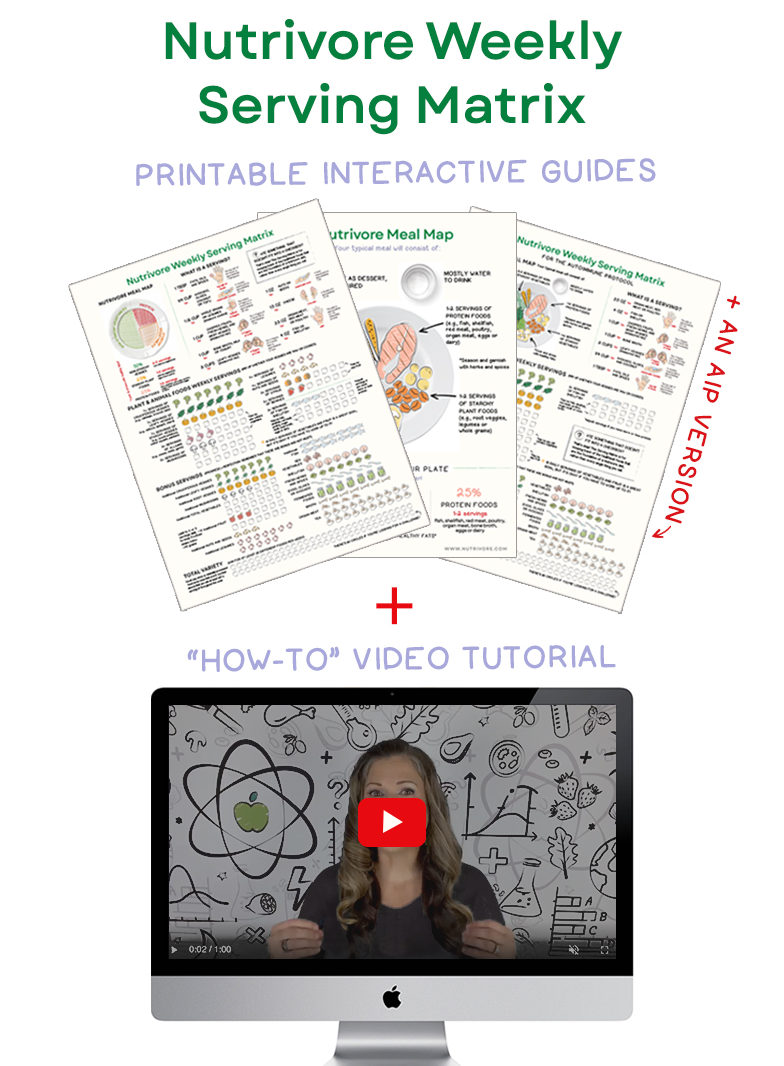 Sensitive to eggs, nightshades, or nuts? Jennifer provides at a glance the ingredients each recipe contains that may be problematic for some readers, so you don't have to scour every single recipe to know whether or not you can make it. The majority of the recipes are nut-free. And if you're following the autoimmune protocol, about half of the recipes can be easily tweaked or are already AIP-friendly as written. This is pretty good considering how frequently nightshades and seed-based spices appear in Tex-Mex and Cajun cooking! I do feel it is important to note that a huge number of the recipes in the book use yuca, water chestnut flour, or tapioca starch for frying, thickening, baking, or tortillas/tortilla chips (which appear in a variety of recipes, from chimichangas to tortilla soup). If you aren't able to source these ingredients or happen to be sensitive to them, you might be a little put-off flipping through the recipes. However, Jennifer includes a thorough FAQ on yuca to help you source and learn to cook with it, so if you aren't sensitive to it, this is a wonderful opportunity to explore this versatile plant! There is also an enormously helpful Resources page on her website to help with all the flours, starches, milks, oils, and other "specialty" ingredients included in the book.
I decided to start us off with a breakfast of Corned Beef Hash with Brown Gravy. This hash uses onions and sweet potato in lieu of the traditional white potato. The gravy, thickened with tapioca starch, is a little tricky. If you overcook tapioca starch, it'll quickly congeal. I found the temperature Jennifer recommended was much too hot for my stove, and had to make the gravy a second time on a lower heat. But once I got everything together? Oh, my. That corned beef and creamy, savory gravy really dress up sweet potatoes. While I wouldn't go so far as to call this dish a real Southern hash, it was an absolutely delicious way to start the day–and that's coming from someone that isn't a big fan of sweet potatoes. I always love when a recipe can get me (or anyone I know!) happily eating an ingredient I normally don't go out of my way for!
For something closer to home (I'm a Gulf-Coast Texan, born and raised!), I opted for Jennifer's take on a Tex-Mex classic, Gringo's Slow-Cooker Tortilla Soup. Cooking really doesn't get any easier than this: Combine all the ingredients in a slow-cooker and then forget about them for a few hours! I left out the optional tortilla chips and dairy-free sour cream, but felt the soup was a little lacking. Jennifer's recipe has rich chicken and tomato flavors, spiced up with bell pepper and jalapeno, but Tortilla Soup is a soup that is traditionally swimming in dairy and I found myself missing a big heaping of Mexican cheese. I definitely recommend including both the tortilla chips and sour cream for the best, most Tex-Mex experience! I will definitely not leave them out in the future, myself.

Jennifer's Grain-Free Chocolate Zucchini Bread combines eggs, bananas, coconut flour, cocoa, and a few other choice ingredients in a blender. Fold in some shredded zucchini and optional chocolate chips, pour it into a loaf pan, and bake! How easy is that?! But no matter how easy a recipe is, it still has to taste good. Never fear: You won't know there's zucchini in this decadent chocolate banana bread. Perfectly moist with bursts of rich chocolate from the chocolate chips, this bread pairs well with coffee or tea and is a wonderful way to sneak an extra helping of veggies past the veggie-averse… or just take full advantage of the abundance of zucchini (for cheap, too!) during these summer months!
Down South Paleo offers a huge variety of recipes featuring classics from all parts of the South. From El Paso to Tallahassee, Jennifer's got you covered. With accommodations for the most common food sensitivities within a Paleo template and resources beyond the recipes to get you started even if you've never set foot in a kitchen or haven't heard of some of the ingredients, Down South Paleo has something for everyone. Jennifer, a fourth-generation Texan, is the perfect guide through the cuisine, and whether you're Southern-born or not, you'll soon find yourself wanting to sit out on the porch with a tall glass of Naturally-Sweetened Sweet Tea, chattin' with the neighbors and thinkin' "life is good".

Become a Member for FREE!
The Paleo Mom Members' Area is resource central!  
You'll get FREE, unlimited access to dozens of quality resources, including introductory series, downloadable e-books, exclusive recipes, printables, videos and guides!
You may enjoy these related posts:
This review was written by my assistant Christina. Jennifer Robins of …