This review was written by my assistant Christina.
---
Clean Eating with a Dirty Mind is from innovative "dessertavore" Vanessa Barajas, who has delivered more than 150 delectable desserts–and I do mean delectable. Vanessa firmly believes that a grain-free diet doesn't have to feel deprived, and after cooking from this book, you'll believe it, too!
But before you get to the recipes, Vanessa will lay out the basics of the Paleo diet, including what to eat, drink, and avoid (with quite possibly the cutest illustrations ever), when to buy organic, and how to find an appropriate place in your Paleo template for desserts depending on your goals. You'll get info on where to find and how to use all the kitchen basics you'll need, including appliances, utensils, cookware, bakeware, pantry supplies, flours, sweeteners, fats, dairy and dairy alternatives, chocolate, dried fruit, and nut butters. You'll learn about baking terms and techniques, the roles of different flours and leavening, decorating ideas, and a handful of helpful kitchen tips like having all of your ingredients ready before you start and bringing your cold eggs to room temperature quickly. This is one of the most thorough introductory chapters I've encountered in a cookbook lately, while still keeping things short and sweet so you can get started baking ASAP!
Nutrivore Weekly Serving Matrix
An easy-to-use and flexible weekly checklist
to help you maximize nutrient-density.
The Weekly Serving Matrix is very helpful! I've been eating along these lines but this really helps me know where to focus vs. which foods serve a more secondary role. It's super helpful and has taken a lot of worry out of my meal planning. Thanks!

Jan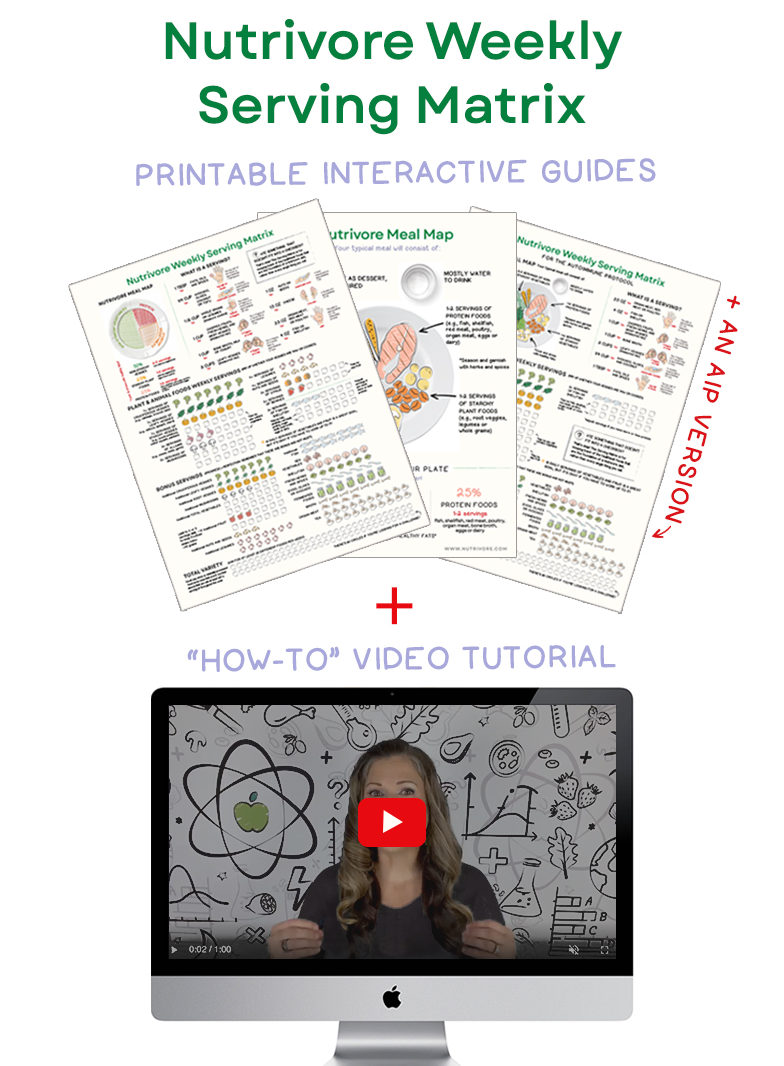 You'll find variations of your favorite classic desserts, including a number of S'mores, Samoa, Rocky Road, Salted Caramel, and Reese's-inspired recipes, as well as treats like Cookie Dough Fudge, Donut Shop Donuts, Mississippi Mud Pie, Limoncello Pound Cake, Bourbon Butter Pecan Cupcakes, Hazelnut Butter Sandwich Cookies, Chocolate Turtle Thumbprint Cookies, and a few savory dishes like French Onion Bacon Tart, Southern Biscuits, and BBQ Pulled Pork Nachos. The cover says the 150+ recipes are Paleo-inspired, and I think that's the perfect phrase. Many of Vanessa's recipes use types or dairy that would be a very gray area, usually excluded from a strict Paleo diet. However, if you tolerate dairy well or just need some grain-free treats for your family, you will find a fantastic selection of recipes in this book. And if you don't include dairy in your diet, there are still plenty of options for you, too! The variety of cakes, cookies, bars, and frozen goodies could make your head spin!
The Strawberry Cheesecake Cake is an endeavor, but well worth it. It requires triple recipes of Vanessa's Classic Yellow Cake and Strawberry Cream Cheese Frosting (which itself requires a single recipe of her Strawberry Sauce) as well as a single recipe of her Graham Cracker Crust. And even though I tend to want to spend as little time in the kitchen as possible, I found myself enjoying every step of this long but uncomplicated recipe… mostly because there's a delicious bowl to lick clean every step of the way! 😉 Let's start with the frosting. The Strawberry Sauce is a ten-minute affair reducing fresh strawberries and a bit of honey into a thick, vibrant red sauce. Add this to Vanessa's Cream Cheese Frosting for a decadent, beautifully pink icing of cream cheese, butter, sugar, and just a hint of strawberries. I had a lot leftover, so think a double recipe would have worked just fine. A frosting as light as this demands a rich cake for accompaniment, and the Classic Yellow Cake Delivers. It is dense and moist and very nearly the flavor and consistency of a classic cheesecake. Though the recipe might look a little daunting, it's really as easy as combining all the dry ingredients in a food processor (with a base of almond and tapioca flour), adding in the wet ingredients (which include sour cream and half-and-half), and then adding in some whipped egg whites on top. What really puts the "Cheesecake" in this cake is the Graham Cracker Crust, which is baked underneath the bottom layer of the cake. Like the cake recipe, this crust is a base of almond and tapioca flours with cinnamon and honey, formed into a stiff dough and pressed into the bottom of the cake pan. While it was a teeny bit too sweet for my taste, it added texture to the whole dish and brought some depth with its cinnamon spice. Since it takes all of five minutes to make, I might be adding Graham Cracker Crusts to many of my cakes in the future!
The Sea Salt and Honey Ice Cream makes a custard of coconut milk and maple sugar and adds raw honey with just a smidge of sea salt for depth. I bought some of the best local honey I could find for this recipe, and it did not disappoint. Now, I have never been a fan of coconut. I'm one of those people that can usually pick the flavor out even in recipes that try to conceal it. And in ice cream recipes, with so few ingredients, it's a tough flavor to conceal. However, I found the coconut flavor in this recipe really mild. The faint zing of salt and the perfect local honey are really the stars of this dish. I'm looking forward to making this again not only as-written, but maybe with some homemade caramel in lieu of the honey for some Salted Caramel Ice Cream!
Vanessa's Better Than Boxed Brownies deliver on their promise. They have the same moist, fudgey interior and crisp, flaky "crust" I remember from all the boxed brownies of my youth. And wouldn't you know, they pair very well with the Sea Salt and Honey Ice Cream! I served ours straight out of the oven, still a little gooey on the inside, with a nice big scoop of ice cream, and we were in heaven. I had originally intended to make the Rocky Road Brownies variation in the book (which simply involves drizzling the baked brownies with homemade ganache, marshmallow creme, and almond slices), and while I am sure those are phenomenal, I am so glad I took the a la mode route instead. I was instantly reminded of summers at grandma's house and pre-Paleo date nights alike, where brownies a la mode were often on the menu.
And isn't that the real point of Paleo baking? Not to merely satisfy a demanding sweet tooth, but to keep alive those meaningful traditions despite dietary restrictions and food sensitivities, so you and your loved ones can still enjoy ice cream or cake together on those occasions when you might otherwise be feeling left out or resentful of your circumstances. Staying true to your Paleo eating is hard in a world full of so many temptations and tempting reasons to indulge a little. But with books like Clean Eating with a Dirty Mind, having your cake and eating it too is no longer out of the question. Whether you're revisiting old favorites with Vanessa's takes on classic recipes or looking to try something new with her innovative variations, Clean Eating with a Dirty Mind will hit the spot.

Become a Member for FREE!
The Paleo Mom Members' Area is resource central!  
You'll get FREE, unlimited access to dozens of quality resources, including introductory series, downloadable e-books, exclusive recipes, printables, videos and guides!
You may enjoy these related posts:
This review was written by my assistant Christina. Sweet Paleo by Lea Hendry …