Beyond Bacon by Stacy Toth and Matthew McCarry is the most beautiful cookbook I have ever seen. Of any cookbook. And, I've seen A LOT of cookbooks (I'm a bit of a collector). But the esthetic is nothing compared to the quality of the contents. The recipes in Beyond Bacon are out-of-this-world delicious. If you have not pre-ordered it yet, I highly recommend doing so. Eat Like a Dinosaur, also created by the dynamic duo that is Paleo Parents, sold out of its first print run before the book was released. And I'm betting that, even with the publisher anticipating the immense popularity that this book will undoubtedly garner, Beyond Bacon is on track to do the same.
I had the privilege of being in the inner circle during development and writing of Beyond Bacon. Often, Stacy and I recorded podcast episodes at the end of the long days of photography, so I got to hear about the recipes, the photos, and how brilliant Aimee Buxton is (who did all of the amazing photography in Beyond Bacon and should take a huge proportion of the credit for how beautiful this book is). I got to hear about the many iterations required to get the lard biscuits perfect, how exciting the fudge was, about deep frying day, and fireballs coming out of the smoker. I also got to witness the roller-coaster that is book creation with the incredible highs of excitement, pride and anticipation followed by the lows of deadlines, anticipation, and exhaustion. It was kind of like watching your best friend or your sister throughout pregnancy and then the birth of their, well in this case, second baby. I even got to preview a pdf of the book before it was finalized and contribute to some of the science discussion in the introductory sections (is that kind of like seeing a 3D ultrasound in the last few weeks of pregnancy?). Let me say that all of these things still did not prepare me for how ridiculously awesome Beyond Bacon is. Best book baby ever.
Beyond Bacon walks you through the process of sourcing and buying half or a whole pastured pig. Matt and Stacy discuss the health benefits of eating pork, especially pastured pork, and dispel a number of myths. And they explain the importance of eating snout to tail, a concept that I also feel very passionately about. They walk you through the cooking techniques and special equipment. Their easy-to-follow instructions make things like scrapple, making your own pancetta and bacon, rendering your own lard, making your own pork rinds, and stuffing your own sausages all seem approachable. You do not need to be a master chef to make their recipes because every single one is broken down into simple steps with lots of hints and tips along the way. But, you will feel like a master chef when you take your first bite, and your second, and your third…
Save 80% Off the Foundations of Health
Expand your health knowledge on a wide range of topics relevant to you, from how to evaluate scientific studies, to therapeutic diet and lifestyle, to leaky gut and gut microbiome health, to sustainable weight loss, and much more!!!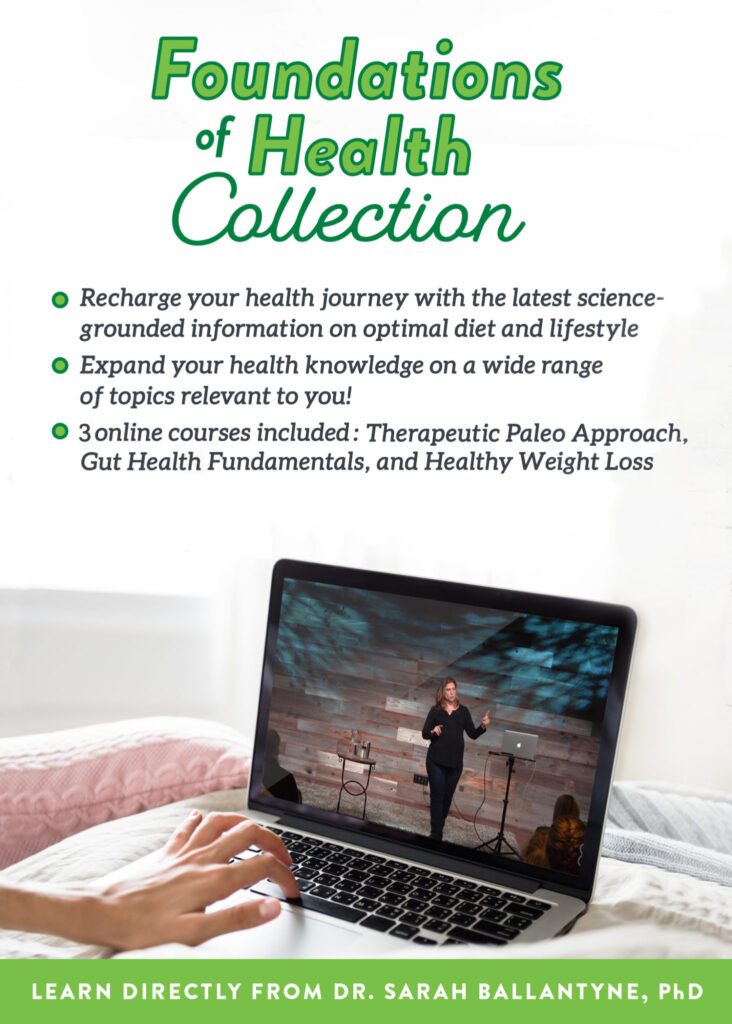 This book is designed to provide you with recipes using every part of the pig, so as much as you will see other reviews perhaps a little obsessed with the dessert recipes in Beyond Bacon (all of which include lard and/or bacon in them), I really tried to focus on the savory dishes for my review. This was almost impossible to do because the dessert recipes are so ridiculously amazing and have a way of calling to me through the page. So, I succumbed and did two dessert recipes. But, I did five savory recipes, so I figure that's not a bad balance. This also breaks the record for the most recipes I've ever tested to write a cookbook review… and this just reflects how tempting and wonderful the recipes are. I just don't want to stop cooking from this book!
I actually kitchen tested the recipe for licorice sausage before the book was released. This was my first hint that the recipes were going to taste as good as they look. They do. Anise type flavors and pork are a wonderful pairing (actually, one of my favorite flavor combinations ever) and Matt and Stacy struck that perfect balance. I opted to simply fry up my sausage as patties, rather than stuff into casings (Beyond Bacon gives you instructions for both methods), and it couldn't have been simpler!
When I received my preview copy of Beyond Bacon, I first flipped through it (while drooling). Some of the staple recipes are very similar to how I already prepare those foods (like lard, pork broth, crispy lardons, and sweet potato crisps), which means I already know those recipes are great. And then, there are some amazingly innovative recipes that are the kind of thing that make a food blogger feel giddy with excitement. To decide which recipes to try for my review, I simply took a look in my freezer. I bought half a pig in March after all. I figured I'd just cook up whatever I happened to have left–especially because whatever I have left would be the cuts of pork that I'm least familiar with. Er. Well, all that was left in my freezer from that half pig was a bag of neck bones. I had some ground pork too, but that was actually recently purchased because I ran out! Okay, ground pork and neck bones it is then! Oh, and time to buy another half pig!
The same evening after I received my preview copy of Beyond Bacon, I decided to make Plantain Chips. I was stumped for what to make as a starch with our supper that night (and my husband and kids both really need starchy vegetables with their meals). Green plantains are a staple ingredient in my home, so I had some in my crisper. And, I just happened to have some lard in my deep fryer. So, plantain chips was an obvious choice. These aren't the plantain chips that you might be thinking of (those crispy potato chip like things fried in coconut or palm oil that you can buy in a bag at the grocery store). I would describe these as plantain french fries. But that name doesn't really give them justice, because they are the most amazing french fries you've ever had with a perfect seasoning mix to sprinkle on them. My initial thought when I tasted one was that I made a very bad decision when I halved the recipe. But, plantains are so filling, I actually found that I had a bit leftover. So, I even got to test how they re-heat following the suggestion in Beyond Bacon: pretty darned well! If you happen to have a small countertop deep fryer, these are super fast to whip together for a starchy side any day of the week.
I couldn't resist making the Citrus-Infused Pork Burgers. This one used a combination of herbs that I wouldn't naturally have thought to use with pork but that sounded intriguing. The recipe calls for grilling the burgers, which clearly would be awesome. But, I opted to bake them, which is a standard burger cooking technique I use on busy weeknights (our grill is charcoal which is bit high maintenance for weeknights for me). Well, we hit on a winner that my whole family loved. My oldest daughter, who is still quite picky when it comes to food, demolished half a burger and exclaimed "Well, Stacy definitely got this one right!" (sorry Matt, my daughter seems to think that Stacy does all the cooking I guess because I do all of the cooking in our house). She even started working on a card for Stacy that evening (but loss her enthusiasm when I mentioned that cards written on unfolded empty toilet paper tubes were a little hard to put in the mail). The next night was leftover night and we had to battle over who would get to eat the leftover pork burgers. This is one that I know we'll come back to again and again. It was simply, quick, and oh so tasty. Beyond Bacon suggests pairing with Sweet Potato Drop Biscuits, but we just enjoyed them plain with some steamed broccoli and watermelon on the side. A perfect flavor for these warm weather!
Next up was to tackle my bag of neck bones. Although my bones were sawed into pieces, I followed Beyond Bacon's recipe for Braised Neck Roast (without any modification). And this is where Matt and Stacy's talent in the kitchen truly shines. Just a few simple ingredients. I expected something good, because this is Matt and Stacy's recipe after all and certainly the herbs sounded like they'd be tasty. But, I didn't expect what the end result actually was: FREAKIN' AMAZING. We ate the entire meal in one night because we just couldn't stop eating. I saved the broth and drank it with my lunch the next day (did I say drank? I should have said relished). I will be getting another half pig in a couple of weeks and neck will be one of the first cuts of meat I cook from it, rather than the last. And I'll be using this recipe again.
We actually served our pork neck with the side dish suggestion from Beyond Bacon, Maple Sage Roasted Butternut Squash. At first, I was a little annoyed at dicing the squash so small (since I would normally cut it into fairly large chunks) because this felt more labor intensive than typical for a mid-week meal for me. But, I'm so glad that I did. It made it more like a hash, but easier since it was roasted and it was one of the best flavor combinations ever. It paired perfectly with the pork neck and the leftovers were fabulous with sausage for breakfast.
As I mentioned, I couldn't help but make some desserts. I did have some issues with the Caramel Praline Lard Fudge, not because there is anything even remotely wrong with the recipe but because I didn't follow the directions. Most of the way through heating the syrup, I had a crisis of confidence in my candy thermometer. I was getting worried my syrup would burn and was doubting the accuracy of my thermometer so I bailed and ended up removing syrup from the heat 5F short of the goal temperature. I should have stuck it out. So, unfortunately, this means that I removed my syrup from the heat while it was still below the lower end of the range for soft ball stage candy making. Temperature is a critical aspect of candy consistency when making these types of recipes, and some seriously impressive chemistry happens at specific temperatures… if only I had hung in there for those last five degrees! But let me tell you that it was still absolutely delicious! Instead of fudge, I ended up with something the consistency of pecan pie filling–almost fudge, but just not quite. Actually, a very similar flavor to pecan pie filling too. We ate it all and it was A-MA-ZING. It was so good that it meets my criteria of food to not make again. Because of my history of obesity, I have a firm rule of not keeping foods in the house that I am incapable of resisting, foods that call my name and entice me to binge… well, unless those foods happen to also be extremely nutrient dense, which doesn't ever seem to be the case. Since I just couldn't help myself, I really, really overindulged. And I felt sooooo sick. When I first realized my mistake with the temperature, I quickly bought some more maple sugar with the plans of making this recipe a second time for my review. But as I delved into it for seconds and thirds, I realized that making more was not a good idea for my own personal health! So, go ahead and make this recipe, following the directions carefully (although you now know that it's still delicious even if you don't!), but save it for a very special occasion when there will be lots of people to share it with. It is seriously delicious, but also seriously decadent.
I also couldn't help but bake the Best Brownies. It's as though the ingredients in my kitchen had a mind of their own and whipped themselves together in a fantastic batter. As unbelievable as it sounds, I don't own an 8″x8″ square baking pan, which re recipe calls for. So, I had a choice of a 9″ round baking pan (just a tip, it's almost exactly the same surface area as an 8″x8″ square baking pan) or a 9″x9″ pan. I chose the former so I wouldn't have to adjust the cooking time. The smell in the house while the brownies were cooling was akin to torture. Chocolate is a food that I just can't tolerate even in small quantities, so I had to let my kids and husband do the taste testing. My husband inhaled them, making those nom nom nom noises. His first words, through a mouth still half full of brownie, were "nyum, these are really good, very light and fluffy". My babysitter also loved then (and liked that they weren't too sweet). My oldest loved them although my youngest didn't (she's been weird with chocolate lately and I've been wondering if she has inherited my sensitivity to it). I was glad to see the last few brownies disappear today, since my mouth is salivating just at the thought of them. And I just made the plain brownies. Beyond Bacon gives you this as an option:
I know, right?
In all honesty, I have at least 12 more recipes marked with post-it notes for me to try. One of the great things about this book is that there are actually lots of recipes that I can have even on the autoimmune protocol (granted, I don't worry about seed based spices any more and can indulge in small portions of some nuts and eggs occasionally). This is probably because Stacy also follows a modified autoimmune protocol, so those needs are reflected in many of the recipes. Sure, paprika, cayenne, and almond flour feature in many recipes too. This isn't an autoimmune protocol cookbook (check out Mickey Trescott's e-cookbook for that). But, if you are wondering it's worth it to you if you are following the AIP, my (albeit subjective) opinion is that it is.
The only thing that I didn't completely love about Beyond Bacon is the lack of a complete table of contents for the recipes in one place. Each chapter has table of contents and a table of contents at the beginning of the book can help you navigate to each chapter. It's not a tragic failing or anything, but does make finding a recipe a two-step process. To make up for it, there is a very good index at the back of the book which includes both recipes and ingredients, which is what I ended up using to find recipes I'd already looked at but forgot where they were in the book (before I pulled out the post-it notes).
Beyond Bacon is the second Paleo cookbook that I've seen published with a hardcover (the other is Gather by Hayley Mason and Bill Staley, which is also a tremendous cookbook). I love a hardcover for a cookbook because it stands up so much better to the wear and tear that cookbooks often go through in the kitchen. It helps them say open to the right page while you're cooking, which is not a quality to be underrated! And $35 for a hardcover cookbook with over 100 delicious recipes? Yeah, that's a good deal (not to mention the book is only $25 on amazon right now!).
Matt and Stacy know food. They know flavor and they know pork. And they humble me with their creations in this book. Just in case it isn't abundantly clear already, I loved Beyond Bacon and highly recommend it. And I'm not just saying that because I'm the book's auntie.