This review was written by my assistant Christina.
---
Angie Alt of Alt-ternative Autoimmune is a health coach at ThePaleoMom Consulting and one of the most compassionate, kind, and endearing people I've ever met. Angie keeps it real. She doesn't pretend to be perfect and she doesn't expect anyone else to be perfect, either. She understands living with illness. She's the person to go to for moral support and practical tips on making it through the day-to-day of cooking, family, socializing, and all of the emotional struggles that go along with chronic illness. And, it turns out, she's also a fantastic home cook! Well, why wouldn't she be, after years of practice treating her own autoimmune diseases with diet and lifestyle?
Her debut book The Alternative Autoimmune Cookbook (written with her sister, Jenifer Beehler) brings her expertise and heart to your kitchen. With her easygoing spunk, Angie explains what the autoimmune protocol is and what her personal experience with it was. She provides information for eliminating foods in steps and then reintroducing them systematically for the best results after the elimination phase. There are food lists, a food diary, and information about what a food reaction might look like. And in true Angie style, there are articles throughout the book that address the emotional and mental aspects of recovery. From fun segments like "My Butt Manifesto" to articles on anger, denial, and cheating, Angie brings both her spunky attitude and true heart to the healing process. Not to mention that the book is stunningly gorgeous. With bold colors, adorable illustrations, and bright professional photographs by Toni Snelling, The Alternative Autoimmune Cookbook is fresh, fun, and uplifting, like a clear sky on a bright sunny day. It's exactly the spirit a cookbook about proactively taking on autoimmune disease should have.
Nutrivore Weekly Serving Matrix
An easy-to-use and flexible weekly checklist
to help you maximize nutrient-density.
The Weekly Serving Matrix is very helpful! I've been eating along these lines but this really helps me know where to focus vs. which foods serve a more secondary role. It's super helpful and has taken a lot of worry out of my meal planning. Thanks!

Jan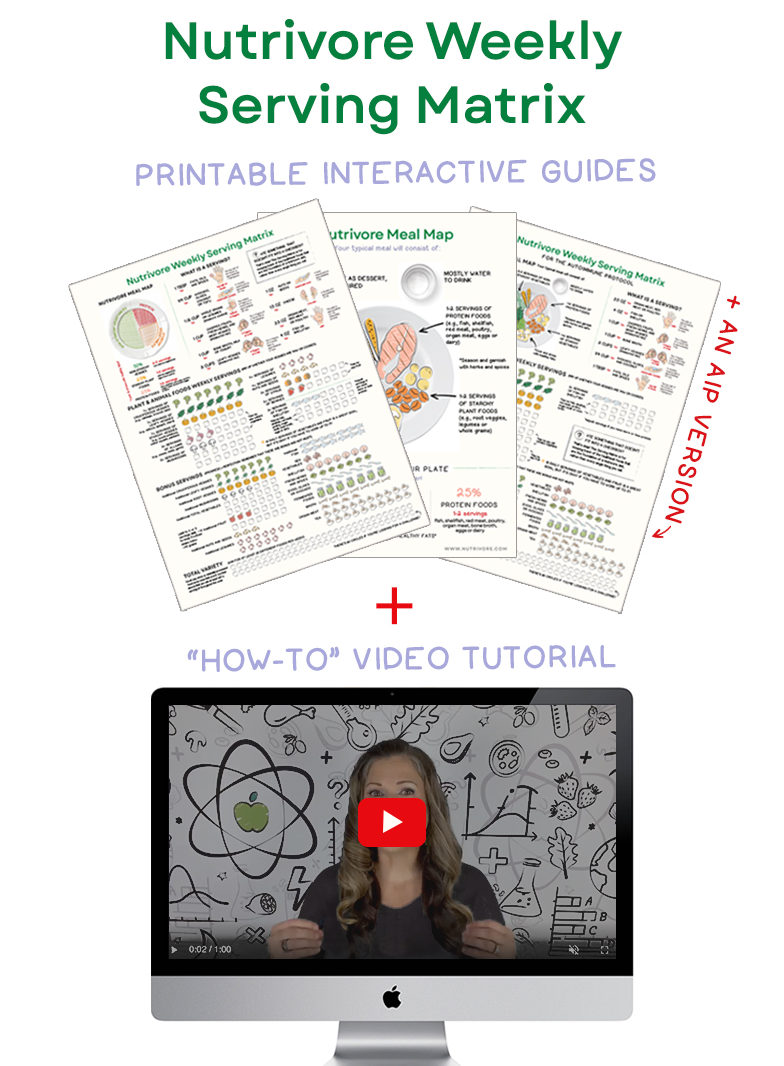 The recipes in The Alternative Autoimmune Cookbook are divided by type of dish (Meaty Mains, Soups and Sides, and Drinks and Desserts) and then further divided by whether they are elimination-phase recipes or recipes for Stage 1, 2, or 3 reintroduction (Angie explains the stages in the beginning of the cookbook, and they are also the stages Sarah lays out in The Paleo Approach). Each recipe in the reintroduction phases has a handy alert letting you know which ingredient you need to have reintroduced, and some have tips for omitting these ingredients to make the recipe elimination-phase compliant. Angie includes prep and cook times, serving sizes, and helpful tips on finding ingredients, serving the dish, alternative ways to prep or cook it, and in a few cases, adapting the dish to be FODMAP-free. Angie's recipes are simple and uncomplicated, making the cookbook accessible even for inexperienced chefs or those with limited time and energy.
The Bacon and Artichoke Stuffed Pork Chops have only four ingredients and are ready in about 45 minutes (including passive cook time), making them a simple choice for weeknights or entertaining. The bacon and artichoke hearts give the pork chops a huge wallop of savory flavor that complements juicy pork very well. My only note is that I think the dish would look more presentable with thinner-cut pork chops. Mine were about 2 1/2″ thick and while it was easy enough to cut a pocket into them to stuff them with the bacon and artichokes, they did not come out looking nearly as pretty as Angie's smaller ones do in the book. I came to think of them as meat sandwiches, which is totally going to be a common practice around here from now on! Mine may not look too pretty, but they were absolutely delicious. Is there anything a little bit of bacon and artichokes can't elevate?
The Cucumber Spaghetti Salad is Angie's answer to traditional pasta salad, using spaghetti squash, cucumbers, kalamata olives, broccoli, red onion and a garlic-lemon dressing for a veggie-laden dish with crisp, crunchy texture and tart, savory flavor. I had reservations going into this recipe because I am not a fan of cucumber, red onion, or kalamata olives and my fiancee despises broccoli. But I knew that if either one of us liked the recipe, it would be one heck of an endorsement (and a fantastic recipe to revisit for us to continue getting those veggies into our diets in the future). And guess what? We both liked it! Angie's dressing and the wide selection of veggies included in the salad means that no one flavor dominates. Instead, they all come together in harmonious marriage. This is the perfect simple side dish for a weeknight meal, potluck, or picnic!
| | |
| --- | --- |
| | |
Angie's Autumn Cider Sorbet combines the mulled apple cider and tart cranberry sauce for a delightful and refreshing autumn-inspired treat. Apple cider is one of my all-time favorite comfort foods and I tend to make it year-round, even in the sweltering heat of summer. I cannot believe it never occurred to me to make a sorbet out of it! Angie's recipe is straightforward, simple, and utterly ingenious. It is smooth and creamy, more tart than sweet, and beautifully reinvents cran-apple treats. And while both the Cucumber Spaghetti Salad and Autumn Cider Sorbet are from the reintroductions part of the book, both could easily be made elimination-phase friendly by removing or subbing a few of the spices.
The Alternative Autoimmune Cookbook is an extraordinarily well-put-together, well-rounded resource for anyone taking on the autoimmune protocol, whether just beginning, struggling to stay on track, or looking for fresh motivation to continue taking good care of themselves. The balance between good food and positive thinking, proactive action, and learning to accept the things we can't control is uniquely Angie, and I guarantee that this book will make you love her as much as I do!

Become a Member for FREE!
The Paleo Mom Members' Area is resource central!  
You'll get FREE, unlimited access to dozens of quality resources, including introductory series, downloadable e-books, exclusive recipes, printables, videos and guides!
You may enjoy these related posts:
Are you following The Paleo Approach and are looking for some safe yet delicious …