This review was written by my assistant Christina.
---
85 Amazing AIP Breakfasts answers one of the most frequently-asked autoimmune protocol questions: "What on Earth do I eat for breakfast?!" It is a community cookbook featuring some of the best autoimmune protocol breakfast recipes from twenty-six bloggers, edited by Eileen Laird of Phoenix Helix. Inside, you'll find recipes for beverages like shakes, smoothies, "coffee", and tea; traditional breakfast dishes like "porridge", "cereal", "oatmeal", pancakes, rolls, waffles, and muffins; and savory meat-and-veggie dishes like soups, hash, stir-fries, and patties. This book really has you covered!
*NEW* Guide to Nutrivore E-Book!
Nutrivore is the simple yet revolutionary concept:
Choose foods to meet the body's nutritional needs!
I'm very excited about the Nutrivore information! Thank you so much for all your research and hard work you put into this kind of information for all of us to use!! -Debbie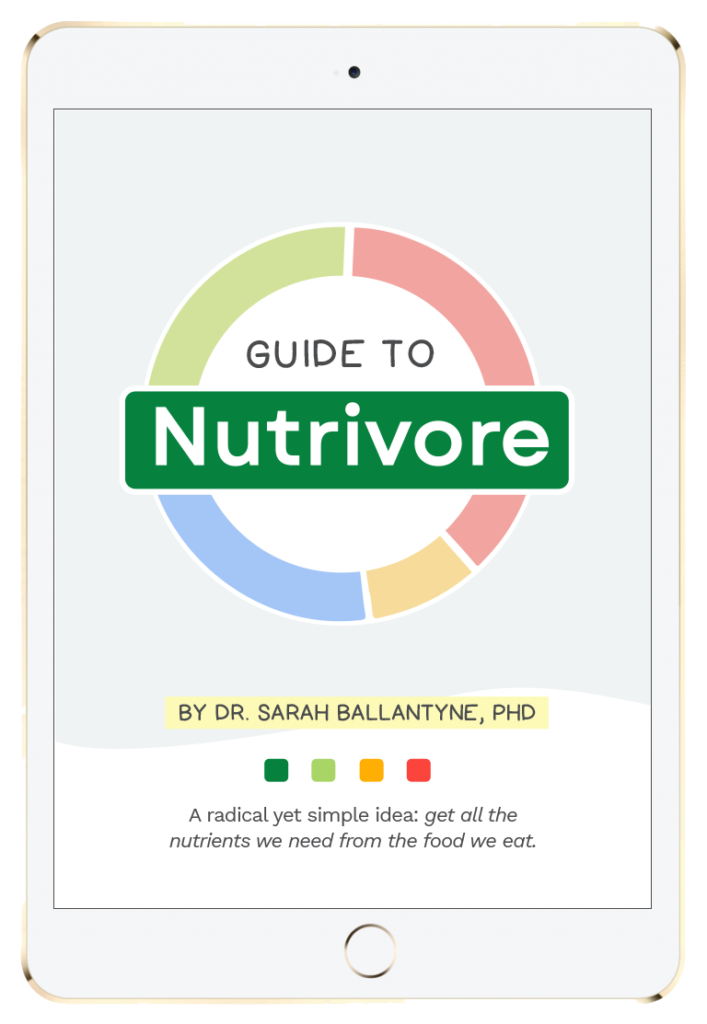 After a brief primer on the autoimmune protocol, Eileen shares tips for a healthy breakfast, like focusing on nutrient-density and saving treats and sweets for special occasions. Of the 85 recipes, 33 are never-before-seen and exclusive to this e-book, meaning that you won't find them anywhere else. The only flaw is that the recipes do not include prep or cook times, so you will have to read the dish's instructions to find out whether or not you have time to make it. In the appendix, Eileen includes tips for modifying the recipes (where possible) for a low-FODMAP, GAPS or SCD, low-histamine, or coconut-free diet, plus resources for further reading and information on all of the contributors in case you want to look any of them up!
The Sweet Potato Muffins in Bacon Bowls (above right) aren't really muffins; they just look like muffins. Inside the bacon wrap is an almost Shepherd's Pie-like filling of sweet potato and ground meat. The recipe took about twenty minutes to prepare and another twenty-five to cook, so it's not exactly a quick breakfast. What it is is presentable and unique, making it perfect for Sunday brunch! I did find the recipe just a little too salty, a reminder of one of the most basic rules of cooking: You can always top your dish with more salt after the recipe is cooked, but you can't remove salt once it's added. If I'd salted the sweet potato mixture to taste, the "muffins" would have been perfect. My fiancee, by the way, loved them as-written. He is a man who likes his salty foods! Update: This recipe was since rewritten to have a lower salt content.
Don't like liver? It's okay, you're not alone. I've been getting it into my diet with recipes like Sarah's 50/50/50 Burgers, which hide the flavor of liver very well. But the Liver and Mushroom Stir-Fry (above left) looked way too simple and delicious to pass up. With only five ingredients and a cook time of about 20 minutes, it's an excellent, well-rounded breakfast skillet you can throw together quickly on a weekday morning. And the liver taste? Grab yourself a heaping bite of salty bacon and tender mushrooms, and you won't even notice there's liver buried in there. And you know a dish is good when you don't even have to add any seasonings! By the way, if it happens you don't like leafy greens, this is also a great way to sneak some of those into your diet, too.
For a sweeter breakfast, I made the Clove Orange Cranberry Plantain Pancakes. First, forget everything you know about pancakes. AIP pancakes are dense, more fritter-like affairs that take a little longer to cook and usually aren't as sweet as the pancakes you remember from childhood. This recipe yields a thick plantain-based dough you have to spread into the shape of a pancake once it hits the pan (and then probably cut with a knife when it hits your plate). It makes two large pancakes and takes about five minutes of prep and ten minutes to cook, making it another great choice for a quick breakfast. The tart flavors of orange zest and cranberries (plus the banana-like flavor of ripe plantain and the subtle hint of cloves) are a wonderful way to wake up your taste buds!
If you've been wondering what to eat on the autoimmune protocol or could use some new, innovative recipes to liven up your diet, 85 Amazing AIP Breakfasts was written with you in mind. The recipes are creative, comforting, and best of all, healthy. It is a wonderful resource for anyone missing traditional breakfast foods and looking for healthier alternatives!
The Ultimate Support for Your AIP Journey!
Get personalized guidance and support from Dr. Sarah in this 6-week interactive online course!
Thank you for your warmth, your AIP mastery, and your dedication to answering each and every one of our questions with such kindness and attention to detail. Thank you for teaching the science behind the principles. The amount of energy you put into creating this course and responding to us in real-time is felt and APPRECIATED!!
-Nicole Wood
The next session of The AIP Lecture Series begins January 10th, 2022.
Use code AIPLS10 to save 10% thru December 15th.