My very fist summer job, almost two and a half decades ago, was at a Fish & Chips shop.  It was a little hole in the wall, that served mostly take-out but had three tables for anyone who wanted to "dine".  It was a pretty authentic hole-in-the-wall type chip shop, and we even wrapped the fish and fries in newspaper.  While I was technically hired to do food prep and cleaning, I actually ran the whole place and did every single job except cut the fish fillets.  I peeled and cut the potatoes, made the tartar sauce, made the coleslaw (the inspiration for my best ever coleslaw recipe), made the batter, answered the phones, ran the till, waited the tables, deep fried the fish, french fries, oysters and clam strips, grilled burgers (although we didn't sell many of those), made sandwiches, took phone orders, wrapped everything up for the customers, and cleaned the whole place before I could go home.  The "chef" cut the fish and "supervised" (smoked with the guy who worked in the convenience store next store out back).  All for a glorious $5 per hour (minimum wage in Canada at the time, I was lucky because they had just raised it from $4.50).  But I was 14, so what did I know?  I did learn some great kitchen skills (and gained 40 pounds in one summer because the only "perk" of the job was that I got to eat the food and no one was actually keeping tabs on how much I ate!  but that's a whole different story) and did develop a long-standing love of fish & chips.
The batter recipe was a secret that I was one of the privileged few to know.  To be honest, I don't actually remember what the secret ingredient was, but I seem to remember thinking it was very simple (I think the batter only had 4 or 5 ingredients).  Years (and years) later, when I went through a homemade fried fish phase, because I couldn't remember the secret recipe any more, I made a different batter recipe, but one that I thought was just as tasty.  And while I'd love to claim that this recipe is inspired by the secret recipe I learned at the hole-in-the-wall chip shop, it's actually the recipe I played with years later that inspired this Paleo version.  This actually means the credit should go to my Uncle Bob who one day told me something to the effect of "homemade tempura batter is easy!  you just whip up some egg whites and add some corn starch".  I don't actually think this batter is that tempura like.  But it is very yummy!
This batter is an egg white batter.  Make sure to save the yolks (maybe make some mayonnaise and chop up some pickles in it for your own homemade tartar sauce or add to scrambled eggs in the morning).  It needs to be used immediately after making, so I don't recommend doubling the recipe (unless you have a giant deep fryer).  I did use a small counter top deep-fryer to make these.  You could deep fry in a large heavy-bottomed pan (detailed instructions are included in this recipe for sweet potato chips) and if you really dislike the idea of deep frying (it took me a long time to get comfortable with it myself, so I understand!), this recipe actually holds together well enough to pan fry (you need to pan fry in about 1/2″ of fat, so a big 12″ or 14″ cast-iron frying pan is the tool of choice here) as long as you flip the fish carefully.
I fried in lard, but you can use tallow or palm shortening or even refined or unrefined coconut oil if you prefer.  I prefer the flavor of things fried in lard or tallow versus other choices.  Which ever fat you use, make sure to set the temperature on your deep fryer (or tweak the settings of the element on your stovetop) to maintain 5F below smoke point and anywhere in the deep frying sweet-spot zone of 350F to 375F (because temperature control is so much trickier on the stovetop, I recommend sticking to 10F below smoke point or using a very high smoke point fat like refined coconut oil or palm shortening just to be safe–it that has you frying at 340F, that's okay too).
In my experience gleaned from my 2-month stint running a chip shop, how your fried food turns out is very dependent on temperature.  Too low and it absorbs grease and becomes greasy.  Too high and it gets a burnt flavor and doesn't cook evenly.  Never leave the room when you are deep frying and always make sure to take appropriate safety precautions (like having a fire extinguisher handy).  Remember: never ever pour water on a grease fire.
Here are smoke points of fats you might want to use, just for easy reference:
Because I used lard, my deep fryer was set to 365F.
Okay, so other tips.  Egg white batter isn't the easiest to use in terms of coating your fish.  But don't worry.  Dredging in tapioca starch first makes sure the fish is minimally coated.  Use your fingers to do the best you can.  The batter expands a bit as it cooks and will fill in most of the gaps.  If you are frying in such small batches that it takes you so long to fry everything up that your batter starts getting liquidy, just do the best you can with the part that is staying thick and toss the liquidy stuff when you're done.  It's best not to use a basket here except to fish your fish out of the fat (get it?  fish your fish!  bwahaha) unless you are working in a pretty big deep fryer where the fat is pretty deep (if it's a small deep fryer like mine, the batter might stick to the basket while it cooks since the fish sinks initially before floating up after a couple minutes).  You can play around with your set-up and see what works best (my deep fryer has a non-stick coating so I'm not entirely sure what would happen if you were doing this in a stainless steel pot).
Also, whether you make fish sticks, fish nuggets, or big ol' fish & chips style battered fish will change the cook time, but they can all be done with this batter (it's just a different on the shape and size of your fish fillets).  I used hake, but you could use any whitefish you like.
And because I know someone will ask, I think this will work with arrowroot powder instead of tapioca, but I haven't tried.  I used tapioca because it's better at giving a crust and holds together better than arrowroot.
If you have any leftovers, reheat them in the oven at 400F for 8-10 minutes and the batter will crisp right back up again.  Next time I make these, I'm going to try freezing them.  I suspect they'd cook up from frozen really well and be a great fast mid-week meal.
Oh, and my oldest called this the best supper I had ever made.  That's pretty high praise.
Serves 3-5
Ingredients:
1-1/2 lbs whitefish fillets (cut to desired size and shape for fish sticks, fish nuggets, or big pieces of battered fish–the larger the pieces, the more you'll be able to batter with this recipe and you might even be able to get 2lbs of fish battered)
3 egg whites, room temperature
1/2 cup tapioca flour (this is the same thing as tapioca starch) plus an extra 1/2 cup or so for dredging
1/4 tsp salt, to taste
Pat fish dry and set aside.
Heat your fat a counter top deep fryer or in a large heavy-bottomed pan to between 350F and 375F, staying at least 5F below the fat's smoke point.  See notes above.
Meanwhile, use a hand mixer to beat the egg whites until stiff.  Fold in salt and tapioca to completely combine (you will loose a little of the air you beat into the egg whites, but that's okay).
When fat is ready, dredge fish fillets first in tapioca and then dip in batter (you will have to use your fingers to spread the batter out over the fish, don't worry if it's not completely evenly coated, and it should end up something like 1/4″ thick or slightly less before you fry it).
Carefully, place fish in the deep fryer.  4-5 oz fillets will take 5-6 minutes total and you'll want to gently and carefully flip the over after 3-4 minutes.  Smaller pieces of fish will take less time and of course this will vary depending on the exact temperature of the fat in your fryer.  You're looking for a very light golden brown on the batter (this doesn't make a very dark batter) and for the fish to be opaque throughout.  Carefully lift the pieces out of the deep fryer with a fry basket and place on paper towel or a cookie cooling rack until you're ready to serve.
Tips:  I served these with sweet potato chips and steamed broccoli (yeah, the broccoli may not be the most classic side dish to fish& chips), but you could also make something much more french fry-like while you have the deep fryer going.  Try slicing wedges of green plantain, parsnip or sweet potato and fry until crisp on the outside but soft in the middle and really make it a Fish & Chips night!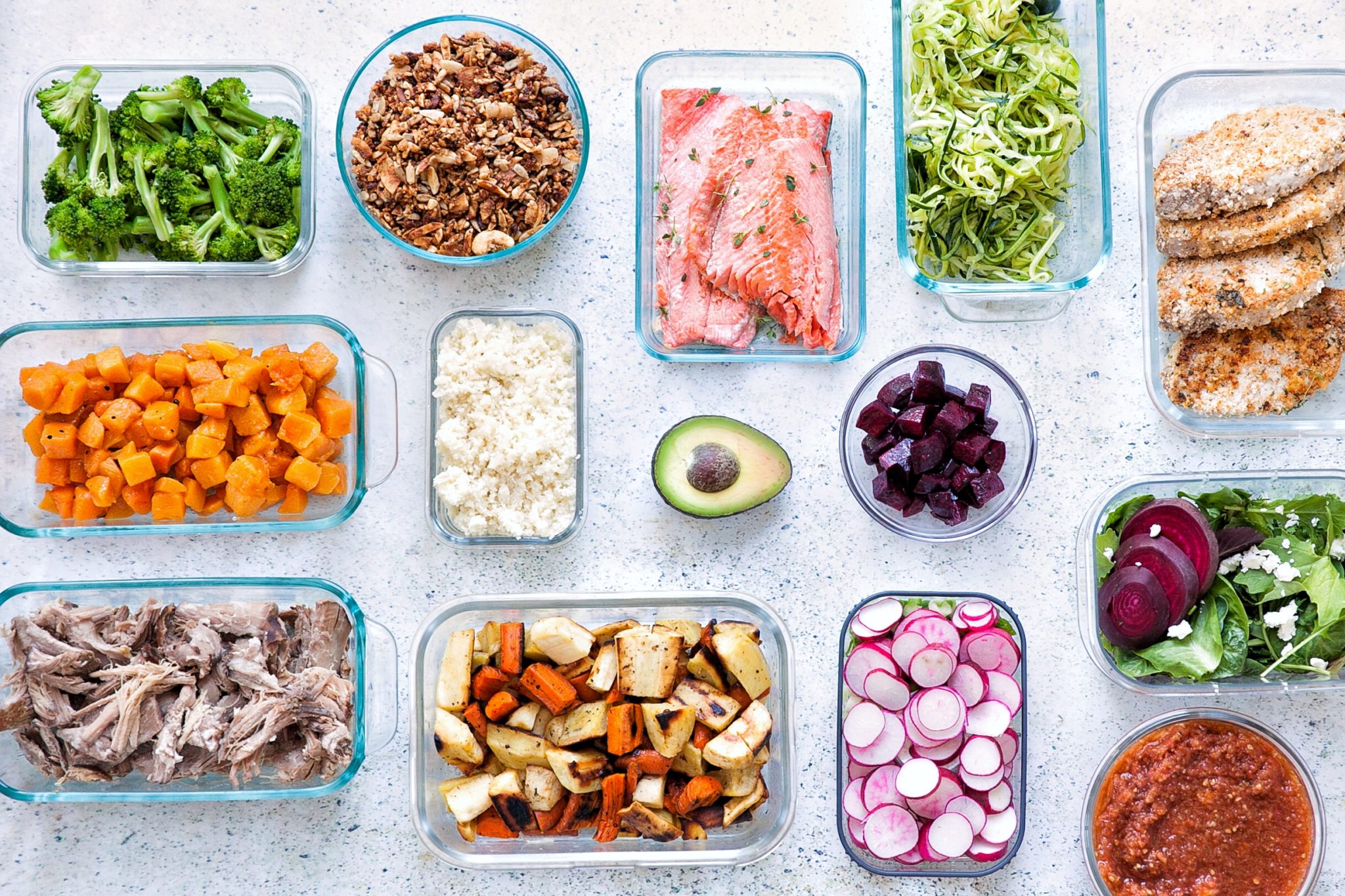 The #1 Tool for Paleo and AIP success!
Create completely customizable and versatile meal plans with thousands of top-notch recipes; make shopping a breeze with the app, and even get reminders for meal prep timing! Get all my recipes from ThePaleoMom.com for just $1 more when you sign up for meal planning with Real Plans!
Want to track what you are eating? Check out the NEW Real Plans Macro Tracker!
You may enjoy these related posts:
One area of my health journey that's adapted over my 4-year Paleo journey is my …