Those of you who have been following me for a while know that my original plan to write a complete guide to managing autoimmune disease and lifestyle was overly ambitious, and the laws of physics (and book binding) precluded me from including everything I wanted to in one single volume.  Instead, I have written two books.  The first is a guidebook called The Paleo Approach that details how the foods we eat and the way we live our lives impacts the health of our guts and our immune systems (more info here).  The second is a companion cookbook that makes the diet aspects of healing from autoimmune disease both easy and delicious!

---
The contest at the bottom of this post in now closed.
---
Without further ado, the book is called:
The Paleo Approach Cookbook

A Detailed Guide to Heal Your Body and Nourish Your Soul
Nutrivore Weekly Serving Matrix
An easy-to-use and flexible weekly checklist
to help you maximize nutrient-density.
The Weekly Serving Matrix is very helpful! I've been eating along these lines but this really helps me know where to focus vs. which foods serve a more secondary role. It's super helpful and has taken a lot of worry out of my meal planning. Thanks!

Jan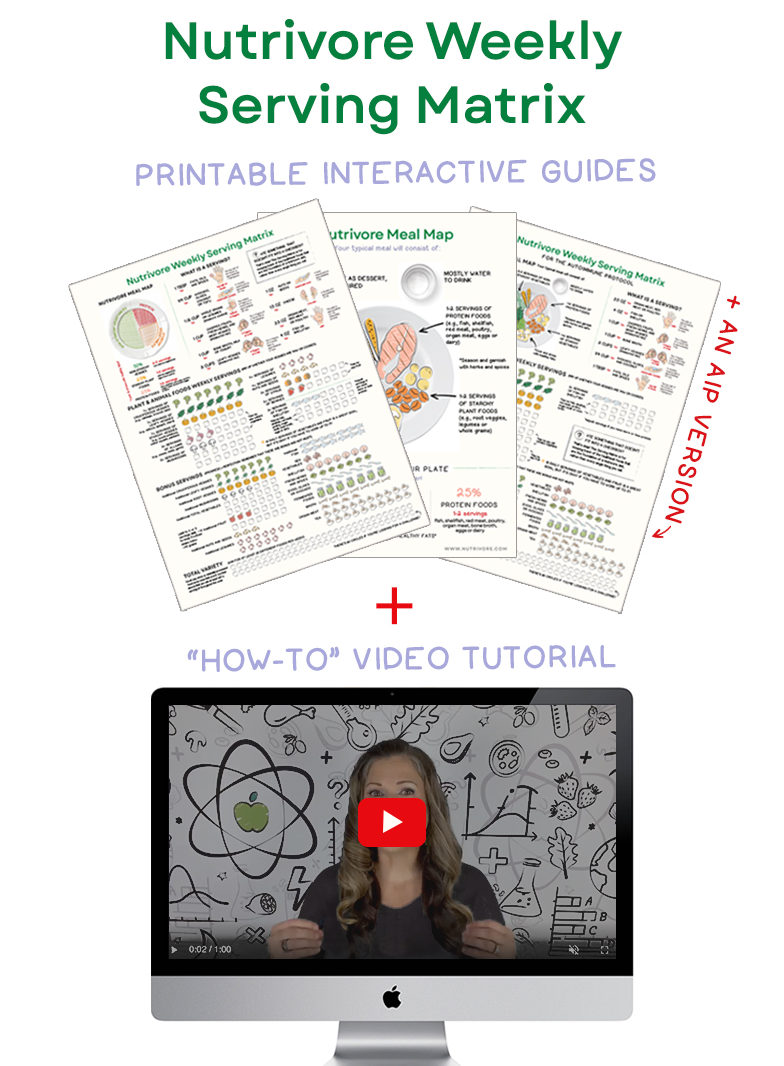 The Paleo Approach Cookbook will be released March 25th, 2014
just three months on the heels of The Paleo Approach.
And, it is available on amazon now!
What is The Paleo Approach Cookbook?
This is the official blurb:
An estimated 50 million Americans suffer from some form of autoimmune disease. If you're among them, you may know all too well how little modern medicine can do to alleviate your condition. But that's no reason to give up hope. In this companion cookbook to the groundbreaking book The Paleo Approach, Sarah D. Ballantyne, Ph.D., shows you just how easy and delicious regaining your health can be.
The Paleo Approach Cookbook walks you through which foods you should eat to calm your immune system, reduce inflammation, and help your body heal itself. There's no need to worry that "going Paleo" will break the bank or require too much time in the kitchen preparing special foods. In The Paleo Approach Cookbook, Dr. Ballantyne provides expert tips on how to make the switch easily and economically. She explains how to stay within your food budget, how to make the best use of your time in the kitchen, and where to shop for what you need. Complete food lists, shopping guides, and meal plans take the guesswork out of eating to maximize healing.
Don't know how to cook? Dr. Ballantyne walks you through essential kitchen techniques, from chopping vegetables to using a pressure cooker safely. Armed with more than 150 delicious recipes, from breakfast staples to decadent desserts, you can reverse your disease and love every bite!
Sounds pretty great, right?  But I know you want more details!
So, let me tell you more about exactly what will be included in The Paleo Approach Cookbook.
Chapter 1:  What is the Paleo Approach?
The first chapter summarizes the diet that is presented in detail in The Paleo Approach.  Basically, I'll give you the rules, food lists, and some cliff notes of the whys behind which foods to exclude and which to eat more of.  This means that you don't have to own The Paleo Approach in order to follow the diet and get the full use out of this cookbook.  But, if you really want to understand why certain foods are nixed while others are endorsed or want help troubleshooting, that's what The Paleo Approach is for.
Highlights:

Complete food lists, what to eat and what not to eat
Chapter 2:  Getting Back into the Kitchen
This chapter will deal with practical nuts and bolts of cooking and eating this way.  It will include lists of foods to keep in your pantry, your fridge and your freezer.  This chapter will detail strategies for managing time in the kitchen and for getting the most for your dollar when working with a tight food budget.  It will also walk you through some basic cooking techniques and vocabulary, and highlight the most useful kitchen tools.
Highlights:
Food lists for pantry items, fridge items and freezer items
Kitchen conversions
Basic cooking techniques and vocabulary
Chapter 3:  Meal Plans & Shopping Guides
This section will include five 1-week meal plans, each designed to balance nutrients.   Each meal plan will include a shopping list and an "on hand"  list.    These meal plans will also take into account that most of us have less time to prepare food during weekdays compared to weekends and include suggestions for items that can be made ahead to make the week more manageable.
Highlights:
Five complete 1-week meal plans
Low FODMAP options
Shopping lists
Chapter 4:  Kitchen Staples & Basic Techniques
This chapter includes recipes for basic foods that either are frequently used as ingredients in other dishes (like broth or coconut milk) or that you might enjoy as a side dish (like various fermented vegetables).
Highlights:
Perfectly crisp bacon and bacon bits
Homemade coconut milk
Yeast-free coconut milk yogurt (pictured on the cover)
Simple sauerkraut
Green Tea Pickles
Fermented carrots
Broth, broth and more broth!
Easy spice blends to keep on hand
Chapter 5:  Breakfast Foods
Of course, any meal can be eaten first thing in the morning and it's important to break the association of certain foods as breakfast foods.  For example, you might just enjoy soup or maybe dinner leftovers for breakfast.  But, the recipes in this chapter are designed to make breakfast feel much more like the traditional breakfast you're used to.
Highlights:
8 varieties of sausage
Herbal coffee
Breakfast hash
Carrot muffins
Bacon fruit cups
Plantain and Apple Fritters
Broiled Grapefruit
Chapter 6:  Meat & Poultry
These are staple recipes, mostly designed to give you lots of leftovers or quick meals (or both!).  You'll find a huge variety of cuts from different animals represented here, including recipes for turkey, chicken, beef, bison, lamb, and pork.  There is both a nod to classic dishes like roast beef, roast chicken, and steak, and also a nod to inexpensive meal options like burgers, "spaghetti" and pork pad thai.
Highlights:
BBQ Pork Ribs (yes, that means BBQ sauce!)
Leg of Lamb with Mint Vinegar Sauce (pictured on the cover)
Garlic and Rosemary Roast Beef
Whole Turkey with Mofongo Stuffing
Pork Pie-Stuffed Acorn Squash
Braised Pork Chops with Apple and Fennel
Rustic Bison Pot Roast
Burgers with Balsamic-Grilled Portabello "Buns"
Lamb "Biryani" (pictured on the cover)
Chapter 7:  Seafood
Seafood is an important part of The Paleo Approach.  You'll find many different ways to cook seafood in both this chapter and in Chapter 11.  This chapter has a focus both on decadent meals and on super quick and easy meals perfect for a rushed weeknight.
Highlights:
Mediterranean Mahi Mahi
Scalloped Hake and Oysters
Bacon Braised Whitefish and Brussels
Lemon Thyme Broiled Salmon with Blood Orange Salsa
Simple Baked Whitefish
Pomegranate Molasses-Glazed Salmon
Teriyaki-Poached Salmon
Chapter 8:  Offal
Eating "snout to tail", including plenty of organ meat is a feature of The Paleo Approach.  But that doesn't have to mean holding your nose while you gag on liver.  The recipes in this section are both designed to highlight just how delicious organ meat can be but also give you a variety of ways to hide it in your own food!
Highlights:
Thai-Inspired pork jowl (pictured on the cover)-this is one of my favorite meals EVER!
Steak and Kidney Pot Pie (pictured on the cover)
Honey Garlic Roasted Trotters
Beef Heart Chow Mein
Beef Tongue with Celeriac and Fennel Slaw
Hidden Liver Swedish Meatballs
Chapter 9:  Soups and Stews
Soups and stews are easy, cheap and very comforting.  This chapter gives you a whole range of options, taking flavors from cuisines around the world.  You'll find some that you just throw in a pot and enjoy, while others that take a little more time to finesse gourmet flavors.  There's something for everyone in this chapter!
Highlights:
"Wonton" Soup (pictured on the cover)
Beef Cheek and Daikon Stew
Vegetable Soup with Chicken Sausage
Green Garden Vichyssoise
Beef Heart Borscht
Rabbit and Wild Mushroom Stew
Chapter 10: Side Dishes
Vegetables, vegetables, vegetables!  This chapter include some "how to" type recipes, like how to braise greens and what you can mix together to make an awesome salad.  It also contains a variety of truly delicious side dishes, focusing both on super easy recipes and recipes with gourmet flavors (which also happen to be pretty easy!).  You'll also find tons of possible variations of these recipes so boredom is not an option!
Highlights:
Braised Greens
Kale Chips
Roasted Broccoflower
Balsamic-Roasted Beets
Salad Dressing (6 varieties!)
Wild Mushrooms with Tarragon
Whole Carrot Tabouleh
Easy Broiled Asparagus
Sweet Potato Chips
Roasted Butternut Squash
Biscuits (yes, you read that correctly!)
Chapter 11: Snacks, Appetizers and Beverages

Many of the amuse-bouche recipes in this chapter could actually be used as lunch foods or even breakfast.  But there's also some terrific recipes in this chapter to help you entertain, or have a healthy snack to eat on the go.  You'll also find offal and seafood featured heavily in this chapter.
Highlights:
Save 70% Off the AIP Lecture Series!
Learn everything you need to know about the Autoimmune Protocol to regain your health!
I am loving this AIP course and all the information I am receiving. The amount of work you have put into this is amazing and greatly, GREATLY, appreciated. Thank you so much. Taking this course gives me the knowledge I need to understand why my body is doing what it is doing and reinforces my determination to continue along this dietary path to heal it. Invaluable!

Carmen Maier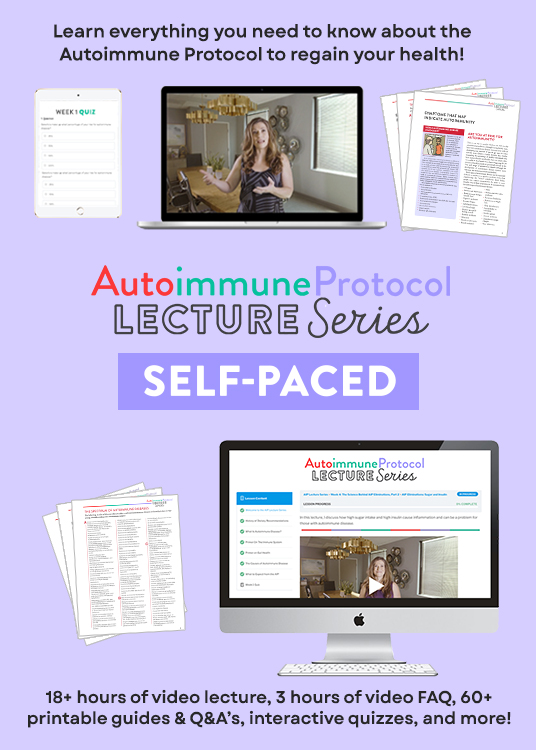 Har Gow-Inspired Shrimp Balls
Lox Canape
Smoked Salmon and Roe Endive Boats
Shrimp and Avocado Skewers
Plantain Crackers
Bacon and Bison Liver Pate with Fresh Fig Jam
Pork Rinds
Steamed Clams
Chapter 12: Treats
Yes, treats.  This section includes both treats that could be enjoyed daily, like fruit salad, sorbets, and an amazing berry terrine recipe.  It also includes recipes that would be appropriate for special occasions.  While these recipes contain more sugar than you would want to consume on a daily basis, they avoid gut irritants and immune simulators including absolutely no grains, legumes, dairy, refined sugars, refined oils, eggs, nuts, seeds, nightshades, and alcohol!
Highlights:
No-Guilt Berry Terrine
Applesauce Spice Cake with Caramel Sauce
Mock Chocolate Ganache Torte
Olive Oil Ice Cream
Maple Shortbread Cookies
Strawberry Fro-Yo
Carob Brownie Bites
Appendices:
There will be several appendices, including quick guides on how to read labels and where to source ingredients .  One very exciting appendix will include lists of foods that fall under the category of extra sensitivities, such as FODMAPs, high histamine and histamine-releasing foods, foods rich in salicylates, and foods rich in sulfates.  These will also be labelled in the recipes.
 Excited?!?!
Yes, this is another BIG book.  While the publisher and I struggle with formatting The Paleo Approach in order to be able to physically bind it (yes, even after dividing the book into two, The Paleo Approach is pushing the boundaries of book binding), I expect a similar struggle in 2-3 months with The Paleo Approach Cookbook.  That's because I wasn't going to budge an inch on wanting to include 150 recipes!  That's actually 50% more than most cookbooks these days!  I want to make following The Paleo Approach easy and show you that you still get to eat delicious food and that you don't have to spend your entire day in the kitchen to do so either!
I hope you are just as excited about this book as I am! Excited enough to pre-order your copy now! Why pre-order? Pre-ordering does three things.
First, it guarantees that you will get your copy by the release date.
Second, it guarantees that you will pay the lowest price for your copy.
Third, it actually helps my sales because bookstores will buy more copies.

How does this work? The publisher will decide how many copies to print in the first run based on pre-order sales.  Book stores also decide how many copies they are going to stock based on pre-orders. Many books sell out of the first run, sometimes even before the book is released. If you don't pre-order, you run the risk of having to wait for a second print run to get your copy. The prices on amazon fluctuate (based partly on sales and who knows what else!). When you pre-order, amazon guarantees that the price you pay is the lowest price the book drops to between the time you place your order and when the book is released. Also remember that you don't pay until the book ships (typically a few days before the release date, but sometimes it ships on the release date) and you should receive the book right on or very soon after March 25th, 2013!
[cc_button link="https://www.amazon.com/gp/product/162860008X?ie=UTF8&camp=1789&creativeASIN=162860008X&linkCode=xm2&tag=wwwthePaleomo-20″]Pre-Order Your Copy Now![/cc_button]
Yes, there will be a kindle version of the book and it will be on iTunes, but these electronic versions aren't available for pre-order.
So, now to celebrate the official announcement of my book, how about a giveaway?!
How about FIVE giveaways?!
Package 1 (International):
Package 2 (US only):
Package 3 (US only):
Package 4 (International):
Package 5 (International):
How do you enter?
For EACH of the items below that you do,
leave A COMMENT on THIS POST saying which item you did.
Yes, that means that you can leave up to 8 comments and be entered up to 8 times
(OR MORE if you order
more

books!).
And yes, that also mean that you could win more than one package!
Make sure to include your e-mail address (the comment form asks for it) so that I can contact the winners.
PLEASE also mention what country you live in for each comment you leave (or you can mention "USA" or "Outside the USA") because  two of these giveaways are limited to US Residents.
To enter this giveaway, do any or all of the following:
After you complete each item you want to do,
leave a comment

on this post and tell me which item you did and whether you live in the USA.
This contest is now closed.  Congratulations to the winners!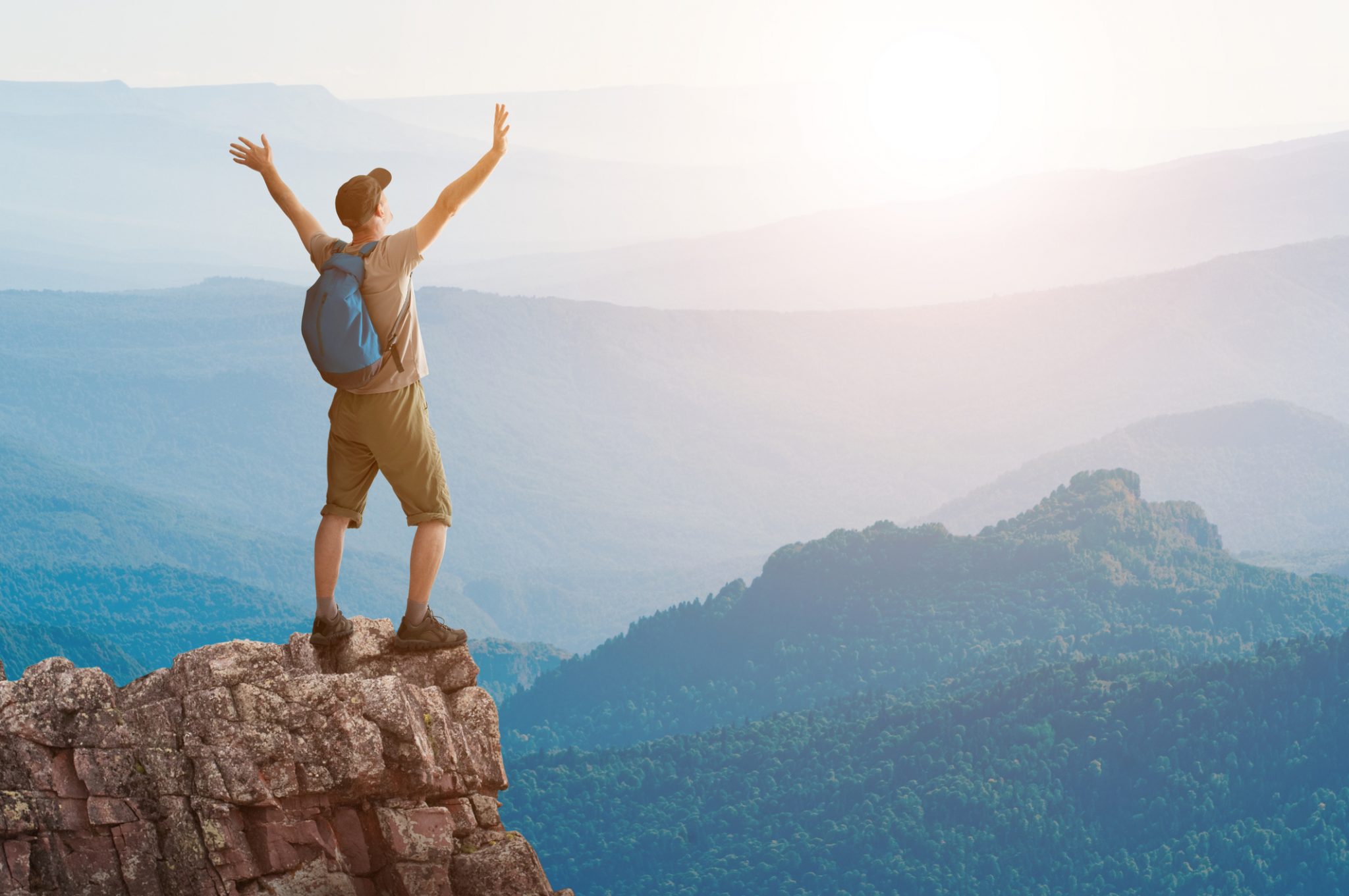 Get the Definitive AIP Resource
The Paleo Approach is the New York Times bestselling epic guidebook that explains all of the detailed WHYs behind every facet of the Paleo Autoimmune Protocol.
You may enjoy these related posts:
This project evolved considerably as I delved into it. To see the amazing …