I am so excited to announce the arrival of my newest book, The Healing Kitchen!!!
*NEW* The Gut Health Cookbook!
The Gut Health Cookbook is fantastic! Thank you for researching and creating The Gut Health Cookbook! Such wonderful recipes! I'm so excited to try them all! -Sue
The Gut Health Cookbook puts the 20 Keys to Gut Health into practice with:
180+ recipes featuring 61 gut health superfoods

Gut health food lists

Why's behind each gut health superfood
Get instant digital access for $27.99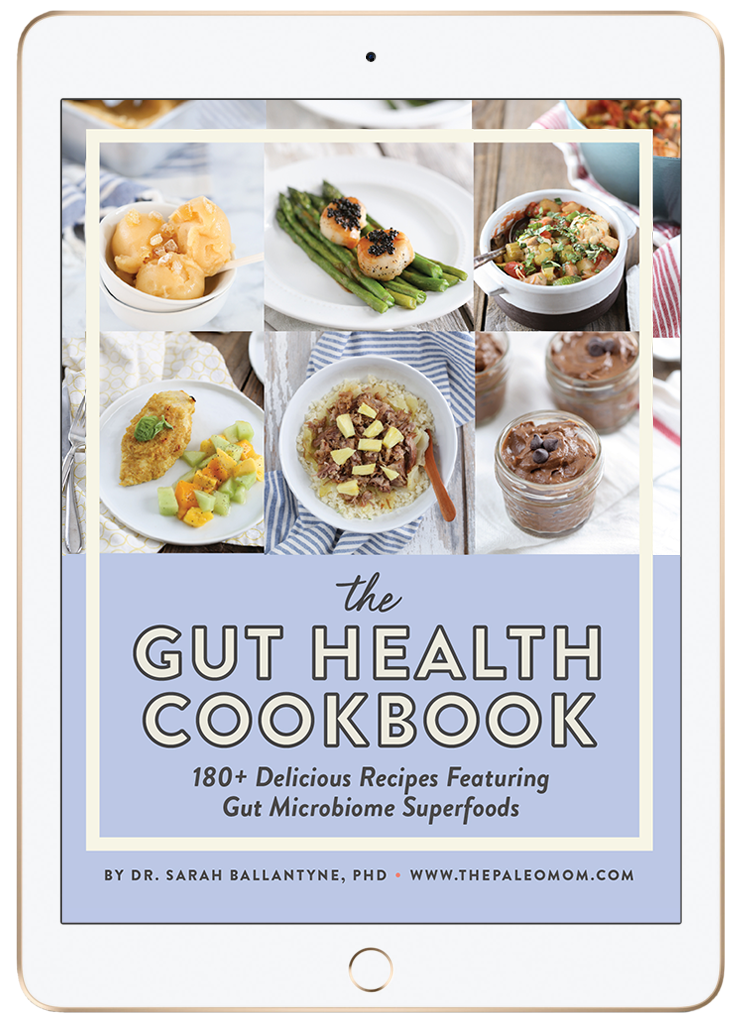 This amazing new AIP cookbook, which releases Dec. 15, is a collaboration with my fellow blogger and dear friend Alaena Haber of Grazed and Enthused. Our dream with this book is to create a resource that is completely accessible to everyone, regardless of your budget, time limitations, or access to specialty grocers. These recipes re-create some of your favorite flavors, but the processes are simple and the ingredients are super common. I know it is going to be such a cool resource for so many people!
I'm giving away over $2000 in kitchen tools and gift certificates below (internationally!)! Make sure to read down to the bottom of this post to enter!
Here is the official description of The Healing Kitchen:
Achieving health through nutritious food choices has never been simpler nor more delicious thanks to The Healing Kitchen!

Armed with more than 175 budget-friendly, quick and easy recipes made with everyday ingredients, you get to minimize time and effort preparing healthful foods without sacrificing flavor! Straightforward explanations and a comprehensive collection of visual guides will teach you which foods are the best choices to mitigate chronic illnesses, including autoimmune disease. Real-life practical tips on everything from cleaning out your pantry and easy ingredient swaps to reinventing leftovers and DIY flavor combinations will help you go from theory to practice effortlessly. Even better, twelve 1-week meal plans with shopping lists takes all the guesswork out of your weekly trip to the grocery store!

With half of all Americans taking at least one prescription medication (and 20% of us taking three or more!), there is a clear need for something to change. Combined with growing scientific evidence pointing to the Standard American Diet being at least partly to blame for our declining health, it's time for a dietary shift toward nutrient-dense, anti-inflammatory whole foods that promote health, rather than undermine it. In the first part of The Healing Kitchen, you'll learn all about what foods to eat and why, based on an ancestral diet template with contemporary scientific underpinnings. With a collection of practical tips and visual guides to distill this information into simple real-life actions that you can implement easily in your home today, this book is the closest thing to a guarantee of success that you can have when embarking on a Paleo diet healing protocol.
The Healing Kitchen features over 175 mouthwatering recipes that make eating healthful foods easy enough to fit even into the busiest of lives, while being so tasty you'll likely forget you're on a special diet to begin with! Compliant with the Paleo autoimmune protocol, every meal is budget-conscious, requires a minimal time commitment, uses no special equipment, and needs no hard-to-find ingredients—yet, the whole family will love it! There's no need to suffer with bland or boring foods on your journey towards optimal health—and The Healing Kitchen is all about enjoying tasty food while nourishing your body.

The recipes span the gamut from easy peasy mains and simple sides to breakfast favorites and timeless treats. Even better, each recipe is labelled by cooking strategy, so you can easily identify meals that are one-pot, use 5 ingredients or less, take 20 minutes or less, can be made ahead, feature a slow cooker, and on-the-go foods—to make planning your day effortless! The Healing Kitchen also includes twelve weekly meal plans, each with a shopping list, to help you get completely organized in your kitchen! Even better, the selection of thematic meal plans hone in on your individual needs. Can't spend more than 20 minutes cooking at a time? The 20-minute-or-less meal plan makes sure your time spent preparing food is as minimal as possible. Always eating on the run? The on-the-go meal plan will suit your needs perfectly. Have a whole crew you need to satisfy? The family-favorites meal plan will please kids and grown-ups alike. Want to do all of your cooking for the week in one afternoon? Two batch-cook meal plans complete with exclusive web links to companion How To cooking videos will help you get it done!

The Healing Kitchen is your best tool for turning your kitchen into healing central—all while minimizing your time commitment, keeping your food budget reigned-in, and enjoying bite after delicious bite of meals to nourish and thrive.
The Ultimate Support for Your AIP Journey!
Dr. Sarah Ballantyne has delivered an exceptional course and I highly recommend this to anyone looking to improve their health. There is something for everyone. It was extremely helpful and worth the investment. -Marie Schlichtig
The AIP Lecture Series is the ultimate Autoimmune Protocol educational experience! Learn directly from Dr. Sarah!
6-week online course
42 on-demand video lectures
dozens of printable guides
self-discovery exercises and action steps
online forum and guided discussions
support and guidance from Dr. Sarah Ballantyne!
The next session begins January 18th, 2021.
(Use code AIPLS85 to save $85 and get bonus access to the Gut Health Fundamentals online course!)
Exciting, right?
About The Healing Kitchen
The idea for The Healing Kitchen came about while Alaena was living in Atlanta last winter while doing a practicum for her occupational therapy degree. She and her husband Jeff were over at our home for dinner one night and we got talking about how fun it would be to work on a cookbook together. The ideas came so quickly that by the end of an hourlong the conversation, we had the entire book mapped out even including a list of infographics, like this one!
We got to work right away, mostly with a divide-and-conquer approach. It was so wonderful to be working on one part of the book, while knowing another one was coming together too. There were plenty of collaboration meetings in between too, lots of "please look at this", and "what do you think of this?", and "let's work on this part together", as well as lots of laughing and eating of delicious food! We were also constantly reigning ourselves in, with the goal of keeping this book affordable and the list price as low as possible, but with a tremendous amount of invaluable content.
The recipes were all created with with the goal of being very approachable, easy-to-make, quick-to-prepare, budget-conscious, don't require any special kitchen equipment, and only use ingredients that can be easily found in most grocery stores–all while being super tasty! Yes, accessible and approachable were the words of the dWe tried to hit a large range of comfort food favorites, and make sure that every single recipe tastes special. And, this cookbook contains over 175 of them!

Alaena did all of the recipe photography for The Healing Kitchen too, and she knocked it out of the park! Her photos are so beautiful, and lend to the lovely airy and relaxing feel of the whole book!
Here's a few more recipe previews! You can click on the images (or any others in this post) to see them better!
We wanted to make sure The Healing Kitchen was really easy to navigate too. Each chapter has its own Table of Contents, plus, there's a Thumbnail Index, a cooking strategy index, and a general index! Check out some of the amazing recipes in the book (this is all but the kitchen basics chapter):
The whole goal of The Healing Kitchen is to make the AIP super accessible, which meant both creating the right type of recipes but also presenting the Autoimmune Protocol in a new, simpler way than The Paleo Approach (from a much more guttural, nutrient-focused, common sense and quasi-political perspective with a little seasoning of science!). The 104 pages of introductory material before the recipes even start include an entirely new outline of the Autoimmune Protocol, including some material that wasn't covered in The Paleo Approach, written for a general audience.

The Gut Health Guidebook!
The depth of information, practical tips, and the accessible way Dr. Sarah shows me how to apply complex science to improve my health is truly remarkable. -Wendy
The Gut Health Guidebook is the culmination of 6 years of research. This unprecedented deep dive into the gut microbiome delivers:
A new diet for gut health, built from the ground up

Essential gut microbiome superfoods

20 Keys to gut health
Get instant digital access for $27.99
It was also really important to both Alaena and I to have a really visually appealing and organized book. For the introductory material, that meant creating a ton of fun infographics like this one showing the most important nutrients for immune health, along with which foods are the best sources (note the EPA and DHA fist bump!)! Those nutrients are all also described in more detail, in the book.

We also wanted to create tons of practical organizational tools, with the goal of making following the Autoimmune Protocol as easy and stress-free as possible. That included a large range of infographics, like this grocery store map:

Another thing we did to help the reader get crazy organized was to create 12 meal plans for this book (with shopping lists labeled so that you can buy everything in one weekly trip, or if you prefer to shop for groceries twice a week, you can easily see what to buy at which shopping trip!)! Four of the meal plans are general and the other eight are thematic. Ooh, and two of those meal plans are going to have How-To cooking videos to go with them! Alaena and I had so much fun creating this cookbook for you, and we can't wait to see what you make!!!
I hope you can see why Alaena and I are so excited about The Healing Kitchen! I know that our colleagues in the Paleo and Real Food movements who have had the opportunity to preview our book already all had glowing things to say!
The Autoimmune Protocol E-Book!
One of my FAVORITE books I used to start the transition to AIP!!! It's so helpful! I printed mine out and spiral bound it. Thank you for this! -Rita Davidson
The Autoimmune Protocol e-book is your up-to-date guide to jump-start your healing with the AIP today.
3oo+ pages of quick-access information on the AIP

4 weeks of meal plans with shopping lists

over 80 family-friendly recipes, all 100% AIP!
Get instant digital access for $19.99
The Healing Kitchen releases December 15th, 2015 and will be available from all major booksellers! It will also be available on all major e-book platforms, including kindle, iTunes, nook, and kobo.
Please Consider Pre-Ordering
Please consider pre-ordering The Healing Kitchen from Amazon.com, BarnesAndNoble.com or from your local book store. When you pre-order, you support us because book stores base their orders on pre-order numbers. The more pre-orders, the more copies book stores stock, the bigger the displays, the greater the visibility, the more people we can reach and the greater the momentum of our book. That all translates to being able to help more people regain their health! Pre-ordering The Healing Kitchen is quite simply the single best thing you can do to support me.
You also get an important benefit when you pre-order from Amazon.com: it guarantees that you pay the lowest price. Amazon prices fluctuate hourly, but you pay the lowest price the book drops to between the time you order it and when you receive it. And right now, Amazon is already selling The Healing Kitchen for 40% off!!!!
The entire Victory Belt team, Alaena and I all busted our butts to get this book to print on time for a release date before Christmas and New Year's! We all really wanted you to be able to have this book in your kitchen to help with holiday cooking and New Year's resolutions. When you pre-order, the book will ship on its release date of December 15th–also on time for holiday gifts! Woot!
A Quick Thank You
There's an acknowledgements section in the book, but I also want to quickly say thank you to both Alaena and Victory Belt. Alaena, this was an awesome experience collaborating with you on this project and I am so amazed by and grateful for all of the hard work and energy you poured into this book. Victory Belt, you knocked this one of the park! The graphics design team absolutely nailed it, and I am super grateful for the dedication and hard work of everyone on the team! I really do think this is the most beautiful book Victory Belt has produced yet!
CELEBRATION GIVEAWAY!
The Healing Kitchen started printing yesterday! So, to celebrate this amazing achievement, I'm giving away THREE prize packages to my readers! No restrictions apply as this giveaway includes prize packages that can be shipped internationally!!!!
These prize packages total over $2000 in value and are packed with some of my favorite ingredients and tools that you'll find used in recipes throughout The Healing Kitchen. Check out the prize packages and enter to win using the entry form below!!!
Prize Package #1: $1,190 value
Prize Package #2: $525 value
Prize Package #3: $285 Value
$125 to Barefoot Provisions
Healing Kitchen Apron
Entering is super easy! Just follow the instructions below! All of the entries are optional and entering can be as easy as commenting on this post! No purchase is necessary (although it's appreciated!), and this giveaway is open to readers from anywhere in the world!