A few weeks ago, I received a private message on Twitter from Stacy of Paleo Parents.  I quote: "I want to do a podcast.  Will you be my partner?".  Ah, the brevity of twitter (okay, the message was slightly longer than that, mentioning that Matt would to tech edits etc.).  My heart started to race; my body started to vibrate; I started dancing around the kitchen.  I replied back an enthusiastic yes and then called my mom.  And so, The Paleo View podcast was born.
My friendship with Stacy dates back to early in the year when she and Matt invited me to write a guest post series for their blog.  We talked on the phone to discuss some ideas, which turned into a 2-hour long phone call.  Yeah, we hit it off pretty much instantly.  Since then, we have stayed in touch through reading each other's blogs, twitter, facebook, email, and spending the occasional entire evening on the phone (we seem incapable of chatting for less than 90 minutes).  I can't imagine a better partner to co-host a podcast with (not to mention just how ridiculously awesome Matt is at producing!).  In addition to our fabulous rapport, we fill a similar niche within the Paleo blogosphere, sharing our experiences with Paleo modifications, weight loss, and raising Paleo families.  Our experiences share many similarities, but are also different enough to provide a broader perspective for our listeners.   
Stacy is also a fellow perfectionist, and we aim to provide you with a very high quality podcast episode that is informative but also enjoyable to listen to every single week. 
Nutrivore Weekly Serving Matrix
An easy-to-use and flexible weekly checklist
to help you maximize nutrient-density.
The Weekly Serving Matrix is very helpful! I've been eating along these lines but this really helps me know where to focus vs. which foods serve a more secondary role. It's super helpful and has taken a lot of worry out of my meal planning. Thanks!

Jan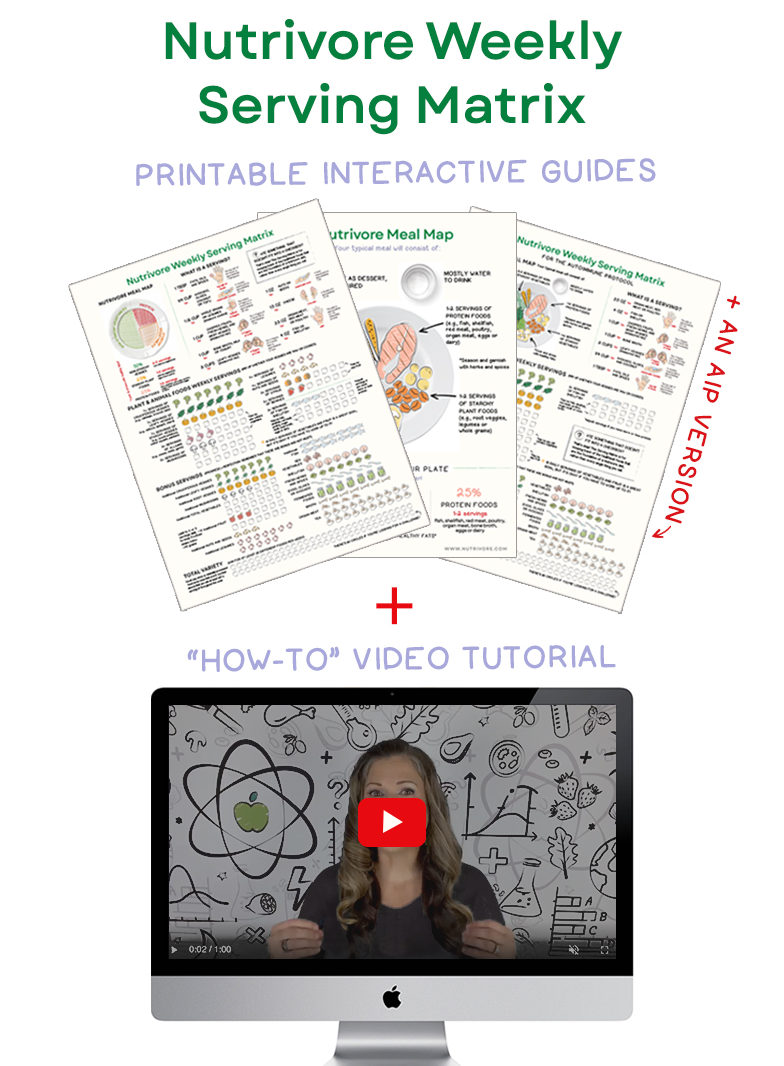 I started listening to podcasts very shortly after I started following a Paleo diet.  Not only was The Paleo Solution the first podcast I ever listened to, but it formed the foundation of my Paleo diet education.  I have since rounded out my podcast listening to include Jimmy Moore's various podcasts (I've actually been interviewed both on Low Carb Conversations and on The Livin' La Vida Low Carb Show), Chris Kresser's podcast and the Balanced Bites podcast.  The idea to do my own podcast has been floating around in my head for a while (I was too intimidated by the technical aspects to pursue it; another yay for Matt!).  I greatly enjoy how informative these podcasts are.  I aim to provide you a podcast that is equally as full of information, but also brings my desire to explain concepts in an approachable way, share my personal experiences (both struggles and triumphs), and entertains you at the same time!  This is going to be pretty easy to do with Stacy as a partner!  The Paleo View will be on our own unique positions in the Paleo sphere: Parenting, Science and the inevitable gabbing gossip of it all!
When you click on The Paleo View button in my sidebar, you'll come to my landing page, where you can meet your hosts and also a link to ask questions for broadcast. Please ask any questions you have so that we can tackle them on a future episode. We've been compiling our vast e-mail and comment questions so far; our goal is to group questions by topic so that we can have a themed episode each week.
Tomorrow, we'll release the first episode on school, school lunches, and how to handle your child standing out from the crowd. Be sure to read THAT post, because we'll have a GIVEAWAY with it! Future topics include autoimmune protocol of Paleo and breastfeeding – what else do you want us to talk about?!
Thanks for listening!
Your co-hosts and producer (how fun are those titles?)!

Become a Member for FREE!
The Paleo Mom Members' Area is resource central!  
You'll get FREE, unlimited access to dozens of quality resources, including introductory series, downloadable e-books, exclusive recipes, printables, videos and guides!
You may enjoy these related posts:
Wow. Stacy and I have been podcasting for almost 8 years! And co-hosting a …