I launched my website 7 1/2 years ago. At the time, there was almost no information on The Autoimmune Protocol out there: a half page of additional foods to avoid if you have autoimmune disease in Robb Wolf's first book, a list of foods to avoid for autoimmune sufferers on Prof. Loren Cordain's original website—and no, those two lists were NOT the same—and two blog posts that I could find that combined those food lists but offered little if any explanation as to why people with autoimmune disease needed to eliminate additional foods above and beyond the standard Paleo Diet.
That's when I started writing about the Autoimmune Protocol, incorporating a focus on nutrient density and lifestyle, experimenting on myself, diving deep into the scientific literature, eventually refining the AIP into what it is today (my best resources for learning the detailes and nuances of the AIP are my online course The AIP Lecture Series my first book, The Paleo Approach, and my Autoimmune Protocol E-book). You can learn more about the history of the Autoimmune Protocol, and my role in it, here.
*NEW* Guide to Nutrivore E-Book!
Nutrivore is the simple yet revolutionary concept:
Choose foods to meet the body's nutritional needs!
I'm very excited about the Nutrivore information! Thank you so much for all your research and hard work you put into this kind of information for all of us to use!! -Debbie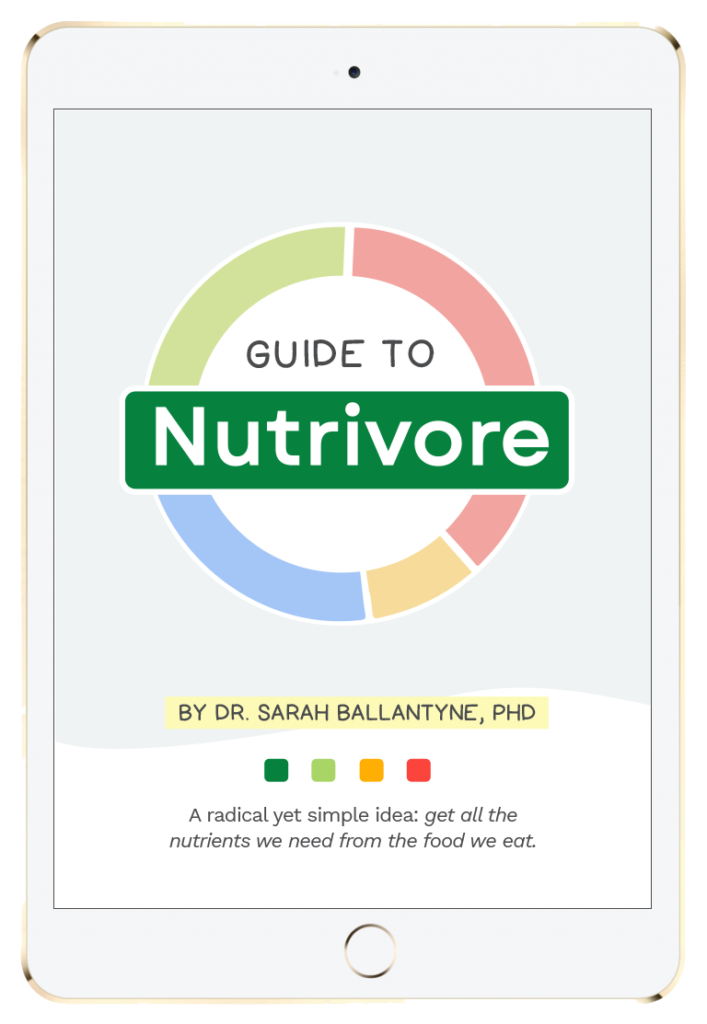 And this is when the magic happened. Even as I was writing the definitive AIP guidebook (The Paleo Approach), an entire community of AIP bloggers, each dedicated to creating resources to help their followers succeed with the Autoimmune Protocol, grew and blossomed. This dynamic group of inspirational people are the reason why more and more autoimmune disease sufferers are learning about the AIP, why there are now clinical trials proving the efficacy of the Autoimmune Protocol (see Paleo Diet Clinical Trials and Studies and Updates to the Autoimmune Protocol), and why there is such an amazing diversity of books, courses, programs, coaching services, podcasts, YouTube channels, meet-ups, snack foods, pantry ingredients, pre-made meals, and online stores all to serve the diverse needs of the autoimmune community (summarized here). I can't even being to express how gratifying and humbling it has been to watch this community flourish, as a tangible analogue to how the Autoimmune Protocol itself has given so many of us our lives back.
I encourage you to check out my AIP Community page, which I try to keep up-to-date with all of amazing resources specific for our community (the community is growing so quickly, it's a bit of a losing battle, lol!). And below, I want to celebrate all of the new awesome books created by leaders in the AIP Community in 2018 and 2019! Every single one of these is an excellent, top-quality resource! Plus, your purchase supports these bloggers, the AIP community as a whole, and my continued work in this field, so THANK YOU!
The Autoimmune Protocol e-book is my (Dr. Sarah Ballantyne of The Paleo Mom) comprehensive quick-start guide for everyone new to the AIP but it also serves the additional function of updating the Autoimmune Protocol to reflect new knowledge and provide a direct way to communicate with those in the AIP community regarding these (and possible future) tweaks. With this all-in-one e-book, you'll be able to hone in on the new information that matters most, including 300+ pages of quick-access information on the AIP, new information on why nutrient sufficiency and gut health are a primary focus of the AIP, 4 weeks of meal plans with shopping lists, over 80 family-friendly recipes, and more!
I was honored to write the forward for this new cookbook by Michelle Hoover of Unbound Wellness. The Autoimmune Protocol Comfort Food Cookbook allows you to share cherished comfort food flavors with loved ones while unreservedly enjoying nourishing AIP foods yourself! Michelle aims to make sure that those who are following an Autoimmune Protocol diet—or who have food intolerances to gluten, dairy, soy, nightshade, nuts and more—are able to feel a sense of joy and abundance with the food that they eat.
The Ultimate Support for Your AIP Journey!
Get personalized guidance and support from Dr. Sarah in this 6-week interactive online course!
Thank you for your warmth, your AIP mastery, and your dedication to answering each and every one of our questions with such kindness and attention to detail. Thank you for teaching the science behind the principles. The amount of energy you put into creating this course and responding to us in real-time is felt and APPRECIATED!!
-Nicole Wood
The next session of The AIP Lecture Series begins January 10th, 2022.
Use code AIPLS10 to save 10% thru December 15th.
I was honored to write the forward for this new cookbook by Sophie Van Tiggelen of a Squirrel in the Kitchen. Whether you are just beginning your AIP journey or are looking to simplify and improve your AIP pathway, The Autoimmune Meal Prep Cookbook; is a fantastic resource! You'll get 10 weeks of AIP meal plans, including quick and easy recipes, shopping and equipment lists, and batch cooking directions for making all of your meals for the week in one cooking session. There are numerous meal options including low-FODMAP, low-carb, one-pot meals as well as delicious comfort food. Sophie brings her trademark flair to every recipe and her pro tips for storing and reheating will keep every meal delicious.
The Nutrient Dense Kitchen is the latest indispensable resource created by one of the most influential voices in the autoimmune community, Mickey Trescott of Autoimmune Paleo. This cookbook is so much more than easy-to-follow meal plans and an outstanding collection of delicious and accessible recipes the whole family will love. Learn to up your nutrient game and take your healing journey to the next level by getting more nutrient bang for your buck out of every scrumptious mouthful. This cookbook features 125 recipes plus meal plans and shopping lists, using the nutrient-dense ingredients that give you the most bang for your healing buck, and teaching you how to incorporate them into your weekly meal routine in efficient, wallet-friendly and delicious ways.
Designed with the home cook in mind, this community e-book compiled by Bethany Darwin of Adventures in Partaking features 122 fully AIP-compliant recipes from 18 well-traveled AIP bloggers. Whether you're craving Mexican, Italian or Indian or if you want to mix things up and try Thai/ Vietnamese foods, this e-book has got you covered. Everything from carnitas to gyros and lasagna to fish and chips, it's all here for you to enjoy!
The Gut Health Guidebook!
Diet and lifestyle to nurture your gut microbiome and heal leaky gut!
The depth of information, practical tips, and the accessible way Dr. Sarah shows me how to apply complex science to improve my health is truly remarkable. -Wendy
I was honored to write the forward for this new cookbook by Sophie Van Tiggelen of a Squirrel in the Kitchen. With this book, Sophie has achieved her mission of empowering you to implement the Autoimmune Protocol by providing you with practical tools, strategies, as well as enticing and nutritious recipes that you can share with family and friends. With this collection simply delicious 100% AIP recipes at your fingertips, plus useful guides to get you started, The Autoimmune Protocol Made Simple Cookbook is your resource for healing without feeling like you're on a restrictive diet.
¡Emocionantes noticias! ¡La Guía básica del protocolo autoinmune paleoestá disponible en español! Yes, Eileen Laird of Pheonix Helix 's A Simple Guide to the Paleo Autoimmune Protocol is finally available in Spanish! This book delivers on its promise by presenting the dos and dont's of the AIP while focusing on practical implementation rather than complex science…. It's the perfect tool for anyone who wants to learn about and get started on the AIP as quickly and painlessly as possible. This book has all the essential information in a package small enough to fit in your purse or backpack.
This awesome e-book by Samantha Jo Teague of The Unskilled Cavewoman contains 40 delicious recipes, including chicken, beef, pork, seafood, veggies, breads and treats. Prep it, throw it on your sheet pan, then let the magic of the oven take care of your meal. These meals come together in a snap, without causing a sink full of dirty dishes to wash up!
This newest book by Bethany Darwin of Adventures in Partaking, contains 60 delicious Indian recipes (yes, every recipe is AIP-friendly and 100% nightshade-free! thanks to Bethany's magical genius with spices), this cookbook will also serve as a resource for following the AIP diet and dealing with the reality that you may have said goodbye to nightshades forever. This innovative book contains recipes for chapatis, roti, dosa, paratha, samosas, bajis, curries, kebabs, biryani, kahwa, chai, halwa, burfi, kulgi, gulab jamun, and much, much more!
The Gut Health Cookbook!
180+ delicious recipes featuring 61 gut health superfoods!
The Gut Health Cookbook is fantastic! Thank you for researching and creating The Gut Health Cookbook! Such wonderful recipes! I'm so excited to try them all! -Sue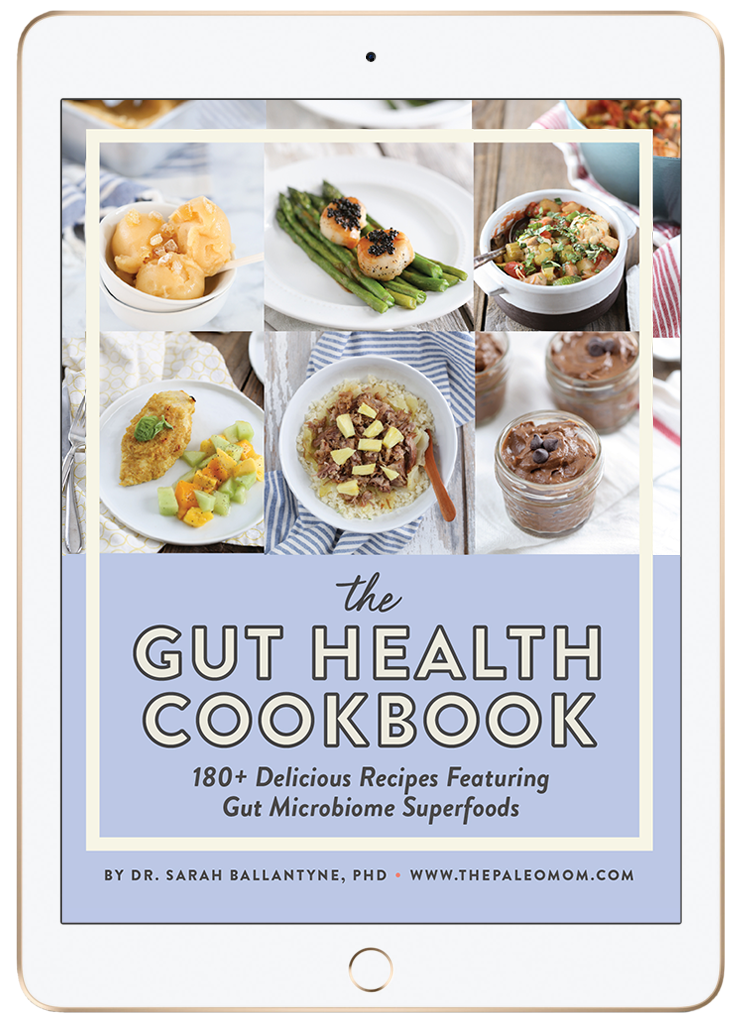 This brand-new e-book from Michelle Hoover at Unbound Wellness not only provides in-depth information on the foundations of healing autoimmunity, but sets you up for success with 30 days of breakfast, lunches, dinners and lifestyle changes! This e-book includes: 40+ AIP recipes that are fast, easy, and delicious; 4 weeks of shopping lists and instructions on how to meal prep a weeks worth of healing foods in two rounds so you don't have to spend hours in the kitchen; and lifestyle change plans to help makeover your life!
Jo Romero of Comfort Bites has created an awesome collection of recipe ideas for perking up your packed lunches on the Autoimmune Protocol or Paleo diets. This e-book includes so much more than salads! You'll get 17 recipes designed especially for prepping ahead and taking with you, including grain-free sandwiches, skewers and more, plus tips for creating great portable snacks, and a 28-day suggested lunch plan and ingredients lists for each week, to help make shopping easier.
Yum! This new book from Maria Krummen-Fusy of Zesty Paleo is truly luxurious, with its alternative approaches to enjoy ice creams, sorbets and frozen yogurts as dressings to "zest up" your Paleo and AIP meals! Zesty Scoop contains around 40 recipes, divided into three chapters (the basics, savory scoops and sweet scoops), with suggestions on how to incorporate ices into your meals. The majority of recipes can be utilized as frozen dressings and a number can also be enjoyed as desserts. Your palate will be pleasantly surprised by the fireworks of flavors offered by frozen dressings!
This innovative e-book by Jaime Hartman of Gutsy By Nature gives you the tools you need to successfully meal prep, saving time and money by making "fast food" in the comfort of your own kitchen, and helping you stay on track no matter what healing diet you are following. This e-book includes: 6 printable interactive worksheets to plan your own meal prep session, one complete meal prep plan that creates 16 healthy meals, and simple yet delicious AIP recipes and an easy formula for making it your own.