We might be tempted into intimidation at the idea of putting together AIP snacks. Even if we've been Paleo for a while, avoiding old staples in the pursuit of autoimmune health (no hard-boiled eggs, nuts or potato chips for a little while!) might be intimidating.
But the truth is, there's a whole wide and wonderful world of AIP snacking for us to enjoy! My basic formula goes like this: protein + fat + carbs = a satisfying snack. And when we reach for elimination-friendly ingredients (yes, there's tons of great options), we can create a satisfying, balanced and nutritious snack. Really, we can think of our snacks as fully-fledged mini meals.
Some of my favorite combinations are super simple to create! I love dipping carrot sticks into my Guacamole, eating Inka Plantain Chips with a can of Oysters and enjoying frozen berries, grapes or bananas topped with coconut milk. For an even heartier option, I roll US Wellness Meats pemmican, salmon, or a clean brand of prosciutto in Pure Coconut Wraps.
Those are just a few of my favorite snacks! To make things even easier for you, I've compiled a comprehensive 48-page guide full of Paleo and AIP snack ideas that work for all ages!! Make sure you scroll to the bottom of this post to download my FREE Snack Guide today!
And in this post, I've rounded up some AH-MAZE-ING snack recipes from 8 of my fellow AIP bloggers so you'll never be stumped again! These are tried-and-true AIP snacking favorites!
Pink Grapefruit and Avocado Salad by Phoenix Helix
This simple salad covers all the basics of flavor with creamy avocado and acidic grapefruit and balsamic vinegar. Not only is this a delicious snack to keep in the fridge, but it would make a lovely first course for dinner guests! I love that Eileen also provides a look into the wonderful nutrition of this recipe's two star ingredients. Read Full Recipe.
Easy Lemon Ginger Tigernut Granola by Backcountry Paleo
Tigernuts are an awesome alternative to nuts while following the AIP, and Sue's addition of Tigernuts to this granola lends it a lovely mix of textures! Lemon and ginger are zingy and fun, and pair super well with coconut and raisins for a super-satisfying snack that happens to be perfectly portable, too! Read Full Recipe.
Fried Pickles by Adventures in Partaking
This cassava-flour based recipe is a total throwback to one of my favorite pub foods of the past! Perfectly crispy fried pickles are a perfect treat when plopping down on the couch or enjoying a game night or, let's be honest, just when you feel like some deep-fried nostalgia! What's most wonderful about this recipe, though, is Bethany's inclusion of a recipe for refrigerator pickles, so you can make the entire recipe from scratch. Read Full Recipe.
Cinnamon Crispy Date Bites by Lichen Paleo/Loving AIP
Dates! Plantain chips! Cinnamon! That's it! These portable snack balls are the perfect combo of sweet and salty, and thanks to a simple ingredient list, you can feel good about what might seem like a totally decadent little bite. It's a perfect marriage of some of my favorite nutrient-dense carb sources. Read Full Recipe.
Smoked Salmon, Spinach and Artichoke Dip by Don't Eat The Spatula
If you're looking for the perfect dippable appetizer for your next gathering, look no further than Alexandra's delicous dip. Unlike it's dairy-laden cousins, this spinach and artichoke dip includes nutrient-dense ingredients like salmon and a hefty helping of vegetables. But the real stars of the show are the two veggie-based cheese by none other than Martine of The Paleo Partridge and Jaime of Gutsy by Nature! Check out this recipe to master the art of perfect non-dairy cheese and totally fool anyone who eats your dip. Read Full Recipe.
Save 70% Off the AIP Lecture Series!
Learn everything you need to know about the Autoimmune Protocol to regain your health!
I am loving this AIP course and all the information I am receiving. The amount of work you have put into this is amazing and greatly, GREATLY, appreciated. Thank you so much. Taking this course gives me the knowledge I need to understand why my body is doing what it is doing and reinforces my determination to continue along this dietary path to heal it. Invaluable!

Carmen Maier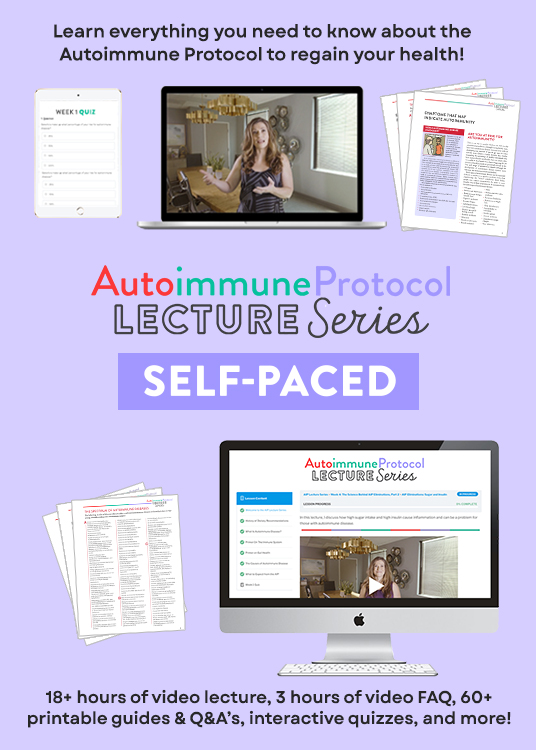 Crunchy Cinnamon Banana Chips by Meatified
Banana chips are a staple in my house, and I know my daughters would absolutely LOVE Rachel's simple but totally kicked-up additions to this crunchy snack. With a little sweetener and a little seasoning, she makes unsweetened banana chips into snack worthy of a prime spot in your snack rotation. Read Full Recipe.
Legume-Free Hummus by Whole Life Full Soul
This smooth and satisfying spread hits all the right notes, and would be perfect paired with my Plantain Crackers! And don't worry, it's totally legume-free, to boot! The secret ingredient here is cauliflower, which adds a lovely texture and plenty of vegetable nutrition, too. Read Full Recipe.
Sage-Maple Beef Jerky by Backcountry Paleo
Jerky is a perfect AIP snack, and provides a great hit of protein that can keep you satiated between meals. I love packing jerky, and this recipe builds lots of flavor, which is really key to making a tasty snack you'll want to keep on hand. Just be sure to omit the black pepper from this recipe if you're following the elimination phase of the protocol! Read Full Recipe.
Chicken, Leek and Bacon Mini Pies! by Joanna Frankham
I LOVE the idea behind these cute mini pies! Thanks to Otto's Cassava Flour, they mimic hand pies very well but are, of course, completely AIP. They're a perfectly-surprising addition to any snack spread, and your guests won't believe they're gluten free! Read Full Recipe.
Epic Tostones by Me! (The Paleo Mom)
I snuck one of my own recipes in because these tostones are just too darn good. Tostones are simply green plantains that are fried, smashed and then fried again. They're wonderful as a starchy side dish, but I also like dipping them into cold dips like guacamole. Read Full Recipe
Morning Glory Muffins by Lichen Paleo/Loving AIP
A snack roundup just wouldn't be complete without muffins! I like this sugar-free version because it packs in plenty of nutrient-dense veggies, including carrots and parsnips, and relies on a delicious spice blend to highlight the traditional flavor of morning glory muffins. Read Full Recipe
Lemon Garlic Plantain Chips by Meatified
Like tostones, plantain chips are one of my all-time favorite starchy staples while following the AIP. If you're missing potato chips, these are absolutely your answer! Rach really kicks up the flavor with the addition of a few spices (much like her fancy banana chips, above!). Read Full Recipe
Vanilla Spiced Sautéed Apples by Whole Life Full Soul
This fall favorite is a great dessert option when you're looking for a little nutrient density in your late night snack. Served with coconut milk, they're perfectly satisfying, especially in the fall. Read Full Recipe
Bacon Date Cookies by Adventures in Partaking
I probably don't need to spell out what makes these cookies so appealing. I've said it before, and I'll say it again: BACON. Read Full Recipe
Har Gow-Inspired Shrimp Balls by Me! (The Paleo Mom)
Har gow was my favorite dim sum dish growing up. You can enjoy these har gow–inspired shrimp balls as a snack or an appetizer, or add some vegetables to make it a meal. These also make a wonderful breakfast protein! Read Full Recipe.
Download Your Free Paleo + AIP Snack Guide
I've compiled all of my favorite nutrient-dense, balanced, tasty and easy snack ideas into this epic 48-page free guide as my gift to you!
Looking for even more great AIP Snack Ideas? Check out these other great post from some amazingly talented bloggers in the Autoimmune Community!
Homemade Paleo & AIP Snacks Ideas on the Go – Unbound Wellness
40+ Recipes for an AIP Compliant & Paleo Afternoon Tea – Comfort Bites
50+ Portable & Easy AIP Emergency Food Recipes – Meatified