For those of us on the Autoimmune Protocol, breakfasts can be a little tricky. If you're used to starting your morning with a smoothie, you might be a bit overwhelmed when you learn that whey protein, pea protein and even egg white protein powders are out on the AIP. In fact, even though I'm asked this question nearly every week, there are almost no easy AIP-friendly protein powders—with one exception!
Bone broth protein Bone broth protein is dehydrated bone broth, a traditional food whose healing properties can be attributed to its collagen content. See Gelatin vs. Collagen vs. Bone Broth, Why Broth is Awesome, Broth: Hidden Dangers in a Healing Food?, and Bone Broth Risks: Skim the Fat!. Collagen makes up about 30% of all the proteins in our body because it's a major building block of our bones, skin, muscles, tendons, ligaments and cartilage, and is found in our blood vessels, corneas, teeth and connective tissue. Studies show that consuming supplemental collagen supports skin and joint health, speeds wound healing, improves bone mineral density and even reduces cardiovascular disease risk!
*NEW* The Gut Health Cookbook!
The Gut Health Cookbook is fantastic! Thank you for researching and creating The Gut Health Cookbook! Such wonderful recipes! I'm so excited to try them all! -Sue
The Gut Health Cookbook puts the 20 Keys to Gut Health into practice with:
180+ recipes featuring 61 gut health superfoods

Gut health food lists

Why's behind each gut health superfood
Get instant digital access for $27.99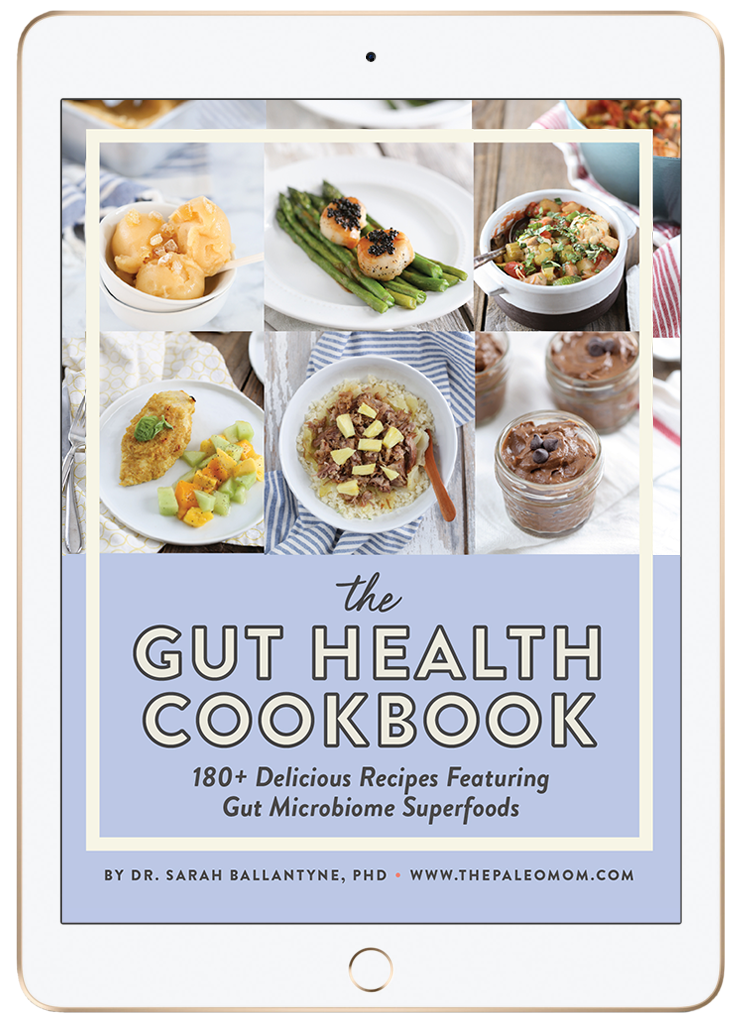 Unfortunately, many collagen supplements are extracted using acids, enzymes and/or high-heat, and can also contain questionable additives—that's why I choose Paleovalley 100% Grass-Fed Bone Broth Protein as my preferred source of collagen!
Paleovalley 100% Grass-Fed Bone Broth Protein is quite simply the cleanest source of types I and III collagen available! It's made by slow-simmering 100% grass-fed beef bones in filtered water, just like I would at home, then it's gently powdered with no additives. It's never treated with chemicals or high-heat, and it's third-party tested for contaminants. You just can't get a higher-quality, or more convenient, source of collagen.
You can use any greens you like in this smoothie. Darker greens like kale and collards will have a stronger flavor, but "baby" varieties of these greens tend to be much milder (while containing much of the same desirable nutrition). If you're making this smoothie for kids, you might try starting with spinach or even lettuce and working in larger amounts of dark leafy greens over time.
Prep time: 5 min
Cook time: None
Makes: 1 (12 oz serving)
The Ultimate Support for Your AIP Journey!
Dr. Sarah Ballantyne has delivered an exceptional course and I highly recommend this to anyone looking to improve their health. There is something for everyone. It was extremely helpful and worth the investment. -Marie Schlichtig
The AIP Lecture Series is the ultimate Autoimmune Protocol educational experience! Learn directly from Dr. Sarah!
6-week online course
42 on-demand video lectures
dozens of printable guides
self-discovery exercises and action steps
online forum and guided discussions
support and guidance from Dr. Sarah Ballantyne!
The next session begins January 18th, 2021.
(Use code AIPLS85 to save $85 and get bonus access to the Gut Health Fundamentals online course!)
Ingredients
Place all the ingredients except the protein powder in a blender and blend on high for 1 to 2 minutes, until smooth.
Add the protein powder and pulse to incorporate.
TIPS:
Leftover sweet potato can be added to increase the starchy carbohydrate content.
A high-powered blender will create a smoother consistency and is definitely a worthwhile investment if you'll be making smoothies often.
Look for vegetable juice that doesn't contain any fruit ingredients (except maybe lemon or lime). If making homemade vegetable juice, celery, cucumber, and leafy greens are great options.
*It's important to note that collagen peptides don't contain the complete amino acid profile you would get from meat. That means I wouldn't recommend you use them as your only source of protein. However, when you're looking for a boost of protein in the morning, I think they're absolutely perfect!