Jo Romero is a food blogger. She started following the autoimmune protocol in 2013 and has used it to successfully heal the psoriasis and digestive problems she'd suffered with for 25 years. Jo lives in the UK with her husband and two children and blogs at Comfort Bites Blog. She also writes for the UK's primal lifestyle magazine, Primal Eye. You can keep up to date with Jo on Instagram @joromerofood.
*NEW* Guide to Nutrivore E-Book!
Nutrivore is the simple yet revolutionary concept:
Choose foods to meet the body's nutritional needs!
I'm very excited about the Nutrivore information! Thank you so much for all your research and hard work you put into this kind of information for all of us to use!! -Debbie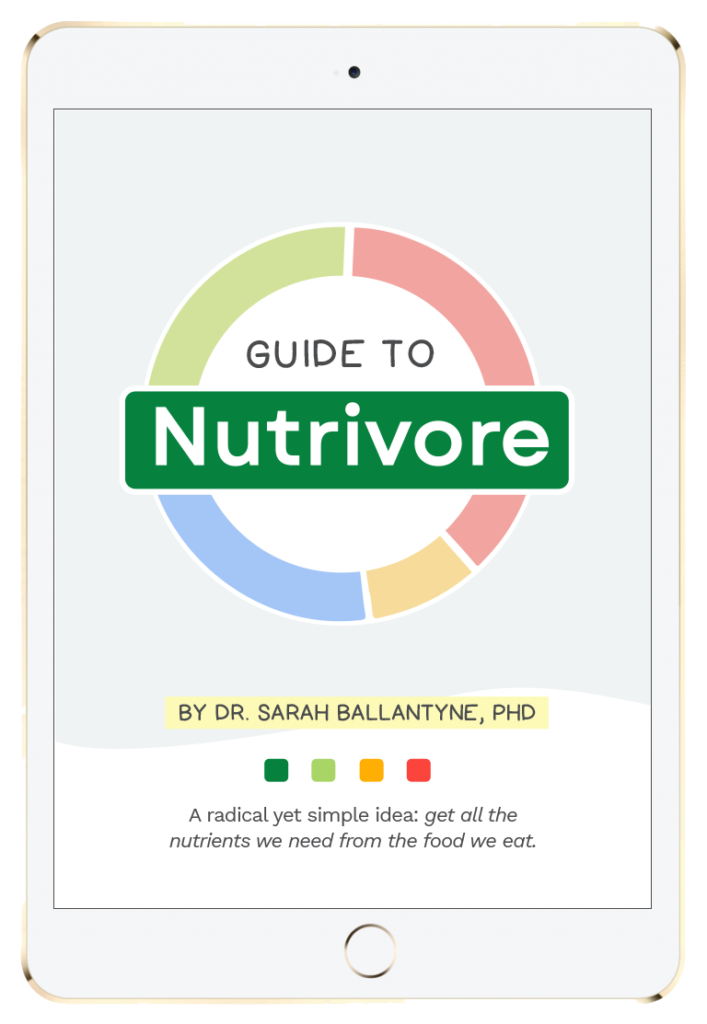 So which herbs and spices do you know that work with lamb? Mint, yes. Parsley. Rosemary, garlic. All good. But have you ever thought about pairing hot, sizzling grilled lamb with fresh tarragon?
It's true that tarragon is more classically combined with chicken – it's chopped up and stirred into soups, scattered over golden, crispy-skinned roasts and whisked into creamy sauces. But the sweet, aniseed flavor of this leafy herb pairs beautifully with red meat, too. Tarragon's fresh, clean flavor cuts through fatty fish like salmon and meats such as beef and lamb, lifting and lightening the dish.
And what better way to enjoy this fantastic flavor combination than switching up a traditional kofta recipe? We love koftas. You get to eat them off a stick, for a start. They can be nibbled off the skewer, or pushed off onto a plate and served with your favorite flatbreads and salads. They're easier to grill, too – you just turn them over using the end of the skewer so there is no fiddling with tongs and spatulas. Easy.
With this recipe, you get the tarragon coming through with the garlic and the lamb, but there's also some mint, which lifts and freshens, along with fragrant, grassy parsley. The curling smoke from the barbecue adds an extra layer of smoky seasoning to the meat. These are seriously good.
I love to serve these herby koftas with a spoonful or two of chimichurri salsa (just finely chop parsley and garlic and stir together with a glug of olive oil and a splash of cider vinegar to form a sauce) and a pile of shredded red cabbage and carrot. A tangle of watercress adds a peppery touch. If you wanted to add a different level of flavor, you could also add some finely grated fresh lemon zest to the meat mixture for a citrus flavor. Or form the lamb and herb mixture into meatballs or burgers if you prefer. I hope you love it.
Ingredients:
500g lamb mince
2 cloves garlic, peeled
small handful fresh tarragon leaves, chopped
1 tbsp chopped fresh mint
1 tbsp chopped fresh parsley
good pinch of salt
6 metal skewers, or wooden skewers soaked in water
Method:
The Ultimate Support for Your AIP Journey!
Get personalized guidance and support from Dr. Sarah in this 6-week interactive online course!
Thank you for your warmth, your AIP mastery, and your dedication to answering each and every one of our questions with such kindness and attention to detail. Thank you for teaching the science behind the principles. The amount of energy you put into creating this course and responding to us in real-time is felt and APPRECIATED!!
-Nicole Wood
The next session of The AIP Lecture Series begins January 10th, 2022.
Use code AIPLS10 to save 10% thru December 15th.
Place the lamb in a medium-sized mixing bowl and finely grate the two garlic cloves, adding them to the lamb. Add the chopped fresh herbs and season with a pinch of salt.
Using your hands, mix the ingredients well to combine them – but don't over-mix – you want the meat to retain a coarse texture. Divide the mixture into 8 balls and wrap each ball around the end of a skewer, pressing it around the skewer to form the classic kofta shape. If you're using wooden skewers, make sure they've been soaked in water before use, to avoid them burning on the grill.
Arrange the koftas on an open grill or barbecue and cook, turning them occasionally, for around 10-15 minutes, or until they're fully cooked. Cut into one to make sure, if you need to. Serve warm, with a pile of lightly dressed coleslaw or a big, green salad.